Melania Trump Rips 'Dishonorable' Historian Over Criticism of Rose Garden Renovations
Former first lady Melania Trump condemned NBC News presidential historian Michael Beschloss after he strongly criticized her renovations to the White House Rose Garden in a Saturday tweet, sharing an image with his remarks.
Trump revealed her changes to the White House Rose Garden in August 2020, the first renovations that had been conducted on the iconic area outside the presidential mansion in nearly 60 years. Many criticized her changes at the time, and continue to do so.
"Evisceration of White House Rose Garden was completed a year ago this month, and here was the grim result—decades of American history made to disappear," Beschloss tweeted on Saturday, sharing an image from above the garden.
On Saturday, the Twitter account for the Office of Melania Trump retweeted the historian's post, ripping him for his criticism and arguing his photo was "misleading."
".@BeschlossDC has proven his ignorance by showing a picture of the Rose Garden in its infancy. The Rose Garden is graced with a healthy & colorful blossoming of roses. His misleading information is dishonorable & he should never be trusted as a professional historian," the former first lady's office wrote in the post.
The tweet included a different photo that showed rose bushes in full bloom.
Right before President Joe Biden took office in January, many critics of Trump's changes to the garden took to Twitter to urge then-incoming first lady Dr. Jill Biden to reverse the renovations of her predecessor. One critic—Liz Tapanes—launched a petition on Change.org back in April to urge the new first lady to undo Trump's changes. As of the early afternoon on Saturday, that petition had garnered more than 81,000 signatures.
"Melania Trump had the cherry trees, a gift from Japan, removed as well as the rest of the foliage and replaced with a boring tribute to herself," the petition complained
In a January 18 post on her website, Trump touted her efforts to renovate and make changes at the White House as first lady.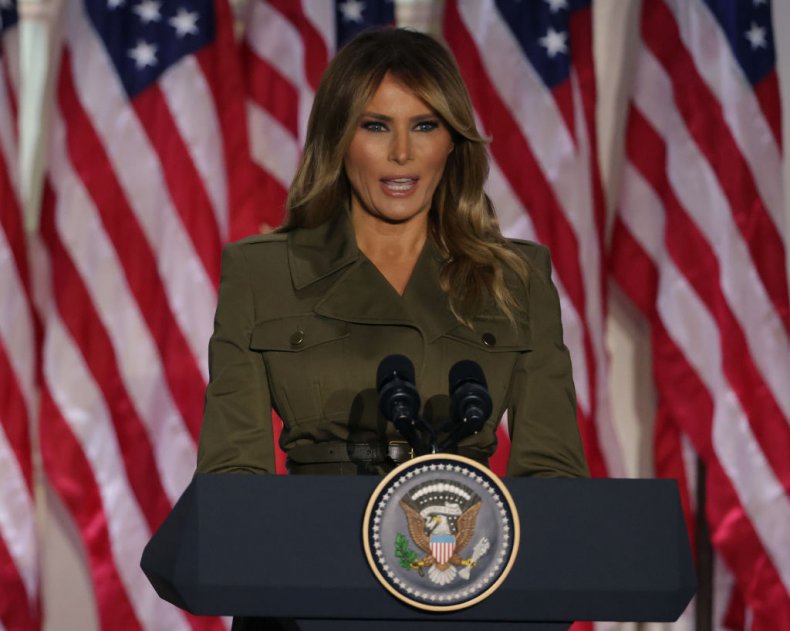 "As First Lady, and as the temporary custodian of this national treasure, I was inspired by the example of my predecessors," she wrote at the time. "Their reverence for the White House, and their love of history ensured the long-term preservation of the building in which they both served and lived. In similar fashion, the projects that I have overseen during the last four years are ones which I believe will not only preserve the house's heritage but enhance the experience of its beauty and solemnity for generations to come."
Newsweek reached out to the White House for comment on the images of the Rose Garden, but did not immediately receive a response.