Metallica Faces Being Canceled by Many Young Fans Who Just Discovered Them
Metallica experienced a recent surge in popularity after a new generation of music fans discovered them when Netflix's Stranger Things used their 1986 song "Master of Puppets" during a pivotal scene. However, now they're being scrutinized by many of those young fans after a TikTok video that alleges "problematic" past behavior went viral.
A TikTok user who goes by the name Serena Trueblood has been posting videos discussing various artists and past controversies associated with them. Over the weekend, Trueblood featured Metallica. She shows video footage of former bassist Jason Newsted appearing to do a Nazi salute onstage, as well as band members making jokes onstage about the then-recent death of Nirvana's Kurt Cobain.
Metallica singer James Hetfield was also accused of racism in Trueblood's TikTok post. One clip shows Roberta Freeman, a backup singer for Guns N' Roses when the two rock acts toured together in 1992, alleging Hetfield used the N-word to describe Ice-T. Another video included by Trueblood showed an archival MTV News segment that reported Guns N' Roses frontman Axl Rose also accused Metallica of racism in regards to Ice-T and his band Body Count.
Trueblood's TikTok video quickly filled up with comments, such as one person writing, "I wish I watched this before I bought my Metallica shirt." The debate carried over to Twitter, where many people defended the heavy metal act from being "canceled."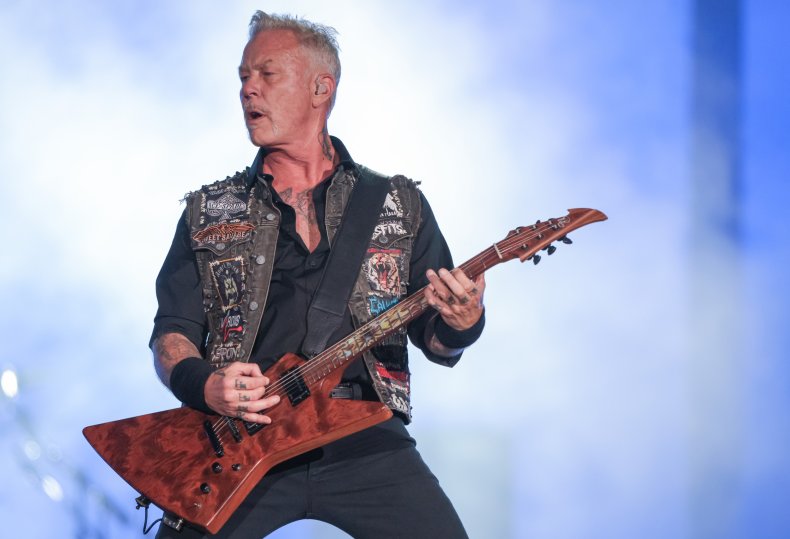 The "canceling" attempt comes after the heavy metal stars welcomed new fans who recently discovered their music.
Many of these fans are also followers of Stranger Things. During the hit show's season 4 finale, popular character Eddie Munson broke out his guitar to shred "Master of Puppets." Soon, the song found a new life, entering Billboard's Hot 100 chart and rising high on streaming platforms.
Metallica took notice of the Stranger Things attention and posted a live version of "Master of Puppets" on their TikTok account. After some "gate-keeping" commenters criticized millennials and Generation Z for taking an interest in the group, Metallica responded in the thread: "FYI—EVERYONE is welcome in the Metallica Family. Whether you've been a fan for 40 hours or 40 years, we all share a bond through music. All of you started at ground zero at one point in time."
Metallica also posted a video of them jamming with the actor who portrayed Munson (Joseph Quinn) and gifting him with a guitar.
"Metallica hyping up these new fans and then they get canceled a month later," read one tweet that described the situation.
The band's fans on Twitter stuck up for the metal legends, though.
"People change. Metallica has done more good than they have bad and you just instantly jump on the bandwagon of hatred because you have a hive mind and need something to be canceled so you can sleep at night," a defender wrote.
Many people who sided with Metallica noted that critics shouldn't use old allegations from Rose, who they said is problematic in his own right.
"Not Axl Rose being used as a source for Metallica getting canceled," one person tweeted. "He's literally known as one of the worst people in the industry."
"I feel like we gotta draw the line somewhere between separating art from artist cause," said another person on Twitter. "Bands like the Beatles and Metallica are honestly too influential to be 'canceled' like they're literally institutions in music and culture ??? You can't cancel them for the past."
Newsweek reached out to Metallica's management for comment.