Mexican President Tweets at Trump: 'We'll NEVER Pay For The Wall'
First there was a televised address. Then there was a phone call. Now, Mexican President Enrique Peña Nieto has used President Donald Trump's favorite means of communication to reiterate that his country will "never" pay for a wall at the U.S. southern border.
Peña Nieto's social media accounts shared a message tagging Trump on both Twitter and Facebook in response to the president's latest campaign-style rally in Nashville, Tennessee, on Tuesday.
"They do nothing to help us, nothing," Trump told the crowd. "They are going to pay for the wall, and they are going to enjoy it, OK, they are going to enjoy it," he said, quoted by Reuters.
Peña Nieto replied shortly afterwards both in Spanish and English. "NO. Mexico will NEVER pay for a wall. Not now, not ever. Sincerely, Mexico (all of us)," the message read.
Building the wall on the U.S.-Mexico border and making the southern neighbor pay for it was one of the first promises Trump made in his campaign—one that he mentioned in his speech at the Trump Tower building in Manhattan in June 2015 in which he announced he'd be running for president.
The topic has enflamed his supporters who have often chanted "build that wall" during his rallies, but the responsibility of paying for the wall has so far fallen on the shoulders of American taxpayers, with Trump repeatedly threatening a government shutdown to get Congress to approve funding.
The border issue has also complicated his relationship with Mexico. Peña Nieto issued a televised address "lamenting" the border wall plans shortly after Trump's inauguration in January 2017 and ahead of a planned meeting between the two leaders—the Mexican president then cancelled the meeting. Peña Nieto and Trump eventually met in Germany during the G20 in July, where again they disagreed over the wall, as the Mexican president noted after the meeting.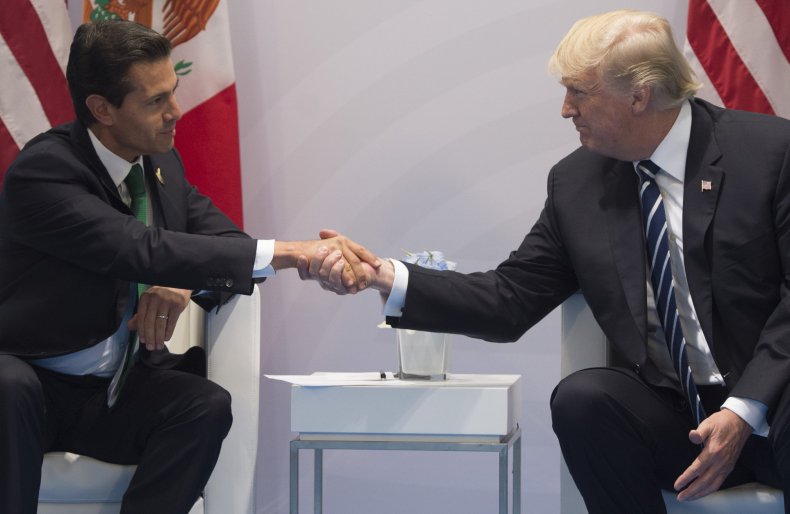 Plans for Peña Nieto to visit Trump in March were again scrapped after a phone call between the two leaders got heated over the funding of the wall, The Washington Post reported in February.
Peña Nieto has repeatedly stated Mexico won't be paying for the wall. The outgoing Mexican president has only a handful of weeks left in power, as he is not seeking re-election at a general election scheduled for July 1.
The opposition to Trump and his wall has united Mexican presidential candidates across the political spectrum, indicating that even if the presidential favorite, far-left candidate Andrés Manuel Lopez Obrador, does not win a majority, Trump won't find a more sympathetic ear in Peña Nieto's successor.