MGM Resorts Sues More Than 1,000 Las Vegas Shooting Victims to Avoid Liability in Massacre
MGM Resorts International is suing more than 1,000 victims of the 2017 Las Vegas mass shooting in a bid to avoid any liability claims from the massacre, according to reports.
The owners of the Mandalay Bay hotel, where gunman Stephen Paddock positioned himself to repeatedly fire at the crowd attending the Route 91 Harvest country music festival last October, said they could not be held responsible for the deaths and injuries resulting from the shooting, and all claims against them "must be dismissed," reports the Las Vegas Review-Journal.
According to the complaints filed in Nevada and California, the company, which also owns the Route 91 Harvest festival location, took reasonable steps to ensure such an atrocity did not occur and that it has "no liability of any kind to defendants."
Hundreds of lawsuits have been filed against the company in the wake of last October's shooting, which left 58 people dead and more than 850 injured.
Suits claim the company was negligent for not properly monitoring who was entering and leaving the building and allowing Paddock to take an arsenal of weapons and several thousand rounds of ammunition up to his hotel room before committing the attack.
Las Vegas lawyer Robert Eglet, who is representing several of the victims, described the lawsuits as a "blatant display of judge shopping" that "quite frankly verges on unethical."
"I've never seen a more outrageous thing, where they sue the victims in an effort to find a judge they like," Eglet told the Las Vegas Review-Journal. "It's just really sad that they would stoop to this level."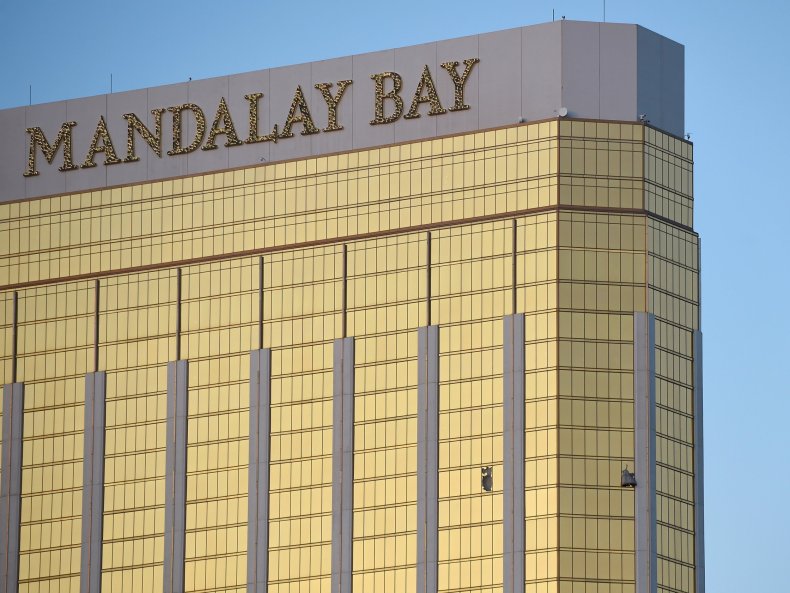 In a statement to 8 News Now, MGM spokeswoman Debra DeShong said: "The unforeseeable events of October 1 affected thousands of people in Las Vegas and throughout North America.
"From the day of this tragedy, we have focused on the recovery of those impacted by the despicable act of one evil individual. While we expected the litigation that followed, we also feel strongly that victims and the community should be able to recover and find resolution in a timely manner.
"Congress provided that the Federal Courts were the correct place for such litigation relating to incidents of mass violence like this one where security services approved by the Department of Homeland Security were provided.
"The Federal Court is an appropriate venue for these cases and provides those affected with the opportunity for a timely resolution. Years of drawn out litigation and hearings are not in the best interest of victims, the community and those still healing."
The massacre at the Las Vegas music festival is the deadliest in modern U.S. history. Authorities have still not been able to determine a possible motive for the attack.