Michael Avenatti Claims Trump and Cohen Were 'Concerned About a Pregnancy,' Paid Off Multiple Other Women
Stormy Daniels's lawyer Michael Avenatti claimed that President Donald Trump's longtime former lawyer Michael Cohen has evidence he conspired with his one-time client to pay off several more women to stay silent on alleged affairs, and that they were "concerned about a pregnancy."
"Breaking: Donald Trump conspired with Michael Cohen to pay off multiple other women prior to Election Day in 2016. They were also concerned about a pregnancy," Avenatti tweeted early Thursday. "Cohen has evidence and info in his possession and it must be released to the public. Now! #Basta."
A Twitter user replied, asking, "Why is this breaking now ... did you receive new evidence?"
Avenatti answered in the thread, "Yes," and added: "And for the haters out there, check my track record. I don't make claims that are nonsense."
It is unclear what "pregnancy" Avenatti is referring to. A former Trump Tower doorman claimed he was paid $30,000 in 2015 for a story alleging Trump fathered a child with an ex-employee, but the story was never published and the Trump Organization denied it.
Cohen's attorney Lanny Davis and the White House did not immediately respond to requests for comment from Newsweek on Thursday.
Avenatti's claim came just days after Davis released an audio recording of Cohen and Trump that appeared to confirm the latter knew about a proposal to buy rights to a former Playboy model's story of her alleged affair. Furthermore, Davis on Wednesday said "there are certainly more tapes," and that Cohen "has turned a corner in his life, and he's now dedicated to telling the truth to everyone."
During an April raid, the FBI seized at least a dozen audiotapes from Cohen's office, home and hotel room. What the recordings contain, besides the one Davis released, is unknown.
Though Avenatti and Davis are not working together—Avenatti's client, adult film star Daniels, real name Stephanie Clifford, is suing Trump over a nondisclosure agreement Cohen arranged—Avenatti has said he would "absolutely consider" representing Cohen if he is prepared to "come clean."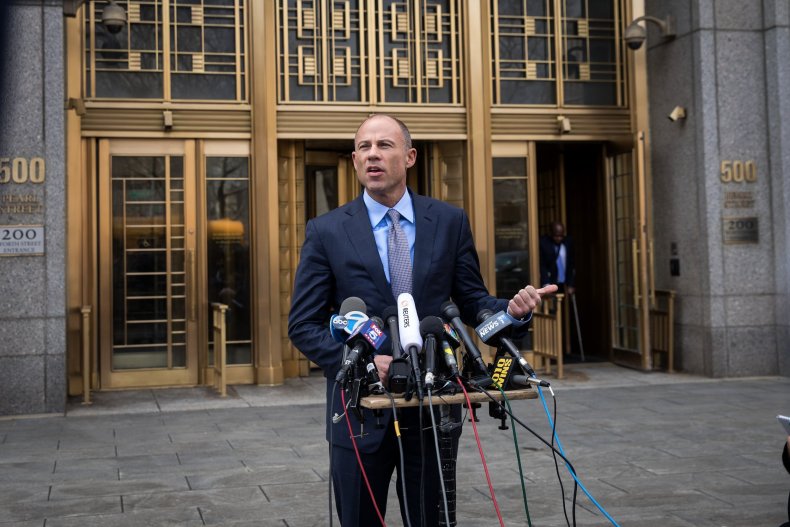 Avenatti's previous bold claims have drawn some criticism.
Harvard professor Alan Dershowitz said "almost none of Avenatti's predictions have come true," particularly his "guarantee" in May that Trump will resign.
"We're waiting to see that happen," Dershowitz said Monday on Fox News's Tucker Carlson Tonight show.
"Confront him with that prediction. He not only made a prediction—he said, 'I guarantee you, guarantee you that President Trump will resign,'" Dershowitz said. "It's total nonsense."