Michael Savage Accuses Trump of 'Grave Error' on Prison Reform, Listening to Kim Kardashian
Far-right political commentator Michael Savage expressed frustration with former President Donald Trump on Saturday, slamming what he described as the "grave error" of prison reform legislation passed with the backing of celebrities Kim Kardashian and Kanye West during his White House tenure.
The bipartisan First Step Act was passed by Congress in late 2018 and signed into law by Trump. The landmark criminal justice reform legislation was strongly supported by Kardashian and West, who lobbied the White House and lawmakers to get it approved. The bill worked to reform the federal prison system to decrease the inmate population and reform sentencing laws.
Savage attacked the legislation in a Sunday morning interview with Newsmax as he discussed the spike in homicides in Chicago.
"This is not going to be popular. When he brought in Kim Kardashian and Kanye West into the White House...I was outraged, and I tell you, I said so," Savage said. "I was not liked for criticizing President Trump at that time."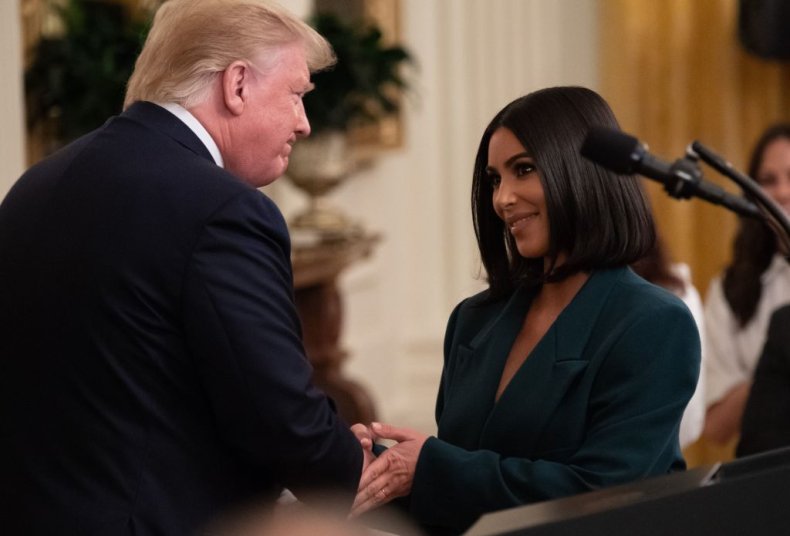 "That's the greatest mistake Trump made was listening to these two leftists telling him to introduce prison reform," Savage argued. As he spoke, Newsmax scrolled the names of individuals who have died in homicides in Chicago over the past year.
"People have forgotten it. Trump introduced prison reform," Savage complained. He said that decision was "a grave error" of the former president's administration. Savage went on to describe Kardashian as "a waste of human DNA," blaming her and West for being the "principal reason" the country is headed in the "wrong direction."
More than 3,000 federal prisoners secured release due to the changes approved in the First Step Act during the first year—2019—it was enacted. Prison reform advocates hailed the legislation as a positive step to prevent recidivism and help individuals return to normal life after they received harsh sentences for relatively minor offenses.
While Savage attempted to connect the bipartisan bill to the spike in Chicago homicides, he did not provide evidence to establish the link. Crime and homicides increased across the country in 2020. The number of murders in the U.S. jumped by nearly 30 percent in 2020 amid the COVID-19 pandemic, according to FBI data.
Other right-wing commentators and activists have increasingly criticized Trump in recent days as the former president has publicly touted life-saving COVID-19 vaccines. Trump said last Sunday at a Texas rally that he'd received a vaccine booster, drawing boos from supporters.
Then in an interview this week with Daily Wire host Candace Owens, Trump pointed out that those getting sick and dying of COVID-19 are largely unvaccinated. He described the vaccines as "one of the greatest achievements of mankind."
Conservatives opposed to the vaccine have expressed frustration and anger with the former president as a result. Conspiracy theorist and InfoWars founder Alex Jones issued a "Christmas warning" to his followers, warning that Trump may "go down in history as pure evil" due to his support for COVID-19 vaccines.
Stop the Steal organizer Ali Alexander slammed Trump in a Telegram post. "Have your position (backed by Fauci) and allow us to have ours (which is backed by science). This losing is getting boomer level annoying," he wrote.