Michelle Obama Would Drain Support From Sanders, Warren and Biden, Win New Hampshire Primary if She Entered 2020 Race: Poll
For some Democrats, it's the dream that won't die: former First Lady Michelle Obama swooping in late to the 2020 primaries to secure the party's presidential nomination at the next election and doing battle with President Donald Trump.
Obama has ruled out multiple times standing in the 2020 race, saying she does not want to be president. But a new poll shows that in New Hampshire, at least, she could win the state's primary and lead her nearest rivals by six points four months ahead of February's vote.
The FPU-Boston Herald telephone poll of 422 likely Democratic primary voters in New Hampshire found that Obama would be in the lead on 26 percent if she entered the contest now.
In joint-second place would be Massachusetts Senator Elizabeth Warren (20 percent) and former Vice President Joe Biden (20 percent), followed by independent Vermont Senator Bernie Sanders (15 percent).
Obama, whose husband Barack Obama was president from 2009 to 2017, would drain seven points of support from Sanders and four points from both Warren and Biden.
The former first lady, who currently focuses on campaigning for democratic participation and championing young girls, did not respond immediately to Newsweek's request for comment.
Back in March, Obama said on Conan O'Brien's podcast that she would not run for president partly because she could not "learn about the real world" anymore after losing her anonymity. "Eight years is enough. It is enough," she said. "We need fresh, real, clear eyes in this stuff."
In August, Obama reiterated that there is "zero chance" of her running as president.
"There are so many ways to improve this country and build a better world, and I keep doing plenty of them, from working with young people to helping families lead healthier lives," Obama told Amtrak's magazine, The National.
"But sitting behind the desk in the Oval Office will never be one of them. It's just not for me."
In the 2020 race as it currently is, the FPU-Herald poll found that support for Sanders, a democratic socialist, has faded fast in New Hampshire. In September, Sanders led the pack on 30 percent. Second was Biden on 21 percent and third Warren on 17 percent.
But in the latest October poll, there is a "statistical dead heat" between the trio, with Sanders falling and Warren and Biden gaining. Warren is today on 25 percent, Biden on 24 percent, and Sanders on 22 percent.
With Biden mired in the Ukraine affair, and Sanders' heart attack raising questions about his health, Warren's campaign has gained momentum. The primaries will continue through the first half of 2020 until the Democratic National Convention in July when the winning candidate will be nominated.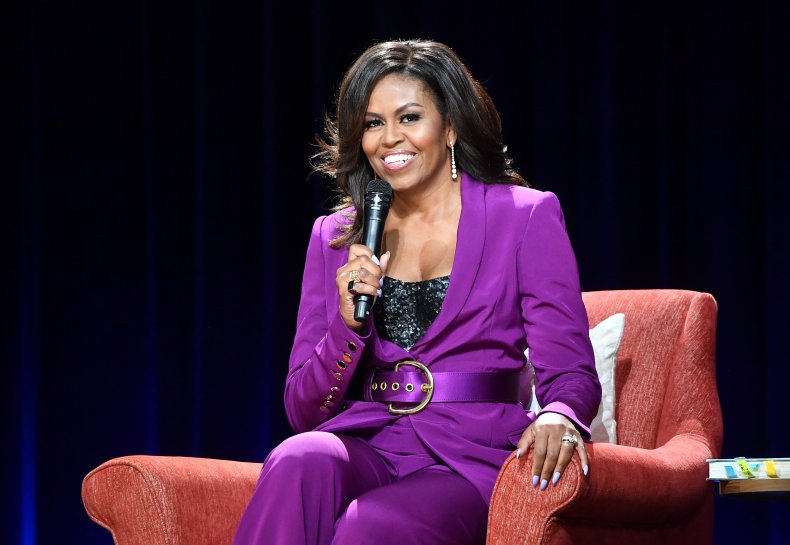 Michelle Obama Would Drain Support From Sanders, Warren and Biden, Win New Hampshire Primary if She Entered 2020 Race: Poll | Politics