Michelle Obama Says There Is 'Zero Chance' of Running for President: 'Sitting Behind the Desk in the Oval Office…It's Just Not for Me'
Michelle Obama has doubled down on her insistence that she does not intend to run for president. After the Democratic presidential debates this week which pitted 20 candidates against each other, the former first lady is still bandied about as someone who could take on and beat President Donald Trump in 2020.
However, she gave another denial in a magazine interview with Amtrak's magazine, The National. The interview was conducted by 12-year-old journalist Hilde Lysiak to promote her "Better Make Room" campaign aimed at engaging college students.
Obama described how her upbringing in Chicago and her education had shaped her. When asked if there was "even a one percent chance" that she would consider running for president, Obama was strident.
"Just between us, and the readers of this magazine—there's zero chance," she said. "There are so many ways to improve this country and build a better world, and I keep doing plenty of them, from working with young people to helping families lead healthier lives. But sitting behind the desk in the Oval Office will never be one of them. It's just not for me."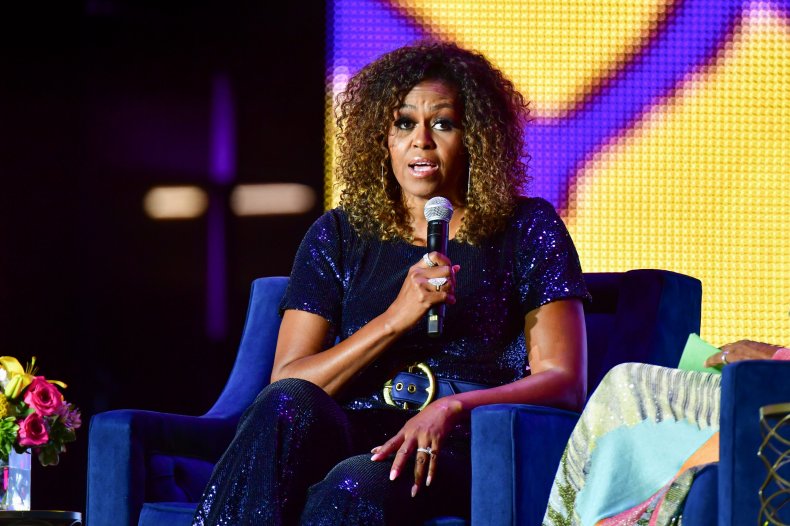 However, there are continuing calls for her to consider running for the country's top job, most recently by liberal filmmaker Michael Moore.
Moore told MSNBC this week that Bernie Sanders, Elizabeth Warren, Kamala Harris and Joe Biden had the potential to beat Trump, but that would not be enough, given that in 2016 Hillary Clinton won the popular vote but lost the electoral college.
He told host Brian Williams, that any Democrat would need to "crush" Trump and that Obama was the one person who could do that.
The filmmaker described her as a "beloved American, and she would go in there, and she would beat him." He added: "She'd beat him in the debates, he wouldn't be able to bully her, he wouldn't be able to nickname her…and she is beloved.
"Just go to C-SPAN and follow her book tour across the country. She's playing 15,000-seat arenas in the Midwest. They have to turn people away. She takes the stage and she's so powerful and so good. You just look at that and you think, 'Of course. She could win.'"
Former CNN host Piers Morgan, who is friends with Trump, said last month that Obama is one of only two Democrats who could beat the president. He told the BBC that she had the "star power" and "television quality that you need to be a candidate these days" as well as "universal appeal."
Back in March, during her book tour for autobiography Becoming, the former first lady said she would not run for president because she was "not interested in politics" and no longer lived a normal life. Last month she said that she would support whichever Democrat candidate won the primaries.