Michelle Obama Calls for Smooth Transition: 'Our Democracy Is So Much Bigger Than Anybody's Ego'
Former first lady Michelle Obama has broken her silence on President Donald Trump's refusal to concede the election and called on his administration to begin a smooth transition of power for President-elect Joe Biden.
In a post shared to her Instagram account Monday, Obama urged elected officials "to honor the electoral process and do your part to encourage a smooth transition of power."
She began by looking back on Democrat Hillary Clinton's concession in 2016, and the responsibility placed on her and former President Barack Obama to prepare the White House for a Trump administration.
"This week, I've been reflecting a lot on where I was four years ago," she wrote. "Hilary Clinton had just been dealt a tough loss by a far closer margin than the one we've seen this year. I was hurt and disappointed—but the votes had been counted and Donald Trump had won."
"The American people had spoken. And one of the great responsibilities of the presidency is to listen when they do," she continued.
Obama said that she and her husband relied on the hospitality they received from their predecessors in 2008.
"My husband and I instructed our staffs to do what George and Laura Bush had done for us: run a respectful, seamless transition of power—one of the hallmarks of American democracy," she wrote. "We invited the folks from the president-elect's team into our offices and prepared detailed memos for them, offering what we'd learned over the past eight years."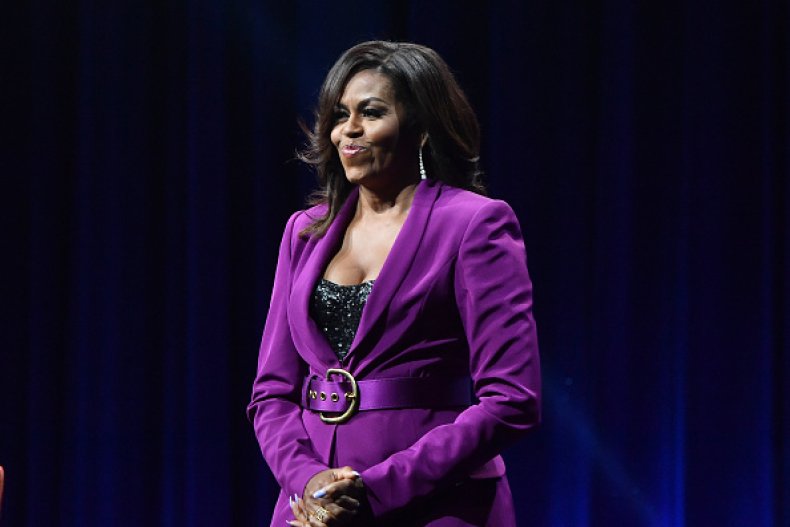 The former First Lady admitted that doing so wasn't easy, especially since the current president "had spread racist lies about [her] husband that had put [her] family in danger."
She wrote that even though she was angry and unready to forgive Trump for what he said about her husband, she began working towards a transition of power because "it was the right thing to do."
"I knew in my heart it was the right thing to do—because our democracy is so much bigger than anybody's ego," Obama wrote.
She warned that casting doubt over the electoral process and refusing to accept the results of the election would create a serious national security threat to the country and all Americans.
"Our love of country requires us to respect the results of an election even when we don't like them or wish it had gone differently—the presidency doesn't belong to any one individual or any one party," the post reads.
"To pretend that it does, to play along with these groundless conspiracy theories—whether for personal or political gain—is to put our country's health and security in danger. This isn't a game," she warned.
On Sunday, in his first interview since the 2020 presidential election, Barack Obama also called out prominent Republicans who have backed Trump's baseless claims of voter fraud and prevented a transition of power from beginning.
"There's damage to this because what happens is that the peaceful transfer of power, the notion that any of us who attain an elected office, whether it's dogcatcher or president, are servants of the people," Obama told CBS' Sunday Morning. "It's a temporary job. We're not above the rules. We're not above the law. That's the essence of our democracy."
In an interview that aired Sunday on 60 Minutes, the former president said he was "more troubled" by other GOP leaders who are encouraging Trump's messaging.
Many prominent Republicans, including lawmakers and members of the Trump administration, have refused to state that Biden won the White House and have instead supported Trump's various legal battles over election results in key battleground states.
While some GOP officials have begun speaking out against Trump, the president himself has not changed his stance.
Late Sunday, Trump falsely claimed on Twitter, "I WON THE ELECTION"—a tweet that was flagged with a label that read "other sources have called this election differently."
Newsweek reached out to the White House for comment but did not hear back before publication.