Republican Congressman Urges Trump to Accept Election Loss, Begin Transition: 'Just Deal With It'
A Republican congressman on Monday urged his party's leader to drop frivolous lawsuits alleging voter fraud and to come to the realization that he lost the election to his Democratic challenger.
It's time, Rep. Paul Mitchell (R-Mich.) said, for an "effective transition" from President Donald Trump to President-elect Joe Biden.
"I will keep trying this...," tweeted the second-term lawmaker who handedly won re-election earlier this month. "@realDonaldTrump legal challenges alleging fraud have failed due to lack of evidence. Recounts may change numbers slightly - not enough to change the outcome. The good of this nation requires an effective transition."
"Let's just deal with it," Mitchell added.
The Republican's criticism came nine days after Biden was projected the winner and amid Trump's continued false claims that he is the true victor, along with baseless assertions that rampant fraud allowed Democrats to steal the presidency from him.
Mitchell was one of several GOP elected officials who condemned Trump on Nov. 5—two days after the election—for false election claims. At the time, Mitchell wrote on Twitter that America's leaders should "accept both wins and losses with grace and maturity" and added that "anything less harms the integrity of our elections and is dangerous for our democracy."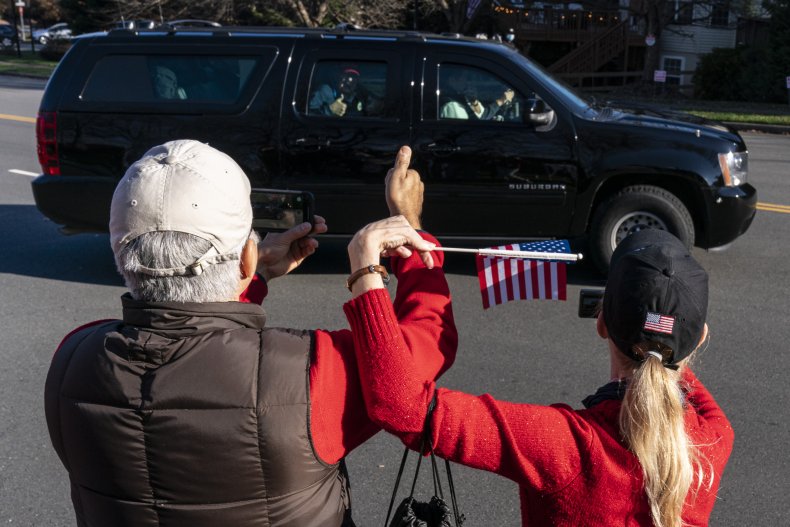 For the first time since his loss, Trump over the weekend briefly acknowledged the election's results. In a Sunday tweet, he wrote that Biden "won because the Election was Rigged." In a separate post, Trump wrote that Biden "only won in the eyes of the FAKE NEWS MEDIA. I concede NOTHING! We have a long way to go. This was a RIGGED ELECTION!"
Trump's own top election officials have concluded that this year's election was "the most secure in American history" and that there is "no evidence that any voting system deleted or lost votes, changed votes, or was in any way compromised."
Despite the brief recognition of the true election winner, Trump went on to make baseless claims about ballot irregularities and fraud before emerging to his regular state of denial. Just hours later on Sunday night, Trump tweeted: "I WON THE ELECTION!"
Cracks began to appear last week in the firewall of support that Republicans on Capitol Hill have offered Trump over his false election claims. Senior GOP senators, including notable allies like Sens. Lindsey Graham (R-S.C.) and Josh Hawley (R-Mo.), said it was time for Biden to begin receiving highly classified Presidential Daily Briefings that are typically afforded to incoming presidents. However, the Trump administration has so far refused to provide the intelligence briefings and begin the official transition process because it refuses to acknowledge Biden's win.
A similar crack formed on Monday with Trump National Security Adviser Robert O'Brien, who said during a web broadcast with the Global Security Forum that "If the Biden-Harris ticket is determined to be the winner, and obviously things look that way now... It'll be a professional transition, there's no question about it."
The more than a dozen election lawsuits from the Trump campaign aren't going too well. None have successfully altered the results in any state, and judges have regularly said the cases lack evidence of any wrongdoing.
As Rep. Mitchell noted, recounts may bring minor changes to final vote tallies. However, they rarely result in a different outcome, especially in an election where candidates are thousands of votes apart. Trump is trailing Biden by wide margins in several battleground states—far greater than the number of votes Hillary Clinton lost by in 2016. Still, Clinton was quick to concede the race the day after the election.
In Arizona, Georgia, Wisconsin, Pennsylvania and Michigan, Biden leads Trump by 10,377, 14,172, 20,546, 67,653 and 147,398 votes, respectively. Georgia is conducting a post-election audit by hand. However the outcome is not expected to change.