Michigan Militia to Protest Election Result Outside State Capitol
A militia based in Michigan is planning to stage a protest outside the state Capitol on Sunday.
Southeast Michigan Militia, which has more than 200 members, will be armed. However, its leader Mike Lackomar said he did not "anticipate" a repeat of the violence that took place outside the U.S. Capitol last week, which left five people dead.
Speaking to Fox News, Lackomar said: "I don't anticipate anything like that happening again in the near future without a particular amount of provocation."
He added that there were a number of reasons for the protest. "Obviously the election, questions as to how our state handled the federal election and we are also going on our 11th month of severe COVID restrictions in our state," he said.
"The things I would look for to make things a little more contentious would be the forced removal of President Trump before that date, crackdowns by a new administration after they take office, or at a state level, extensions or crackdowns over the restrictions we are already living under."
Lackomar added: "First of all, we are going to do what we've always done. We will be loud, we will be visible and we will make our voices heard."
When asked whether the demonstration would lead to further violence, he said it was unlikely unless militia members were "forced to defend" themselves.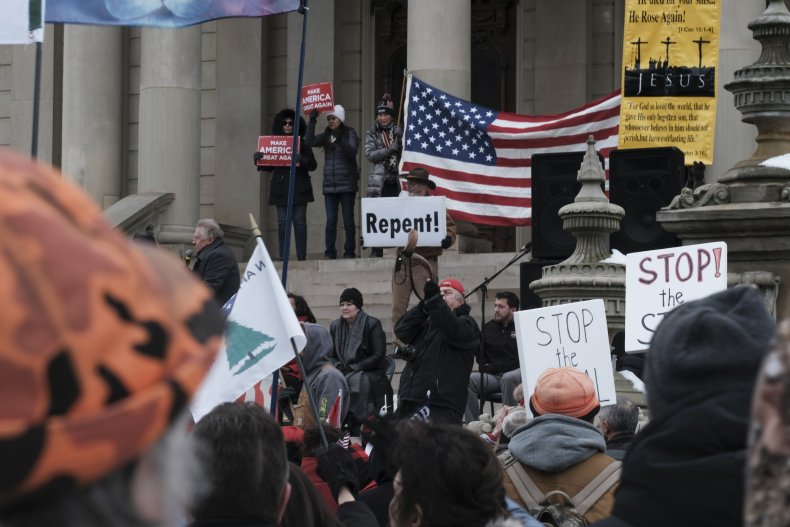 "If we are forced to defend ourselves, we will defend ourselves. If our rights are violated, we will resist that violation with whatever level we need to."
Earlier this week, the FBI warned of potential armed protests across the U.S. as Trump supporters and far-right groups call for demonstrations before the inauguration of President-elect Joe Biden on January 20.
According to reports, protests may take place at all 50 state capitols, as well as in Washington, D.C.
Last year, several rallies took place at Michigan's state Capitol after Governor Gretchen Whitmer extended her stay-at-home mandate to protect against the rising number of COVID-19 infections.
Protesters, some carrying firearms, gathered outside the House chamber and demanded to be allowed in as they faced a line of Michigan State Police troopers. The protesters chanted: "Let us in."
On the day of one anti-lockdown rally, the number of coronavirus cases reported in Michigan increased by more than 1,000.
In May, Michigan closed down its Capitol after death threats were made against Whitmer by protesters who planned to attend a "Judgment Day" rally at the building.
Dozens of posts in private invitation-only Facebook groups called for Whitmer to be hanged, lynched, shot, beaten or beheaded. One suggested crowdfunding sources to hire a hitman to kill her.