Who Is Lynn Dee Walker? Hoax About MSU Shooting Suspect Spreads Online
As panic and fear spread at the news a shooter was unleashing terror at Michigan State University during an attack spanning hours, misinformation quickly circulated online about the unfolding atrocity.
Three people were killed and five more were left with life-threatening injuries, before the shooter fatally shot himself four hours after the first shot rang out at the campus in east Lansing, at 8:18 p.m. on Monday. Terrified students were forced to hide in the dark, the Associated Press reported, with police issuing a shelter-in-place warning that lasted until early Tuesday morning.
Many turned to social media to share news or find out more information, but—in the chaos of the deadly attack—incorrect claims took hold and spread like wildfire.
One viral claim wrongly identified the shooter as a white man called Lynn Dee Walker; in fact, the suspect was a 43-year-old black man who police haven't yet identified publicly. He was described as a short man who was wearing red shoes, a denim jacket and a baseball cap.
The interim deputy chief of the campus police department, Chris Rozman, told reporters the suspect had died from a "self-inflicted gunshot wound" after being confronted by officers. He was neither a student nor an employee of the university, and had no affiliation with Michigan State, Rozman added. "We have no idea why he came to campus to do this tonight. That is part of our ongoing investigation."
But, by then, a false name was already being circulated online.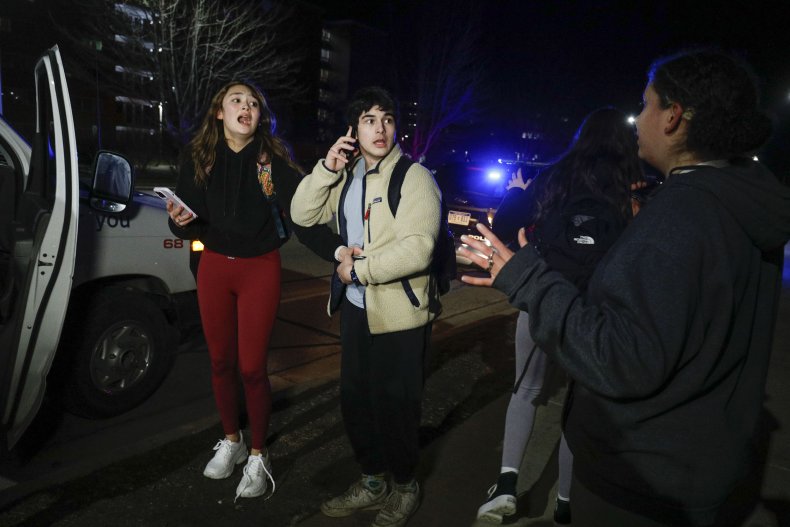 One Twitter account, which Newsweek has decided not to name, tweeted a photograph apparently taken from security camera footage, showing what appeared to be a white man dressed in black and holding a gun as he approached a door in a tiled corridor.
Most of his face wasn't visible, but he had brown hair. The caption read: "#BREAKING: Michigan State University SHOOTING SUSPECT is 21 year old 'Lynn Dee Walker' according to dispatch audio. He is still on the loose and considered armed and dangerous. #ActiveShooter #MSU #MassShooting #MichiganStateUniversity #BreakingNews."
Several other Twitter users, including journalists, replied to the post saying it was incorrect. Some tagged Twitter support services in a bid to get the tweet removed from the site. But the photo had been viewed more than 1,200 times.
And it wasn't the only post sharing the false information. Others actually shared photos of Walker, seemingly taken from his social media accounts, and falsely claimed he had been identified as the killer. The post was shared thousands of times.
Several people tweeted that they feared for Walker's safety after he was falsely accused. One wrote: "I've seen people posting this like it's factual information, this is how you get someone killed."
Walker, a prolific tweeter who often shares his views on politics, posted several times on social media throughout the night as it became clear he was being publicly accused of an atrocity he did not commit.
He wrote: "I am at my house in western Massachusetts reading with my wife, if you see literally anybody spreading this s***, please get them to delete it. I don't ask for much & I have to be subjected to this sort of s*** on your behalf. Help me out here... If you see people posting me, report it, thanks...
"I dont want to stay up all night exonerating myself. Im just disgusted, viscerally disgusted... It's pretty f***** up that algorithmically this has brought me more followers than the good work that I do. God have mercy on the innocent people who are victims of this murder machine... Im being told CNN ran my face on tv? Someone get a screencap of that if that happened."
Newsweek has reached out to Walker for further information and comment.
Journalists and misinformation experts also tried to combat the erroneous posts naming Walker as the gunman.
Philip Lewis, senior front page editor of the website HuffPost shared screengrabs of some of the claims, and wrote: "Reports of a 'Lynn Dee Walker' as the active shooter at Michigan State are INCORRECT. I've added another picture of him, check the timestamp." The image dated back to April 2020.
While Caroline Orr Bueno, a postdoctoral behavioral scientist specializing in disinformation, shared an image featuring numerous screengrabs of the false claims regarding Walker. She alleged he was an internet "troll," but reiterated he was innocent of the university shootings.
She wrote: "Here's a small sample of the mis/disinformation on Facebook falsely identifying the Michigan State shooter as 'Lynn Dee Walker.' The name is auto-completing & trending on FB's algorithm, which means FB is amplifying disinfo accusing the wrong person of being the gunman."
Newsweek has reached out to Facebook about the expert's claims it was, in effect, "amplifying" posts naming the wrong man.
One Twitter user who had shared the false information later apologised. A tweeter whose name is given as M Hamilton wrote: "MSUP corrected posts circulating false information - I'm guilty of this. On a live police scanner with +150k listeners, dispatch described Lynn's appearance and a threatening internet post, but this was false information. I deeply regret that and apologize to @Logo_Daedalus."
Meanwhile, news is expected to be released on Tuesday revealing details about the real gunman.