Michigan Trump-Supporting Councilman Charged With Impersonating an Officer, Assault After Handcuffing BLM Supporter
A city councilman in Warren, Michigan, is facing misdemeanor criminal charges after he allegedly chased down and handcuffed a woman who placed Black Lives Matter stickers on three campaign signs for President Donald Trump earlier this month in Eastpointe.
Councilman Eddie Kabacinski will be charged with impersonating a public officer, assault and battery over the October 14 incident. Kabacinski, a Trump supporter, allegedly assaulted the woman while attending a Trump rally. The Detroit Free Press first reported the charges against the councilman.
"The complaint should be signed today [Wednesday], and the arraignment may be tomorrow," George Rouhib Jr., director of the Eastpointe Police Department, told Newsweek in an email. "Mr. Kabacinski has not been notified as of yet."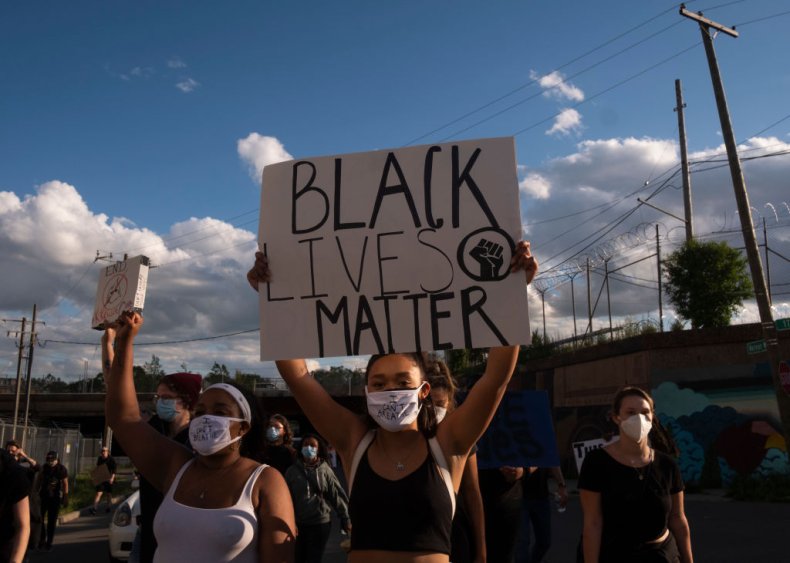 "Two charges were authorized against Eddie Kabacinski. The first is a one-year misdemeanor of impersonating a peace officer. The second is a 93-day misdemeanor of assault and battery," Bill Cataldo, chief of homicide at the Macomb County Prosecutor's Office, told Newsweek in an email.
The Warren City Council sent a statement to Newsweek condemning Kabacinski's actions.
"The Warren City Council stands unified in its support for diversity, equality, tolerance, and its advocacy of racial justice. We condemn the actions of Councilman Kabacinski. We recognize the disparity created by the actions of Mr. Kabacinski and want to ensure all residents are aware and understand his actions are not representative of the Warren City Council," Patrick Green, president and mayor pro tem of council, said.
"We firmly regard Mr. Kabacinski's behavior to be inconsistent with our duties as elected officials, our approach to creating a more tolerant environment fostering harmony, and reaffirm our position of unity with all victims of injustice in Warren and throughout the world," Green said.
Newsweek reached out to Kabacinski, but he did not respond in time for publication.
Rouhib told Newsweek that the 24-year-old woman involved in the incident "will not be prosecuted" for defacing the Trump campaign signs "per the Macomb County Prosecutor's Office." Kabacinski is serving his first term on the Warren City Council.
Police previously said they arrived at the scene of the alleged assault around 4:30 p.m. on October 14. They said they found the woman in handcuffs with Kabacinski and immediately removed the wrist restraints.
Macomb County went for Trump in 2016 by a margin of more than 48,000 votes. The president's victory there came after the county backed Barack Obama in 2008 and 2012. Obama carried the county by a margin of just 16,103 votes in his re-election bid.
Black Lives Matter demonstrations have taken place nationwide since late May, following the death of George Floyd, a Black man, in Minneapolis police custody. Floyd died after an officer kneeled on his neck for nearly nine minutes, an incident that was captured on video by bystanders—quickly going viral online. A wave of anti-racism and Black Lives Matter protests spread rapidly across the country, with demonstrations continuing in several major cities.
In what is widely seen as an exceptionally divisive election season, Trump campaign signs—as well as signs supporting Democratic nominee Joe Biden—have been defaced or stolen across the country. There have also been numerous reports of clashes between supporters of the president and those who oppose his administration.
This story was updated with a comment from the Macomb County Prosecutor's Office and the Warren City Council.