'Micro Bitcoin Futures' Offer Expanded Opportunities for Crypto Investors
CME Group on Monday launched a new micro Bitcoin futures contract, underscoring the growing acceptance of the cryptocurrency among established traders.
The smaller contracts will allow participants to hedge spot Bitcoin risk.
"Since the launch of our Bitcoin futures contract in 2017, we have seen steady, ongoing growth of liquidity and market participation in our crypto derivatives, especially among institutional traders," Tim McCourt, CME Group Global Head of Equity Index and Alternative Investment Products, said in a statement.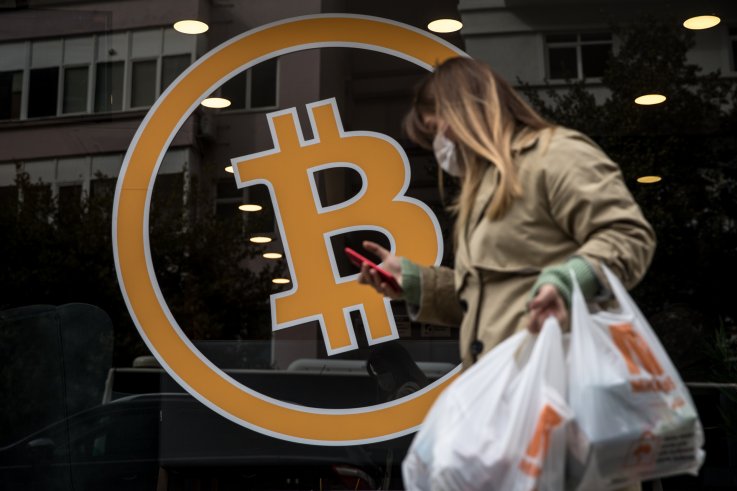 A woman walks past the entrance of a cryptocurrency exchange office on April 16, 2021 in Istanbul, Turkey. Cryptocurrency has seen wider industry acceptance this year.
Chris McGrath/Getty
"The introduction of micro Bitcoin futures responds directly to demand for smaller-sized contracts from a broad array of clients and will offer even more choice and precision in how participants can trade regulated Bitcoin futures in a transparent and efficient manner," the statement read.
Investors now will be able to trade contracts one-tenth the size of one Bitcoin. Prior to Monday's launch, one contract was worth five Bitcoin.
The smaller contact size will open the market to retail investors who lack the capital and appetite for risk required of larger contracts.
The new contracts will be settled in cash based on CME's Bitcoin Reference Rate, a once-a-day calculation pegging the price of the cryptocurrency to the U.S. dollar.
Futures are derivatives that require buyer and seller to complete the deal at a predetermined date and price regardless of current market value. It's not for the novice or the timid.
Futures shouldn't be confused with options, which offer the right, but not the obligation, to purchase or sell an underlying asset.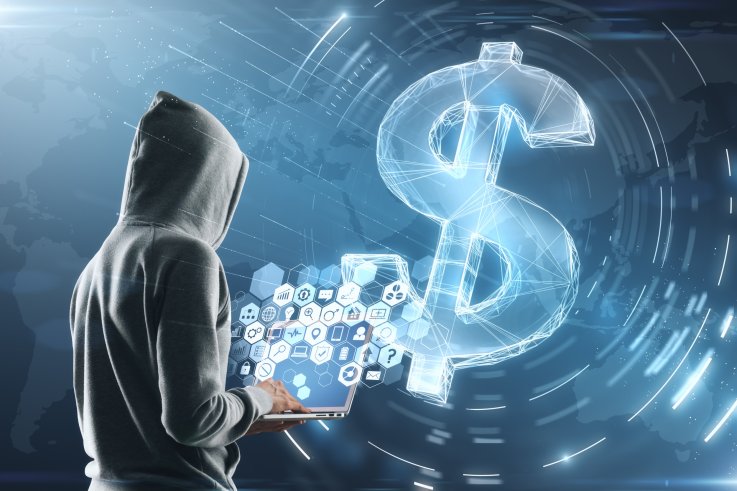 An unknown person was able to steal $2.8 million from a shared digital "vault" on Yearn.Finance, a service that allows users to deposit their funds in collective digital pools. Vault funds are then used in other "decentralized finance" (DeFi) offerings with the goal of generating additional earnings for the vault's depositors.
peshkov/Getty
On February 8, CME launched futures in Ethereum, the world's second most popular cryptocurrency.
Major Wall Street firms and Boston mutual funds now make Bitcoin investments available to select clients. About 25 publicly traded companies have invested a total of $4 billion in Bitcoin, and most have at least doubled their initial outlay, an analyst calculated.
The Chicago Mercantile Exchange, often referred to as the Chicago Merc, trades futures and in many cases, options, in agriculture, energy, metals, real estate, and foreign exchange.
CME first traded futures in frozen pork bellies in 1961. It added financial futures in 1969 and currency and bond futures in 1972.
It merged with the Chicago Board of Trade in 2007 to create CME. In 2008, CME acquired NYMEX Holdings, parent of the New York Mercantile Exchange, and Commodity Exchange.
In mid-day trading Monday, Bitcoin traded at $57,757.09, up 2.04% in the last 24 hours. The record high is $64,829.14. The cryptocurrency's market cap is $1.08 trillion, CoinDesk reported.
Nits & Grits
To paraphrase Cyndi Lauper, the1980s rock star, billionaires just want to have fun.
Elon Musk has displayed wit in playful tweets about Dogecoin, the parody cryptocurrency launched in 2013. His most recent effort in media performance art boosted Dogecoin's price 20% to—gasp—$0.32.
In mid-day trading Monday, it changed hands at $0.41.
But it seems wit is not its own reward.
Last week, Tesla's CEO tweeted, "The Dogefather SNL May 8" to plug his appearance on the comedy show. Musk, entrepreneur, space pioneer, art lover and Bitcoin proponent, received blowback from some Saturday Night Live cast members.
The New York Post reported that SNL's management won't force cast members to perform with Musk.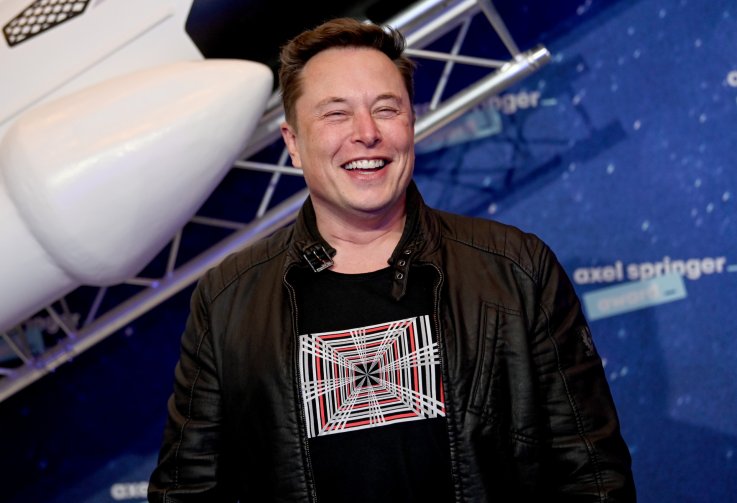 Elon Musk's upcoming 'Saturday Night Live' hosted gig has been the subject of a number of veiled references from cast members.
Getty
SNL cast member Aidy Bryant shared a tweet by Bernie Sanders, the independent U.S. Senator from Vermont, that read, "The 50 wealthiest people in America today own more wealth than the bottom half of our people. Let me repeat that, because it is almost too absurd to believe: the 50 wealthiest people in this country own more wealth than some 165 MILLION Americans. That is a moral obscenity."
Elon Musk is one of the two richest people in the world, but how he got there, and what he does, deserves more than being mentioned in a tweet as part of a group.
Musk jumped into electric cars when most thought they were little more than playthings for the rich. Tesla is profitable. The company makes top-of-the-line battery-powered cars and employs about 70,500 people worldwide.
It could be argued that Tesla is changing the auto industry worldwide with its fully electric line of cars. GM, Volkswagen and other major automakers are abandoning the production of internal combustion engines and switching to electric power. Tesla charging stations are sprouting up at rest stops on highways around the country. Tesla is leading that charge, and that is good for the environment, for the planet, and for people.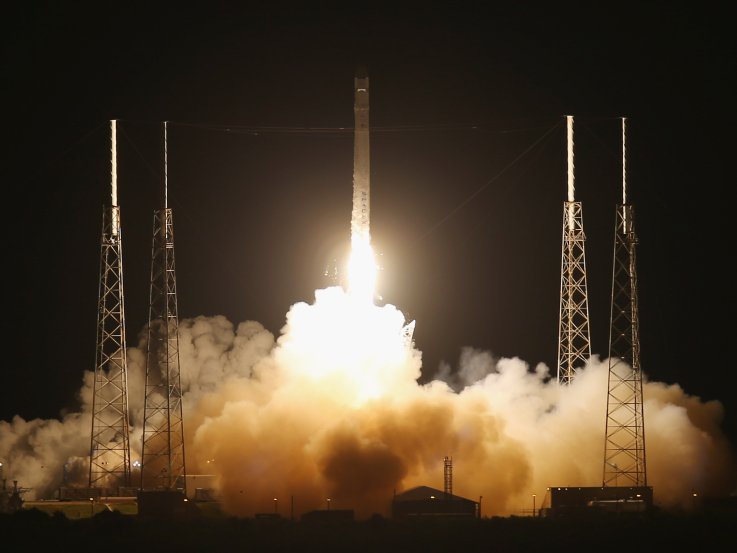 SpaceX launch.
Joe Raedle/Getty
His company, SpaceX, partnering with NASA, plans to land astronauts on Mars by 2026. The company's Dragon Resilience capsule splashed down Sunday night, marking the end of 168 days in space for four astronauts and the conclusion of the company's first round-trip mission.
His company is also one of the world's largest producers of solar roofing shingles, which produce electricity while protecting homes.
Elon Musk is one of the most successful entrepreneurs of his generation.
Perhaps he'll be a successful SNL host as well.
Market Pulse
United Airlines announced plans to buy 25 more Boeing MAX 737 jets and to speed up delivery of others. It's a vote of confidence in the troubled plane—and a bet on the rebounding U.S. economy.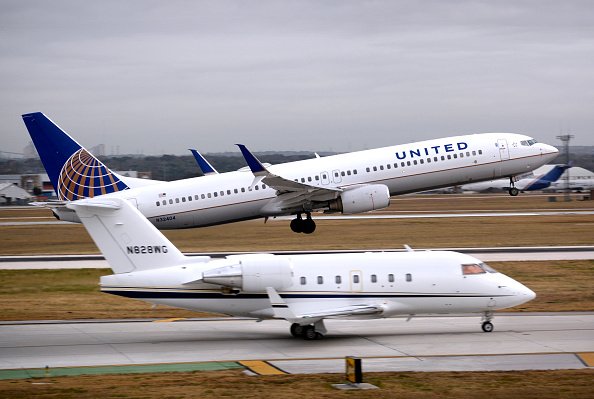 An American Airlines Boeing 737 passenger jet takes off as a Canadair Challenger executive aircraft taxis at San Antonio International Airport in Texas.
Robert Alexander/Getty
United and its competitors believe that increased vaccinations and pent-up demand combined with increased personal savings will translate into strong demand for air travel as COVID-19 restrictions are eased.
Twenty-five new MAX jets will be delivered in 2023 and the delivery of another 40 will be moved up to 2022, United said in a filing with the U.S. Securities and Exchange Commission.
The MAX was grounded worldwide after crashes in Indonesia and Ethiopia killed a total of 346 passengers and crew.
Investigators said the MAX's automated anti-stall device, called the Maneuvering Characteristics Augmentation System, erroneously pointed the nose of the planes down to avoid a midair stall and into the fatal plunges.
United lost about $7 billion during the coronavirus pandemic as demand for travel collapsed during the lockdown intended to curb spread of the virus. The carrier expects demand to remain weak in much of the first half of 2021, but then looks for a rebound.
It appears to be a good bet. American Airlines said it plans to operate close to a normal schedule this summer. Some airlines are now booking the middle seat as the number of vaccinations increases.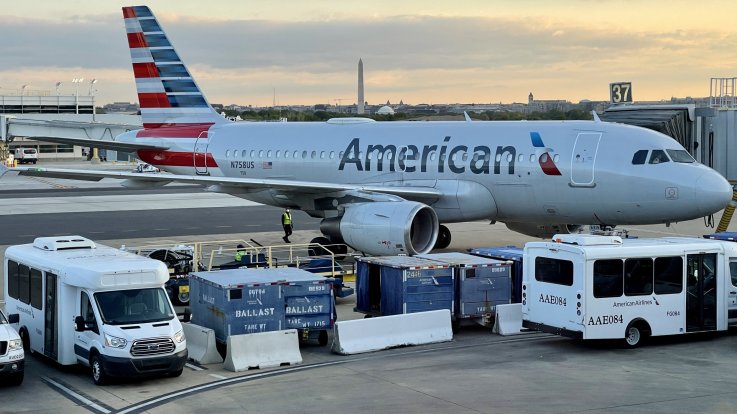 An American Airlines plane is seen at sunrise on the tarmac of the Reagan Washington National Airport (DCA) in Arlington, Virginia, on April 22, 2021. American Airlines reported a $1.25 billion loss in the first quarter of 2021, but CEO Doug Parker is optimistic that travel demand will pick up soon.
Daniel SLIM/AFP via Getty Images
Delta Airlines said net sales, or the difference between ticket sales and refunds, doubled from January to March. Domestic leisure bookings are about 85% of pre-pandemic levels.
The U.S. Transportation Security Administration (TSA) said 1,626,962 passengers checked in at airports across the nation on May 2 compared with 170,254 on the same day a year ago – an 855.61% increase.
New airlines are also entering the field, another indication of the strengthening economy and growing demand for air travel.
Avelo Airlines, a low-cost carrier, is also betting on a rebound in leisure travel and plans to serve smaller cities often ignored by major airlines.
The carrier made its first flight last week, leaving Burbank in the Los Angeles area for Santa Rosa north of San Francisco.
In addition to Santa Rosa, the 11 cities to be served from Burbank include Pasco, Washington; Bozeman, Montana; Phoenix, Arizona; Ogden, Utah; Grand Junction, Colorado; Medford, Oregon; Eugene, Oregon; Bend, Oregon; Eureka, California; and Redding, California.
The price of oil, a proxy for future economy activity, has also risen.
In 2020, the average cost of U.S. crude oil price dropped to $39.16 and so far this year has averaged $57.79. In mid-day trading Monday, oil futures fetched at $64.37, up $0.81 or 1.27%.
The price of West Texas Intermediate Crude, the benchmark for U.S. prices, briefly turned negative last year as demand collapsed during the pandemic.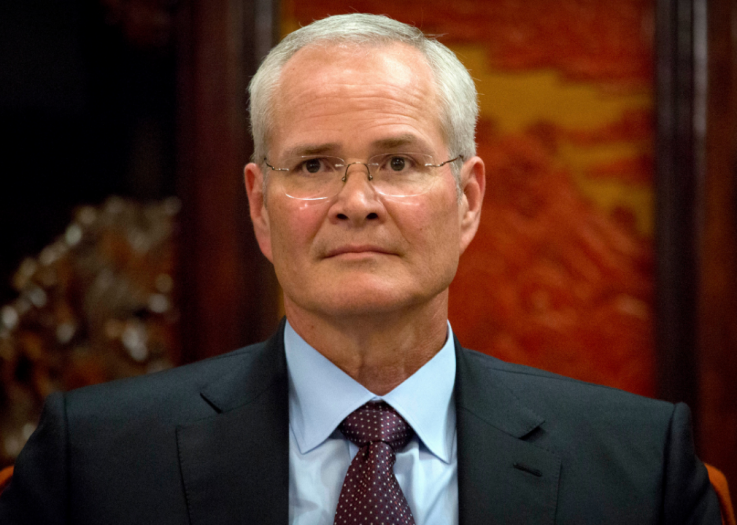 Darren Woods, CEO, Exxon Mobil Corporation
Mark Schiefelbein/Pool / Getty Images
Exxon Mobil, the nation's largest oil company, reported $2.7 billion in net income last week – its first quarterly profit since COVID-19 slammed the economy last spring.
"The strong first quarter results reflect the benefits of higher commodity prices and our focus on structural cost reductions, while prioritizing investments in assets with a low cost of supply," said Darren Woods, Exxon Mobil's chairman and chief executive officer, said in a statement.
Europe's largest oil companies, BP, Royal Dutch Shell and Total, also reported profits after sustaining losses last year.