Mike Lindell Rages at Walmart Over MyPillow Pull: 'You're Canceling Us'
Mike Lindell, MyPillow CEO and stalwart Donald Trump ally, is fuming over what he says is Walmart's "canceling" of his company's products by the chain removing them from store shelves.
Lindell lobbed the charges against the retail giant during multiple appearances on right-wing talk shows Wednesday and Thursday. Walmart's decision to no longer carry MyPillow products in it thousands of stores is the latest blowback for the combative CEO who has fervently pushed Trump's exhaustively debunked claim that the 2020 presidential election saw rampant fraud.
Speaking on political strategist Steve Bannon's War Room podcast, Lindell said a Walmart executive broke the news to him over a video call that the company would no longer be carrying his bedding products in response to sagging customer ratings.
The executive, according to Lindell, said that MyPillow products had fallen below a rating of four.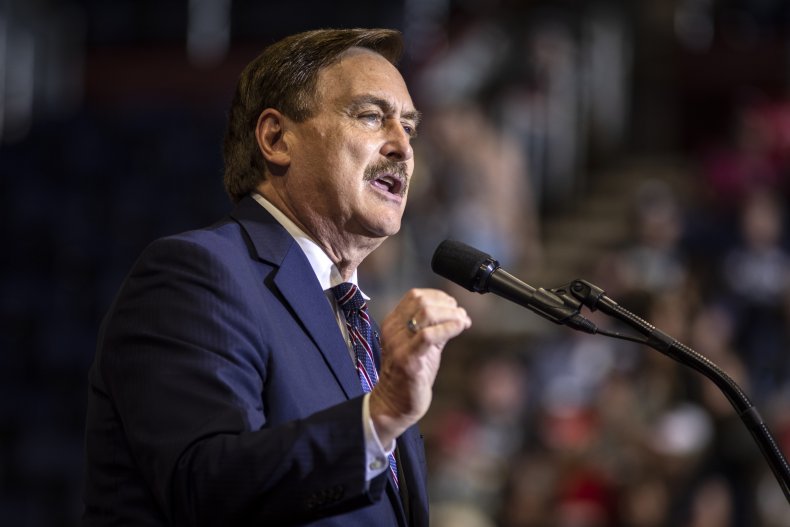 "You do realize bots and trolls attack all the time," Lindell recalled telling the executive before slamming his computer and saying, "You're gonna be all over the news tomorrow."
Despite his explanation, Walmart went through with removing the products. Walmart told Newsweek in an emailed statement, "While we are no longer carrying them in stores, MyPillow products continue to be available on Walmart.com."
"I said, 'I get it; you're canceling us," Lindell said he told the executive while recalling the story on on The Lindell Report on the Frank social media network Thursday, angrily denouncing the company as "cowards."
Lindell has been one of the most vocal allies of Trump, ardently promoting the idea that the 2020 election was stolen through "hacked" voting machines, claims that have been repeatedly dispelled by courts and cybersecurity experts.
Earlier this spring, Lindell, who is estimated to have a net worth between $50 million and $300 million, said he's spent $35 million pushing the claim.
Lindell is facing a $1.3 billion defamation lawsuit from Dominion Voting Systems, which provided election software in multiple states, over his repeated claims that the company helped Joe Biden win the election.
Despite the legal battles, Lindell has persisted with his attacks on election officials, accusing Colorado Secretary of State Jena Griswold of murder.
These claims have come at a cost to Lindell, who has reported that banks have cut ties with him over the reputation risk from his costly legal battles. He also accused Bed Bath & Beyond of dropping his products last year because of his continued support for Trump. The retailer said it dropped his products because of poor sales, not politics.