Mike Lindell Wants to Take $1.6 Bn Lawsuit Against Dominion 'All the Way to Supreme Court'
MyPillowCEO Mike Lindell on Monday said the company's suing Dominion Voting Systems for $1.6 billion after Dominion filed a defamation lawsuit against it.
Recently, Lindell has repeatedly expressed hope that his legal fight with Dominion would be taken "all the way to the Supreme Court."
Lindell announced the new lawsuit during a livestream Monday on Frankspeech.com, his social media network that has failed to launch twice.
"MyPillow sued Dominion today for $1.6 billion," he said. "It's not about the money, it's about our First Amendment rights of free speech. That's what this is about."
In February, Dominion filed a $1.3 billion lawsuit against MyPillow and Lindell alleging that he defamed the company by publicly claiming that their voting machines fraudulently flipped votes to favor President Joe Biden.
The lawsuit came after former President Donald Trump spent several weeks after the November election alleging that the election was rigged against him.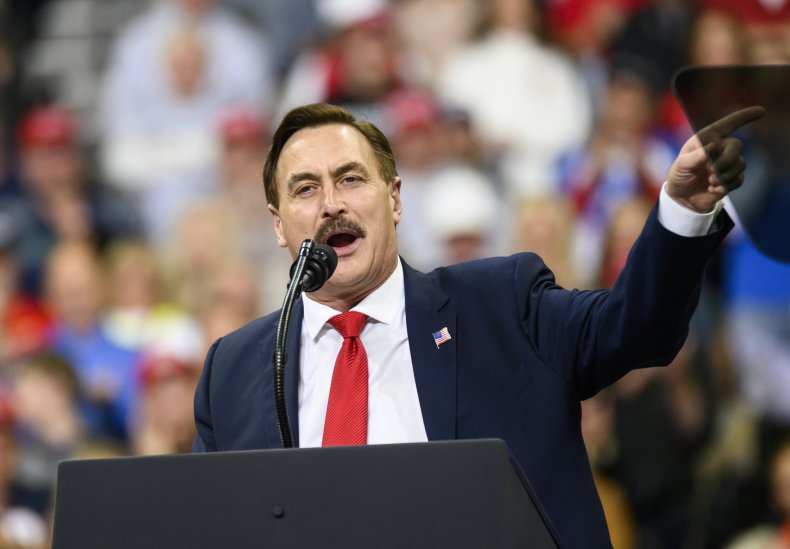 Lindell's lawsuit, filed by lawyer Andrew Parker, argues that Dominion should be considered a "government actor" due to its role in providing voting systems for the 2020 election. The suit also alleges that the company attempted to suppress free speech and breached MyPillow's and Lindell's First and 14th Amendment rights.
"Fearing retribution in the marketplace, many of MyPillow's commercial suppliers and buyers have as a direct result of Dominion's crusade terminated longstanding relationships with MyPillow which were projected to grow," the lawsuit read, according to the StarTribune.
"MyPillow employees have been subjected to ridicule in their personal lives, and death threats necessitating protection from local law enforcement."
Lindell has repeatedly vowed to escalate the fight against Dominion and for free speech to the Supreme Court.
"All the evidence I have—everything is going to go before the Supreme Court and the election of 2020 is going bye-bye," he said on Steve Bannon's War Room: Pandemic podcast late last month.
"I want to take this all the way to the Supreme Court," Lindell later repeated. "I'm not stopping."
In March, conservative lawyer Alan Dershowitz told Newsweek he's working as a consultant to the law firm representing Lindell and will be consulting on First Amendment issues in the Dominion case.
"Remember too that the First Amendment doesn't only give Lindell the right to express his views," Dershowitz said at the time. "It gives 50 million people the right to hear his views."
On Monday, Dershowitz told the StarTribune that the Supreme Court protected free speech and sided with companies in the Citizens United ruling and other similar cases.
Newsweek reached out to Mike Lindell via MyPillow for further comment.
Correction (4/19/21 11:10 p.m.): A previous version of this story stated that MyPillow is counter-suing Dominion. Mike Lindell has clarified that MyPillow is suing Dominion and that the new lawsuit is not a countersuit. We regret the error.