Mike Lindell Willing to Testify in Jan. 6 Committee Investigation
Mike Lindell, the CEO of MyPillow and a staunch supporter of former President Donald Trump, said Tuesday that he would be willing to testify before the House committee investigating the U.S. Capitol riot on the condition that his testimony is "televised nationally."
Lindell made the comments during a program he hosts on Frank, the social media platform he launched last year. During the show, he also referenced some of the conspiracy theories about fraud in the 2020 presidential election that he has pushed since Trump lost the White House. Despite frequently claiming to have evidence to support his allegations about election fraud, Lindell has not produced any viable proof. Election and cybersecurity experts have also repeatedly disproved his theories.
The House select committee already subpoenaed the outspoken conservative's phone records in January, which prompted Lindell to sue the panel. His lawsuit claimed the motivation behind Lindell promoting widely disproven claims of fraud in the 2020 presidential election came partly from his "strongly held religious beliefs."
Speaking to co-host Brannon Howse on Tuesday's edition of The Lindell Report, the embattled businessman said prosecutors and district attorneys were looking for him. When Howse asked what these people wanted, Lindell brought up the House select committee.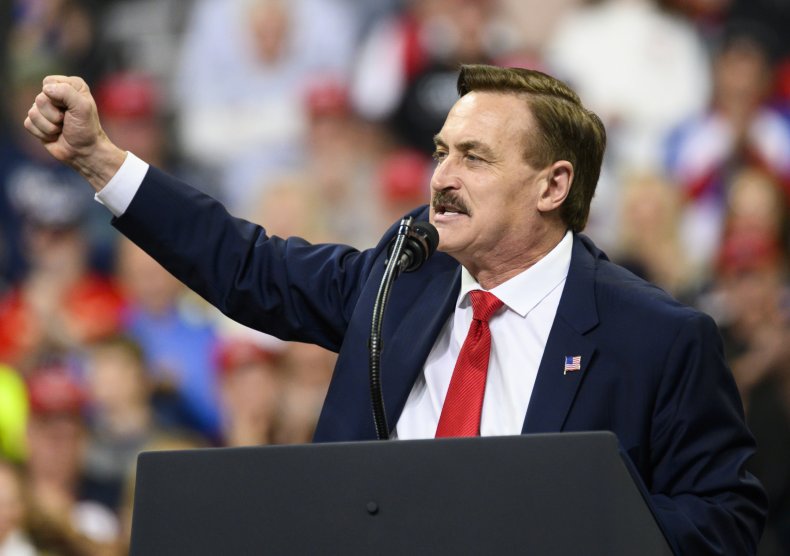 "I have nothing to hide...Bring it on. Just like the January 6 committee—that lousy corrupt, committee. You guys want to talk to me? Subpoena me. I'll come right in. But I'm going to make sure mine is televised nationally so people can hear the truth instead of whatever they're trying to do," Lindell said. "It's all about election deflection. They just keep deflecting all the evidence, everything we have going on."
Lindell is estimated to have a net worth between $50 million and $300 million, and he has said that he's spent at least $35 million to push his unsubstantiated election claims. Nonetheless, he maintains he is willing to spend "every dime" he has to back Trump.
"I'll mortgage everything I have because we're starting to see so many fruits of what we've been doing," Lindell said during a January interview with former Trump White House advisor Steve Bannon on his War Room podcast. "None of it's in vain. It's all going to come to a beautiful place. Not just an election cleaned up but so many other things we've learned."
Lindell has claimed that electronic voting systems made by Smartmatic and Dominion were involved in "rigging" the 2020 election for President Joe Biden. Both companies subsequently sued Lindell and other Trump allies for defamation.
Newsweek reached out to Lindell for comment.