Mike Pence Making 'Mistake' by Skipping CPAC Event Where Trump Will Speak: ACU Director
Dan Schneider, the executive director of American Conservative Union, expressed his disappointment that former Vice President Mike Pence will not attend or speak at his organization's flagship event—the Conservative Political Action Conference (CPAC) this week.
Pence declined an invitation to speak at CPAC and does not plan to attend, organizers have confirmed. Politico first reported that Pence had declined the invitation and CNN later reported that this was due to the former vice president planning to avoid public events for the next several months. Pence's decision came after former President Donald Trump—who will be CPAC's most prominent speaker this weekend—repeatedly attacked him for refusing to go against the Constitution in an attempt to block the certification of President Joe Biden's electoral victory.
"We are pleased that the [former] president will be joining us, and we're disappointed that Vice President is not coming. We think that it's a mistake for him not to come. You know, we conservatives think of Vice President Pence with great honor and dignity. He is a real champion for conservatism. He's spoken at CPAC 13, 14 times over the years," Schneider told MSNBC on Sunday evening.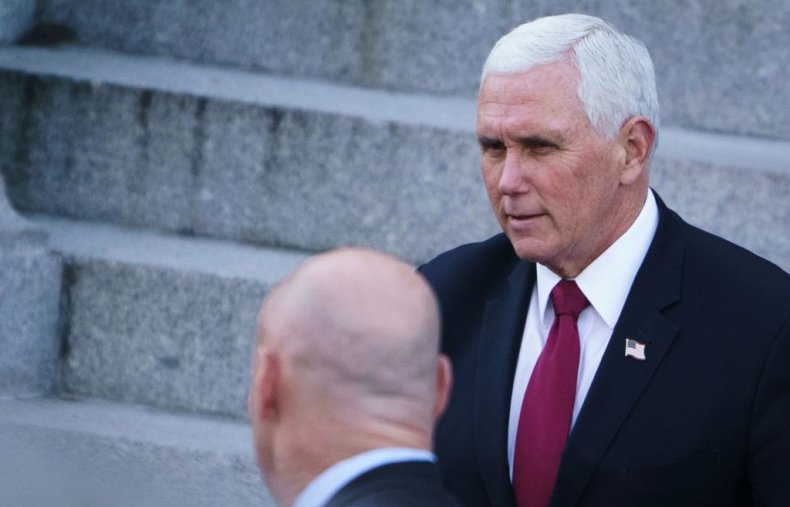 "I know that if he were to come to CPAC, he would be treated very warmly, with great respect. And frankly, I really hope that he reconsiders, and if he wants to come, we'll make room for him," the ACU executive director added.
Newsweek reached out to Pence's press office for comment but did not immediately receive a response.
On January 6, as Congress met to certify Biden's Electoral College victory—with Pence presiding—Trump spoke at a nearby rally and disparaged his vice president for allowing the constitutional process to go forward. After pro-Trump rioters marched to the U.S. Capitol disrupting the process in a bid to overturn the election, Pence was escorted quickly to safety by Secret Service agents as some in the crowd chanted "Hang Mike Pence." Demonstrators also erected a large noose outside the Capitol.
Even as this was unfolding, Trump took to Twitter to attack Pence again. He wrote: "Mike Pence didn't have the courage to do what should have been done to protect our Country and our Constitution." The two men reportedly later mended their relationship.
Although Trump is facing significant opposition from prominent Republican lawmakers who hope to expel him from the leadership of their party going forward, CPAC appears to largely be providing a venue for pro-Trump conservatives to share their views. The roster of CPAC speakers includes a slew of loyalist former Trump administration officials and Republican lawmakers who formally objected to Biden's election victory. Numerous pro-Trump activists and pundits will speak at the event the event as well.
Trump reportedly plans to reassert his dominance over the Republican Party at CPAC, in what will be his first public appearance since the end of his presidency.
"Trump effectively is the Republican Party," Jason Miller, a senior adviser to the former president, told Axios about Trump's planned remarks. "The only chasm is between Beltway insiders and grassroots Republicans around the country. When you attack President Trump, you're attacking the Republican grassroots."
CPAC will be held in Orlando, Florida, this week, starting on Thursday and running through the weekend.