Mike Pompeo Receives Death Threat While Visiting Taiwan, Police Investigate
Taipei police have opened an investigation into a threatening letter addressed to former U.S. Secretary of State Mike Pompeo, who arrived in Taiwan to meet with its leadership earlier this week.
The note—typed, unsigned and riddled with spelling errors—was received by the Prospect Foundation think tank, where America's former top diplomat is scheduled to give a 20-minute speech on March 3.
The letter in Mandarin described Pompeo as a "thug" and threatened to have him shot. It also asked the organizer to prepare a coffin.
Taiwanese authorities have coordinated with the U.S. for Pompeo's security detail, the Foreign Ministry said.
The former head of the State Department under the Donald Trump administration is accompanied on his trip by his wife, Susan, and his top China adviser, Miles Yu.
Pompeo's visit to Taiwan had already been confirmed before Russia's invasion of Ukraine, an ongoing conflict that led the Joe Biden administration to dispatch its own delegation of former U.S. officials to the island, a move that sought to reassure the Taiwanese public of America's support amid concerns that Chinese leader Xi Jinping could copy President Vladimir Putin.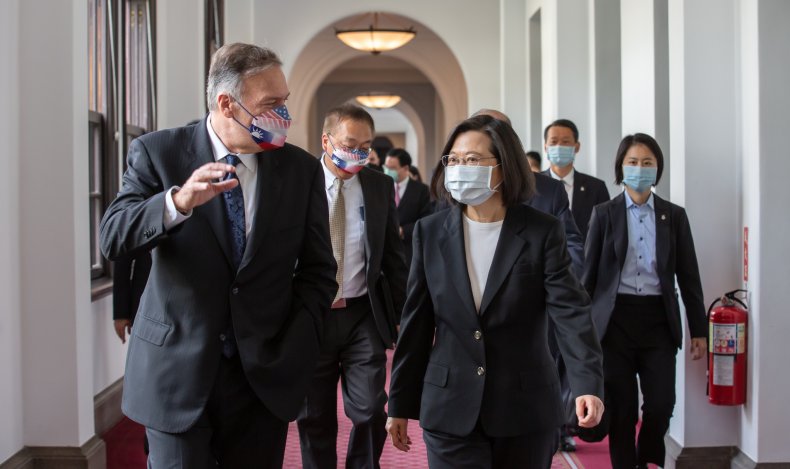 Taiwan's President Tsai Ing-wen thanked Pompeo for facilitating a number of breakthroughs in U.S.-Taiwan relations during his time in office, including the visits of cabinet-level officials and the normalization of arms sales.
"A visit from such a good friend as Secretary Pompeo attests to the strong Taiwan-U.S. friendship," Tsai said at the Presidential Office in Taipei.
In his remarks, Pompeo said the war in Europe demonstrated the need for "deep, concerted, focused leadership," before stressing that American commitments to Taiwan were bipartisan.
"I think these days call for the simple reminder that it is not provocative to say that one demands freedom. Indeed, to walk away from these things demonstrate the absence of resolve, and that those who desired to destroy freedom, to change human lives, will see quiet for the absence of direct language, recognition of the basic realities of the human condition, as their opportunity," he said.
"President Tsai, I'm confident you will not permit that to happen on your watch. I can assure you that the American people stand with you in that very effort," he said.
Earlier, Tsai had decorated Pompeo with the Order of Brilliant Star with Special Grand Cordon in recognition of his role in advancing bilateral relations. The award was also given to the late former Secretary of Defense Donald Rumsfeld in 2011.
His four-day itinerary included events with Tsai, Taiwan's Vice President William Lai, Premier Su Tseng-chang, parliament speaker You Si-kun and Foreign Minister Joseph Wu. He was also scheduled to meet business leaders in the island's critical semiconductor sector.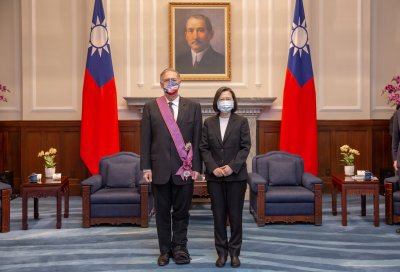 In Taiwan's perennial debate about whether armed conflict with China is a likelihood, most don't foresee it happening in the near future. The majority of Taiwan's public also remains confident in U.S. military assistance, including the possibility of American troops fighting alongside Taiwanese defenders, although their role—Army, Navy, Air Force or Marines—is rarely discussed.
While some have watched events in Ukraine and drawn lessons for Taiwan that include the need for better civilian mobilization as well as a resilient spirit that might deter Xi, others align more closely with Moscow and Beijing, blaming tensions on Washington.
Prominent figures in Taiwan's opposite camps have described Pompeo's visit as the beginning of his campaign to become the Republican nominee for president in 2024. The senior diplomat was met by a group of around 50 demonstrators when he landed at Taoyuan airport late on Wednesday.
Some lawmakers accused of courting Beijing have opposed President Tsai's move to quickly side with Washington in major international incidents, including the Trump-era trade war with China and now Biden's rallying of democratic allies against Putin's war against Ukraine, for which Taiwan has condemned Russia and joined global economic sanctions.
In Taiwan's unicameral (single chamber) parliament earlier this week, legislator Fu Kun-chi of the main opposition Kuomintang suggested Tsai's U.S.-leaning policies were pushing the island toward conflict with China.
He raised the possibility of Taiwan's "Finlandization," although there's never been any indication that such a stance would change the Chinese leadership's calculations.
His suggestion sparked a shouting match with Su, Taiwan's premier and one of the founding members of the ruling Democratic Progressive Party, who rebuked Fu's "shameful capitulationism."