U.S. Stands by Taiwan Amid Ukraine War: 'Democracy Needs Champions'
Taiwan is a vital American partner whose continued peace is in the interests of the United States and the globe, a former U.S. official told the island nation's leadership on Wednesday as the world's attention remains fixed on Russia's war against Ukraine, now entering its seventh day.
Mike Mullen, one-time chairman of the Joint Chiefs of Staff, is leading a delegation of former defense and national security officials on a 30-hour visit to Taipei. He told Taiwan's President Tsai Ing-wen that the group was there to reassure the public, as well as those in neighboring countries, about American commitment to the region.
"We come to Taiwan at a very difficult and critical moment in world history. As President Biden has said, democracy is facing sustained and alarming challenges, most recently in Ukraine. Now more than ever, democracy needs champions," Mullen said after Tsai's welcome.
"This delegation reflects the bipartisan nature of support for the United States' strong partnership with Taiwan. Maintaining peace and stability across the Taiwan Strait is not just a U.S. interest, but also a global one," he said.
The U.S. opposes "any unilateral changes to the status quo and will continue to support a peaceful resolution of cross-strait issues, consistent with the wishes and best interests of the people of Taiwan," said Mullen.
Taiwanese Foreign Minister Joseph Wu said this week that he was notified of the visit—a personal delegation sent by Biden—"one or two days" after the outbreak of hostilities in Europe on February 24. Russian President Vladimir Putin's decision to launch a full-scale military campaign against neighboring Ukraine, despite global pushback, has led some observers to fear his Chinese counterpart, Xi Jinping, may take similar risks to annex the island Beijing has coveted for more than 70 years.
Mullen is accompanied by former senior defense officials Meghan O'Sullivan and Michele Flournoy, as well as ex-national security advisers Mike Green and Evan Medeiros. The group met with Taiwan's Vice President William Lai and was also scheduled to meet Defense Minister Chiu Kuo-cheng.
In response to the visit, the Chinese Foreign Ministry on Tuesday said any U.S. support for Taiwan would be in vain.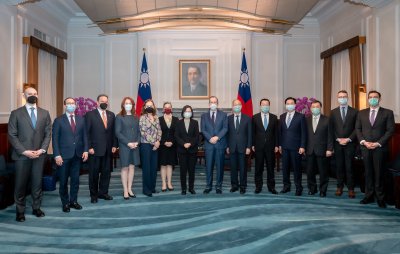 In her opening remarks, Tsai said Biden's decision to send the delegation highlighted Taiwan's roles in global and regional security. "China's military threat," through cognitive warfare and disinformation to divide Taiwan's society and erode its democracy, "has never ceased," she said.
Taiwan has condemned Russia's invasion of Ukraine and joined global sanctions led by the West, placing export controls on critical technologies. On the humanitarian front, Taipei has sent 27 tons of medical supplies to Ukraine, while political leaders including Tsai, Lai and Premier Su Tseng-chang announced they would each donate one month's salary through Taiwan's Relieve Disaster Foundation to help Ukraine.
Eric Chu, chair of Taiwan's main opposition Kuomintang, said he and other party leaders had also each pledged a month's salary to help Ukrainian refugees via Taiwan's Red Cross. As of March 1, Taiwanese businesses had raised some 10 million New Taiwan dollars ($356,200), according to Su, a founding member of the ruling Democratic Progressive Party.
"History teaches us that turning a blind eye to military aggression only increases the threat to ourselves," said Tsai. "Now is the time for all democracies around the world to come together. Taiwan cannot and will not be absent from this effort."
"The conviction of the Ukrainian people to safeguard their freedom and democracy and their fearless determination to defend their nation have been met with deep empathy from the people of Taiwan, who stand on the front line of democracy," she said.
Taiwan is not the only small country to speak out against Putin's war. Its regional neighbor Singapore has stood out for its categorical rebuke of Moscow's actions. At an emergency special session of the United Nations General Assembly on Monday, Singapore's Ambassador Burhan Gafoor called Russia's unprovoked attack an "existential issue" for the Southeast Asian city state.
Gafoor was embraced by Sergiy Kyslytsya, Ukraine's permanent representative to the UN, as he left the rostrum.