'Mike' Release Date, Cast, Trailer, Plot
If you are a fan of biopics such as I, Tonya, Pam & Tommy, and The Dropout, you'll want to catch Mike, which will be streaming on Hulu in the U.S. and Disney+ in the U.K.
From Steven Rogers and the team behind I, Tonya, and showrunner Karin Gist, best known for her work on the drama series Our Kind of People, Mike explores the unique and controversial story of former boxing champion Mike Tyson.
Across eight episodes, the series will explore the highs and lows of Tyson's career, with Trevante Rhodes portraying the famous boxer.
Newsweek has everything you need to know about Mike including release date, cast, trailer, plot, and more so you do not miss a thing.
When Is Mike Out?
The wait for Mike is almost over. The highly-anticipated series is set to premiere on Hulu on Thursday, August 25.
The first two episodes will be available on August 25, with the remaining six episodes dropping weekly.
The show's release will coincide with Disney+ day in the U.K. on Thursday, September 8. The first six episodes will drop for fans to make their way through whenever they please.
On Thursday, September 15, the remaining two episodes will drop on Disney+ so fans can complete the series.
To watch Mike, you must be a Hulu or Disney+ customer. You can subscribe to Hulu now for $6.99 per month and Disney+ from £7.99 per month.
Who Stars in Mike?
Trevante Rhodes and Russell Hornsby lead the cast of Mike on Disney+.
Rhodes will portray Tyson and Hornsby will play American boxing promotor Don King.
Audiences will most likely recognize Rhodes from his role as Chiron in the Oscar-winning film Moonlight.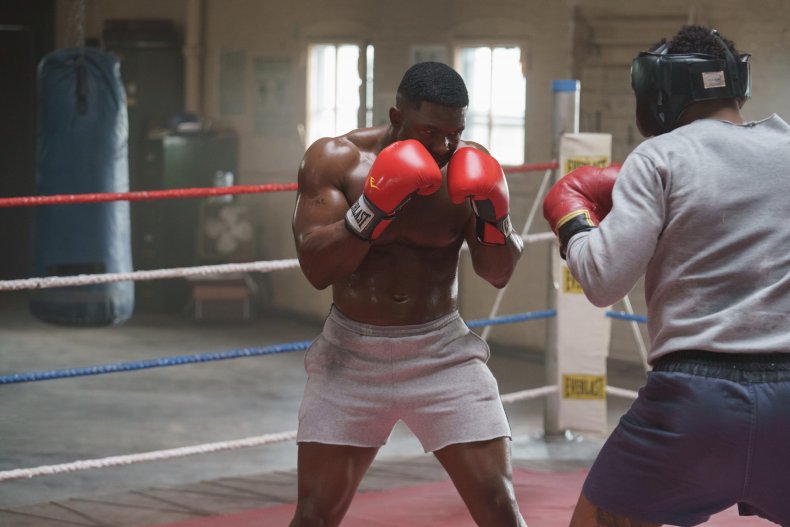 Hornsby is well known for playing Lyons in Fences and Carl Gatewood in The Affair.
Guest starring in the series is Harvey Keitel as Cus D'Amato, Laura Harrier as Robin Givens, Li Eubanks as Desiree Washington, and Kale Browne as Bill Clayton.
Also starring in Mike are Scott Macdonald, B.J.Minor, Jackie Sanders, Ethan Barrett, Olunike Adeliyi, and Greg Kaston.
What is Mike About?
Mike on Hulu and Dinsey+ will trace the career of an American professional boxer and one of the greatest heavyweight boxers of all time, Mike Tyson.
The series will follow Tyson from adolescence to the height of his career as a professional boxer as well as the series of scandals that unfolded following his retirement from the sport.
Mike is set to address Tyson's impressive career, including winning 50 out of 58 fights, 44 by knockout as well as his marriage to Robin Givens and his time in prison for the rape of 18-year-old Desiree Washington.
The official synopsis teases: "The 8-episode limited series explores the tumultuous ups and downs of Tyson's boxing career and personal life - from being a beloved global athlete to a pariah and back again. Focusing the lens on Mike Tyson, the series examines class in America, race in America, fame and the power of media, misogyny, the wealth divide, the promise of the American Dream, and ultimately our own role in shaping Mike's story."
Unfortunately, Mike Tyson himself is not happy about the upcoming limited series.
Writing in an Instagram post on Saturday, August 6, Tyson accused Hulu of stealing his life story.
He wrote: "Don't let Hulu fool you. I don't support their story about my life. They stole my life story and didn't pay me."
To caption the post, Tyson wrote: "Hulu is the streaming version of the slave master. They stole my story and didn't pay me."
Newsweek has reached out to Hulu for comment.
Is There A Trailer for Mike?
Yes, there is a trailer for Mike which sees Trevante Rhodes transform into Tyson.
Set to Sammy Davis Jr's song "I've Gotta Be Me", audiences see various versions of Mike throughout the 70s, 80s, and 90s.
The trailer begins with Tyson asking "Who Am I?" before flashing through moments of his life, culminating in him wearing an orange jumpsuit.
Rhodes as Tyson then turns to the camera and asks "Is that who I am?"
Mike is coming to Hulu on Thursday, August 25, and Hulu+ on Thursday, September 8.