Mystery Person Puts $1.3 Million on Biden to Win Election in Largest Ever Political Bet
An unnamed person has placed a £1 million ($1.29 million) bet on Joe Biden winning the 2020 U.S. presidential election.
The bet, which was placed with a British bookmaker over the weekend, stands to earn a $1,987,502 return if the Democrat wins. It is the biggest political bets of all time, according to the bookmaker Betfair.
Political gambling is allowed in the U.K., but is banned in the U.S. So far, Betfair said stakes worth a combined $337 million have been placed in the lead-up to the election. Of these, $170 million has been placed on Biden and $156 million on Trump, the firm said.
With just one day to go until polls open, Betfair Exchange gave the Democrat a 66 percent implied probability of clinching victory ahead of Trump a 35 percent chance.
It was a similar story with Oddschecker, which aggregates betting data from dozens of bookmakers. It gave Biden a 65.23 percent chance ahead of Trump's 34.78.
"Donald Trump's odds have slightly improved this weekend but that has not deterred one punter from betting £1m on Joe Biden to win," Betfair spokesperson Sam Rosbottom told Newsweek.
"The bet is the biggest political bet of all time on Betfair Exchange and returns a handsome £1,540,000 if Biden wins the keys to the White House."
Professional politics gambler and Betfair election expert Paul Krishnamurty said the big-money bets were coming in for Biden due to growing confidence in the betting market.
"That's what we always see at the end of an election where the people get more confident about the market and the big hitters enter," Krishnamurty said.
However, it was a different story last week when more money was put on put on President Donald Trump winning than on Biden.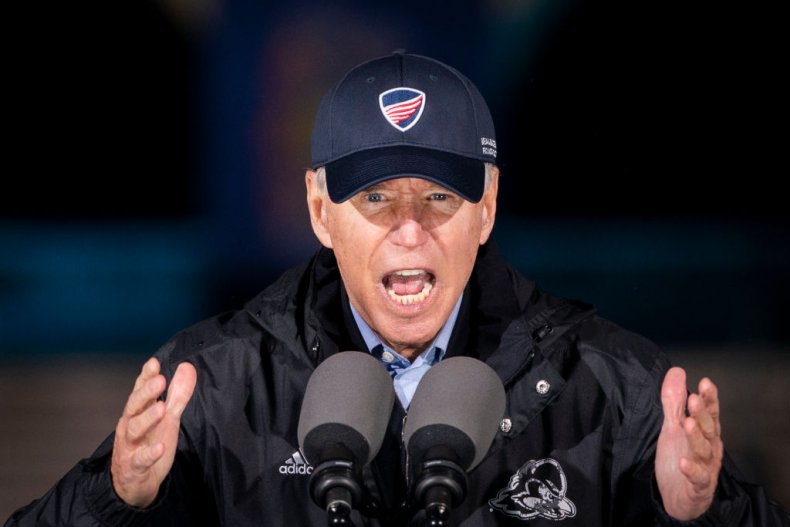 According to Oddschecker, Trump has been the popular bet since the betting market opened.
Many appear to be betting on the 2020 election following a similar pattern as the shock result in 2016. Like Biden, Hillary Clinton was the bookmakers' favorite heading into Election Day.
However, even though the odds were stacked against him, 61 percent of bets on the 2016 election were placed on Donald Trump, according to Oddschecker.
Ahead of that 2016 contest, Trump's election odds implied he had only a 16.7 percent chance of winning in late October. But 47.6 percent of wagers were placed on Trump in the same month, the aggregator reports.
Despite the relatively high number of bets placed on a Trump win, the largest bets have backed Biden.
"Whilst more money has been bet on Donald Trump, it could be telling that the ten biggest stakes are all on Joe Biden," a Betfair spokesperson told Newsweek.
The 2020 U.S. election is set to be the biggest-ever betting event with wagers worth close to $400 million expected by November 3.