Mindy Kaling Addresses Rumor That B.J. Novak Is Father of Her Children
In an interview published Tuesday, Mindy Kaling commented on the widespread speculation that B.J. Novak, a fellow comedic actor and her former romantic partner, is the father of her two children.
"It doesn't bother me," Kaling told Marie Claire about the rumors for the magazine's latest cover story.
Kaling and Novak both rose to fame on NBC's The Office, where they served as writers as well as characters on the show. Similar to their roles on the hit comedy, the duo were a couple offscreen as well. After calling it quits as partners, the two have continued their friendship and have attended public events together. Kaling even recently showed up to support Novak at the Los Angeles premiere of his directorial debut, Vengeance, in late July.
Kaling—who is also a producer, director and show creator—did not confirm nor deny Novak is the biological father of her son and daughter to Marie Claire, but she did discuss the important role he plays in their lives.
"He's the godparent to both my kids—and they have such a great relationship—and so far (the rumors haven't) affected my happiness at all, it hasn't affected my kids or B.J.," she said. "If that's what is going to be titillating to people, I'll take it."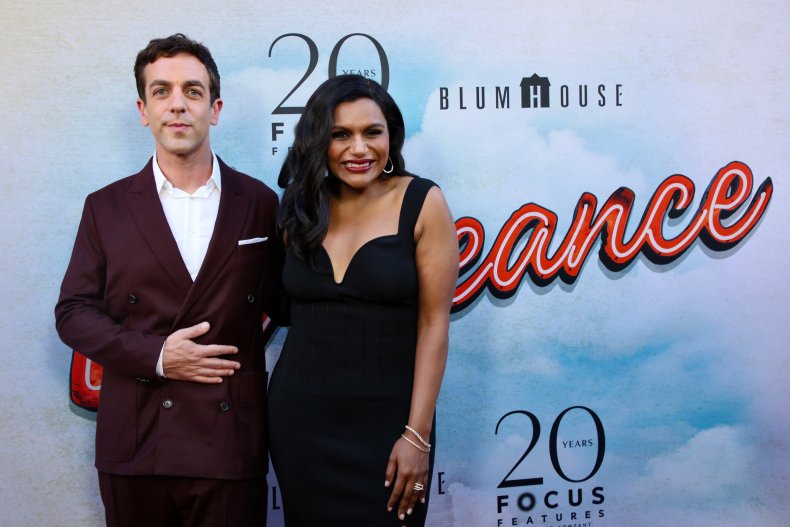 Kaling, 43, also opened up in the interview about waiting until her late 30s before becoming a mother. She said she had decided to hold off until she had the financial means and felt secure enough to become a single parent.
"The choice to have a child—by yourself, on your own terms—it was the best part of my life," she told the magazine. "It's the thing that I hope women feel confident doing by themselves."
Kaling also advised Marie Claire readers to freeze their eggs, even though she does not disclose whether or not she had done so herself. But she did stress that she wishes the process could be less expensive.
"I wish every 19-year-old girl would come home from college and that the gift—instead of buying them jewelry or a vacation or whatever—is that their parents would take them to freeze their eggs," she said. "They could do that once and have all these eggs for them, for their futures...to focus in your 20s and 30s on your career, and yes, love, but to know that when you're emotionally ready, and, if you don't have a partner, you can still have children."
Though Kaling discussed a number of other topics in the interview, most social media users on Wednesday were still focused on the rumors about Novak.
"Mindy Kaling not beating them BJ Novak allegations...EVER," read one tweet.
Another person wrote that Vanity Fair should have Kaling and Novak "interview each other" for the outlet's lie detector test video series.
Newsweek reached out to Kaling for comment.