Minneapolis Man Loses Job, Has Office Lease Terminated After Threatening to Call Police on Black Entrepreneurs
A Minnesota venture capitalist has lost his job and had his office lease terminated after he was accused of racially profiling a group of black entrepreneurs in a video that went viral on social media.
Tom Austin, who ran the F2 Group, was filmed asking a group of five black men about whether they were tenants of the MoZaic East building on Lagoon Avenue in Uptown Minneapolis. After the incident went viral, Austin's office lease was terminated, he confirmed to Newsweek.
"My lease in the office was terminated for the sake of appeasing mob rule," Austin said in an email. "And yes, I'm no longer CEO of F2."
Stuart Ackerberg, the CEO of the The Ackerberg Group, which owns the building, told the Star Tribune that he was "alarmed" by what he saw in the video. "I shared with [Austin] that I did not think it was handled well and there are other ways to go about this," he said.
The footage was posted on Instagram on Tuesday by Top Figure, a social media and branding firm. In one clip, Austin tells the men he is a tenant in the building before asking them: "Are you?"
When the men replied that they are tenants as well, he asks them what office they're in. When they refused, he threatens to call 911.
In another clip, Austin is seen on a phone call, saying there's a "whole bunch of people who don't appear to be part of the...." But he maintained that he only called the building manager and not police.
In an email to Newsweek, Austin said he would have complained about the incident regardless of who it involved but conceded it was "not my job to say anything or question potential trespassers."
He said he had been in a bad mood before getting to the gym and "was oblivious to the perception that my actions could be perceived as racist."
He had offered to "reach out for public apology for stupid behavior (but not for racism), but nobody has responded and most of the public seems to care less," he added.
Austin added that he was surprised the video had been posted because he and the men had carried on working out at the gym alongside the men for another 45 minutes after the incident while having "semi-friendly banter about race."
"I had already apologized TWICE to them for making them feel it was a race issue and I listened to all their grievances," he said.
"When I left the gym, at the end of the night I said "Have a great night, hope we're good." and did a fist bump with each of them! The video demonstrates that I was crabby and stupid, but not racism."
Austin previously told Newsweek in an email that he had "f***ed up" and "should have handled it differently," but maintained the incident had nothing to do with race.
"They got in my face in a very threatening manner and I threatened back to call [building] security. I would have done this regardless of race. So this is bullsh**," he said.
Austin claimed that a number of the men had been trespassing and "using a private gym that was authorized only for building tenants."
He added that it "looked like one of the tenants brought four friends and I complained to them that this isn't right and it's unfair to the tenants who pay."
But Ackerberg said two WeWork members had used their key fobs to access the gym and he assumes the other people were also Top Figure employees. He has been contacted for additional comment.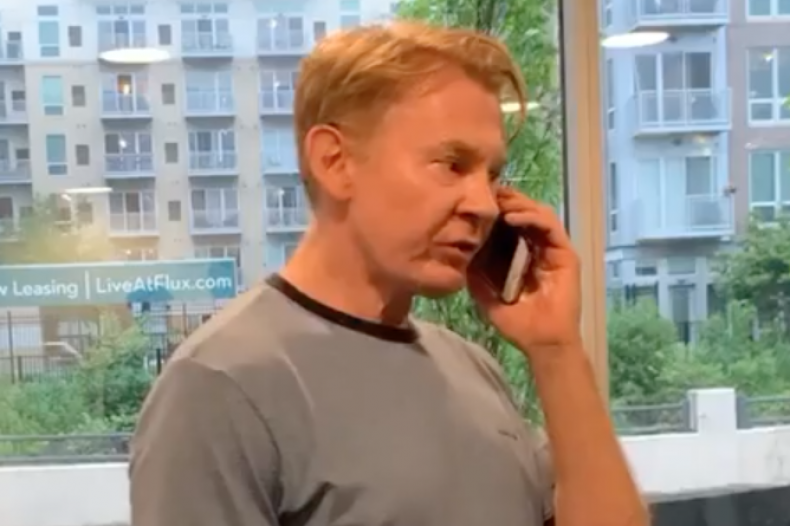 In a caption on their Instagram post, Top Figure said the incident on Monday evening was a case of racial profiling.
"Normally we don't speak out about encounters of racial profiling and age discrimination that we face day to day in our lives as young black entrepreneurs," the caption said.
"As we were working out this man approached and immediately asked us who we were and if "WE BELONG" in this building."
Top Figure added: "We all pay rent here and this man demanded that we show him our key cards or he will call the cops on us. We are sick and tired of tolerating this type of behavior on a day to day basis and we feel that we had to bring light onto this situation."
Top Figure has been contacted for additional comment. Stan Herman, a partner at F2 Group, has also been contacted for comment.
The incident came in the same week that the death of George Floyd, a black man, at the hands of a white police officer sparked violent protests in Minneapolis.
It also comes after a white woman was fired from her job after she was seen in a viral video calling police on a black man who asked her to put her dog on a leash in Central Park in New York City.