Minneapolis Mayor Jacob Frey Hits Back at Trump: 'Weakness is Pointing Your Finger at Somebody Else'
Minneapolis Mayor Jacob Frey has hit back at President Donald Trump, who branded him "very weak" as protests raged across the city.
The president spoke of his desire to see "the city under control," talking of sending in in the National Guard and of looters being shot in early morning tweets.
"I can't stand back & watch this happen to a great American City, Minneapolis. A total lack of leadership. Either the very weak Radical Left Mayor, Jacob Frey, get his act together and bring the City under control, or I will send in the National Guard & get the job done right," Trump wrote.
At a press conference, Frey had the president's comments read out to him.
In response, he said: "Let me say this. Weakness is refusing to take responsibility for your own actions. Weakness is pointing your finger at somebody else during a time of crisis.
"Donald Trump knows nothing about the strength of Minneapolis. We are strong as hell. Is this a difficult time period? Yes. But you better be damned sure that we're going to get through this."
Newsweek has contacted Frey and the White House for comment.
In a second tweet, the president said the military would support methods to control the protests, while he added "when the looting starts, the shooting starts."
This post was subsequently restricted by Twitter, which said it violated its rules around glorifying violence.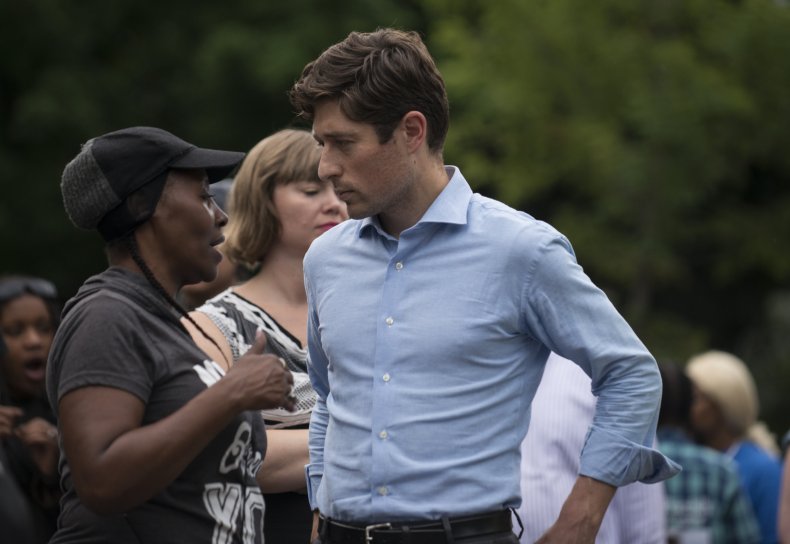 Amid the protests, a state of emergency has been declared in Minneapolis, while the Minnesota National Guard said that it had "activated more than 500 soldiers" to St. Paul and the surrounding area during the demonstrations.
A police precinct in the city was broken into, prompting police officers to flee, while fires were set inside. Footage has also shown rubber bullets and tear gas used against protesters, amid clashes with authorities.
The demonstrations follow the death of Floyd, which has caused outrage after footage of him being detained was shared on social media.
In this an officer can be seen placing his knee on Floyd's neck. Floyd repeatedly informed the police on the scene that he could not breathe, following which an ambulance arrived. He was taken to a local medical facility, where he was pronounced dead.
The four police officers involved were fired and calls have been made for the arresting officer to be charged in relation to the incident.
Frey previously tweeted: "If most people, particularly people of color, had done what a police officer did late Monday, they'd already be behind bars."