Minneapolis Police Destroyed Case Files Amid George Floyd Protests
Minneapolis officers in a police precinct destroyed documents during the unrest that erupted in summer 2020 following the killing of George Floyd, it has been revealed.
Officers in the Second Precinct in northeast Minneapolis destroyed a cache of documents, including inactive case files, search warrants and records of confidential informants, after the Third Precinct headquarters was overrun by protesters and burned down on the other side of the city, the Star Tribune reported.
Officer Logan Johansson wrote in a memo that he and other investigators in the Second Precinct decided to destroy the documents shortly after May 28, 2020, in a bid to ensure sensitive information didn't end up in the wrong hands.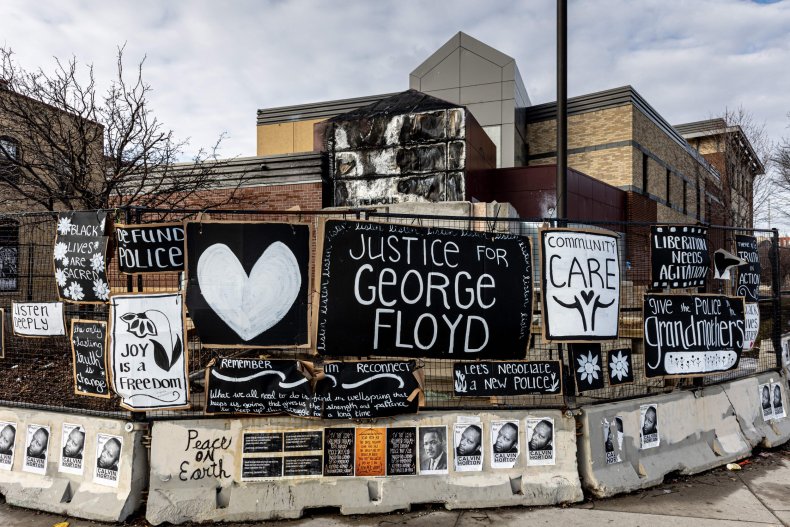 It was a "direct response to the abandonment of the Third Police Precinct in Minneapolis by city leadership," Johansson wrote.
The Second Precinct was not targeted by protesters, but the decision to destroy the files has now led public defender Elizabeth Karp to ask a judge to throw out the case against her client, Walter Power.
Police executed a no-knock search warrant of Power's rented home on April 28 and found almost 3,000 doses of oxycodone and other drugs, according to the newspaper. Power was later charged with first-degree drug sale, a felony.
But in court documents, Karp said that police have destroyed evidence that would be crucial to her client's defense.
Because "much, if not all the facts relied upon" to search Power's home were destroyed, he cannot know how the warrants were obtained or if the searches were lawfully carried out, Karp argued.
"The main check on a violation of the Fourth Amendment is a defendant's right to challenge an unlawful search," Karp wrote. "Such a guarantee means nothing if the state is simply allowed to destroy the evidence."
Karp also asked Judge Todd Fellman to issue an order prohibiting police from destroying or misplacing any further evidence related to Power's case. A hearing on the motion has been set for July 27.
Lacey Severins, a spokesperson for the Hennepin County Attorney's Office, said prosecutors are preparing a written response to the motion and will present this at the hearing later this month.
"The argument raised by the defendant in this case is exactly that, an argument," Severins said in a statement to Newsweek.
"While some information that the defendant has requested may no longer be available, there are factual and legal matters in dispute over whether such evidence is material to the issues in this prosecution, and whether any actions taken by the police were done deliberately to adversely affect this defendant. Our position is that they are not and we will, as always, make our complete argument in court."
Minneapolis Police spokesman John Elder told Newsweek that an internal investigation to determine about what happened at the Second Precinct is underway.
"We are conducting an internal investigation to understand what happened at the Second Precinct, how the decisions were made and whether there were broader issues with documents, records or files stored in our facilities during the riots," Elder said. "Any disciplinary decisions would be made through the normal process after an investigation."
Karp and Minneapolis Mayor Jacob Frey's office have been contacted for comment.
Update 7/15/21, 9:51 a.m. ET: This article has been updated with a statement from the Hennepin County Attorney's Office.