Minnesota Twins, Timberwolves Resume Action After Games Delayed by Daunte Wright Shooting
Minnesota's MLB and NBA teams are resuming action Tuesday after their games were postponed because of the shooting of 20-year-old Daunte Wright two days earlier.
The Minnesota Twins announced that, following a consultation with Major League Baseball, local state officials and law enforcement agencies, they will be resuming play against the Boston Red Sox in Minneapolis after their Monday game was postponed. The Twins were initially set to begin a four-game series against the Red Sox on Monday.
"The Minnesota Twins have announced that today's (Tuesday April 13) 1:10 p.m. game against the Boston Red Sox will be played as scheduled," the team said. "Additionally, the club announced that yesterday's (Monday April 12) postponed contest will be made up tomorrow, Wednesday April 14, as part of a straight double header."
The team also added that fans who had tickets for Monday's postponed game will receive credit for their purchase.
Similarly, the NBA announced Tuesday that the Minnesota Timberwolves would resume play against the Brooklyn Nets on Tuesday afternoon after their Monday game was postponed.
"After consulting with both teams as well as state and local officials, the decision was made to reschedule the game today," the NBA said in a statement.
Both teams, along with the the state's NHL team, the Minnesota Wild, said on Monday that they would postpone games following the fatal shooting of Wright, a 20-year-old Black man who was shot and killed during a traffic stop in Brooklyn Center on Sunday afternoon.
The three major sports teams called the shooting "tragic" and "heartbreaking" and said they had postponed their games out of respect for the situation. The Wild said Monday that their game would be rescheduled for May 12.
"Our thoughts remain with the family and friends of Daunte Wright during this difficult time," the NBA added in a statement Monday, according to CBS.
Wright was killed on Sunday after officers stopped him for a traffic violation but then learned he had an outstanding warrant. During the encounter with police, Wright reportedly attempted to re-enter his vehicle. Officer Kimberly Potter fired her weapon, which fatally struck Wright.
Brooklyn Center Police Chief Tim Gannon has since described the shooting as "an accidental discharge," and said Potter had meant to fire a Taser, not a handgun. Potter has been placed on administration leave.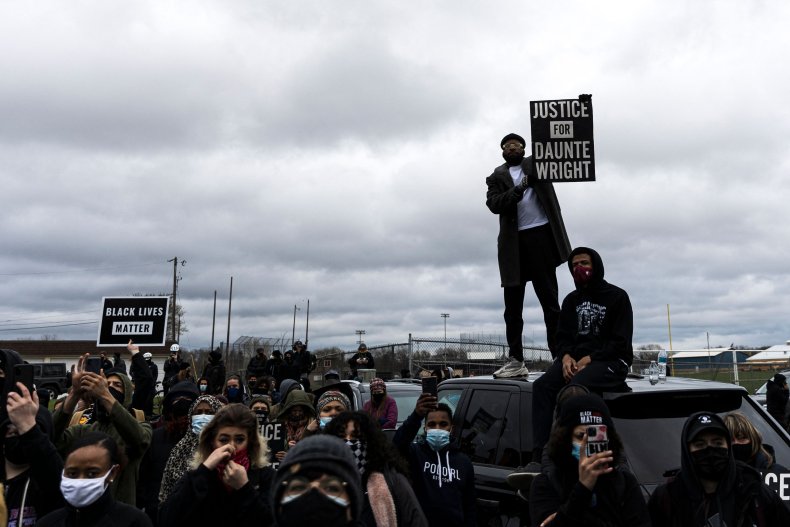 The shooting sparked national outrage, and prompted hundreds of protesters to take to the streets across Minnesota to demand justice.
The incident sparked further tensions in Minnesota, as the trial of Derek Chauvin, the former Minneapolis police officer charged in George Floyd's death, is underway in a courthouse about 10 miles from where Wright was killed. Floyd's death last year sparked international protests against police brutality and systemic racism.
"How many more losses must we mourn? The pain of George Floyd's shooting is still scarred into our minds and yet history continues to repeat itself because of a rotten and racist institution. For too long, law enforcement and the legal system have continued to racially profile, harass, arrest, and murder Black people more harshly than the rest of America," Miski Noor, co-executive director for Black Visions, said in a statement to Newsweek on Monday.
"A traffic stop should not be a death sentence. Daunte Wright should still be here, and his death and the many who were murdered by police before him, highlight a clear and concise need for safety beyond policing, and a new department of safety governed by the community," Noor added.
Wright left behind a 2-year old son, his mother, Katie Wright, said on Tuesday.
"He had a 2-year-old son that's not going to be able to play basketball with him. He had sisters and brothers that he loved so much," Wright said in an interview with ABC News. "He just had his whole life taken away from him. We had our hearts pulled out of our chests. He was my baby."