As the Ukrainian military begins to scale up its deployment of weapons it has received from NATO and its Western partners, in some cases with immediate and devastating effect, pro-Russian social media accounts have ramped up disinformation around the weapons in question.
A video shared on July 13, 2022, by an unverified Twitter account AZmilitary1, claims to be a video recording of a "black market" sale of several weapons provided to Ukraine by NATO.
The 85-second clip features a black Volksvagen with an AA851EE license plate, which is zoomed-in on at the beginning of the video. Two men are briefly seen shaking hands, before one opens up the trunk of the car and uncovers what appear to be weapon cases.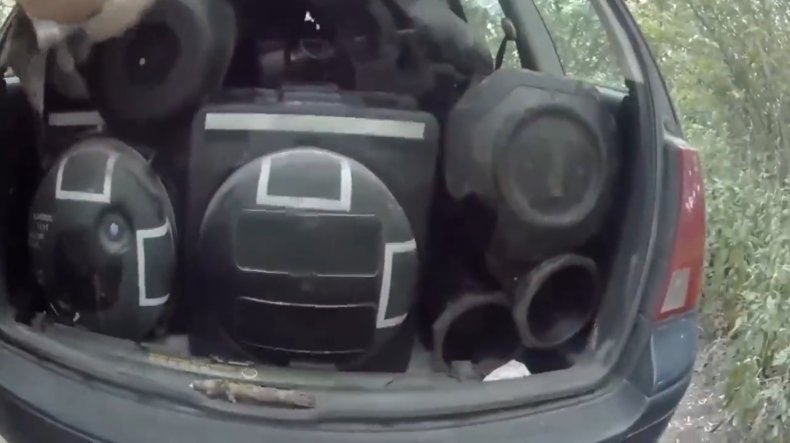 The two men greet each other briefly, and the seller then talks in Ukrainian as he is showcasing and describing the "Javelins and NLAWS" that he is trying to sell.
The second man then proceeds to inspect some of the "weapons" on offer, while his counterpart lists the price on each item.
The video was published by an unverified user with no geolocation tags, timestamps or any other details that could bolster its credibility.
The account is anonymous, but appears to follow dozens of pro-Kremlin or Russian-propaganda accounts.
Many of its posts are screenshots or citations of the statements and press releases (many containing misinformation) from Russian military officials and channels, raising legitimate questions about the user's agenda or trustworthiness.
Additionally, while Newsweek has not been able to verify the video independently, the footage itself appears to contain a number of red flags that put big question marks over its provenance and authenticity.
Firstly, the footage does not actually feature any of the weapons named, only the launch pads and disposable Javelin tubes are visible, making it hard to verify if the cases in fact contain the weapons that the seller is listing, or if they are empty.
The men featured in the video are conversing in Ukrainian, but as a number of native Ukrainian speakers pointed out to Newsweek, the main speaker's speech sounds 'awkward.'
The native speakers note that while the accent is more reminiscent of Eastern Ukraine dialects, his "turn of phrase" and choice idioms are closer to speakers from Western parts of the country.
Fake Licence Plate?
Others have noted that the way the video is filmed and edited raises questions about its provenance, and the motives behind it. The explicit, if brief, focus on the car license plate followed by an overt "on camera" handshake between the two pen raises suspicions that the whole encounter is staged.
The license plate, AA851EE, came into special focus because it is instrumental to the claim made by AZmilitary1 and other accounts that the weapons being sold to Ukraine are getting smuggled into the Balkans, especially to Kosovo and Albania.
But as Newsweek has discovered, the number plate on this vehicle is most likely fake.
WorldLicencePlate, a website that aggregates different types of licence plates from around the world, shows that there are several types (mostly from different production lines and years) that are common in Albania. Yet our research found only one of those available as a template that can be downloaded—the same format as the licence plate in the video.
Furthermore, the same number shown in the video has in fact appeared elsewhere in the past. A photo of a white/silver Mercedes with the same number was published on an Albanian-language Facebook page in July 2018.
This fact was verified by an Albanian fact checker, who found the owner of the car, a Mercedes Benz, via a national database of license plates.
The man, referenced only by his initials "AH," is reportedly a teacher and has filed complaints against media outlets that misidentified him in their reporting following the video going viral.
While it is not clear whether the license plate is counterfeit or whether someone simply covered it up with a paper printout, this and other red flags have prompted speculation that the video is an elaborate fake.
Some even claimed it is part of a Russian disinformation campaign aimed at undermining the purpose of weapons supplies and eroding support for Ukraine.
This type of misleading or out-of-context content targeting Western weapons supplies to Ukraine appears to have intensified in recent weeks.
"The terrorist groups Hamas and Hezbollah simultaneously threaten Israel with the fact that they received 'the Javelin anti-tank systems donated by NATO to Ukraine through a third country on the black market.' Bingo," one post, written in Russian, claims.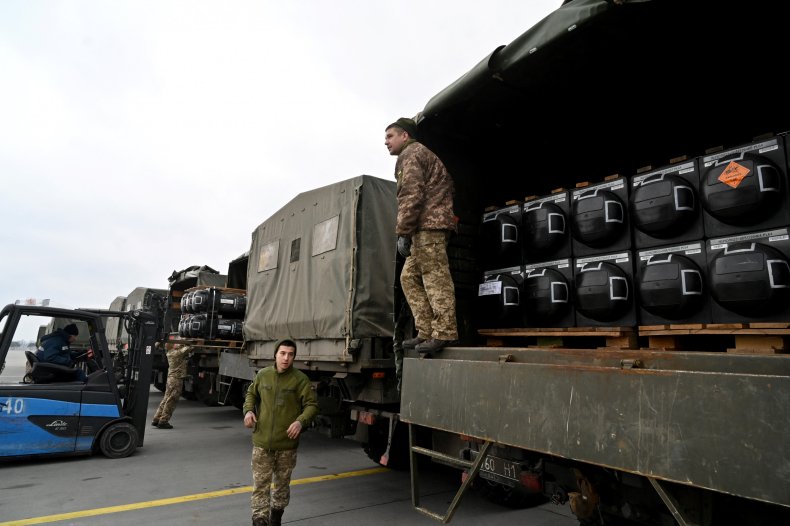 But the image accompanying the post is taken out of context. A reverse-image search reveals that the photo in fact predates Russia's invasion of Ukraine.
"Ukrainian servicemen load Javelin anti-tank missiles, delivered as part of the United States of America's security assistance to Ukraine, into a military trucks at the Boryspil airport, outside Kyiv, Ukraine, Friday, Feb. 11, 2022," the caption on an ABC News article states, attributing the photo to the photographer Efrem Lukatsky and the Associated Press.
Russia Weaponizing Western Reporting
The disinformation doesn't come just in the form of fabricated or misleading content, but also through weaponization of genuine materials, such as an article that was published in the Financial Times titled "Nato and EU sound alarm over Ukraine weapons smuggling."
Soon after publication, the headline of the article was corrected to say "Nato and EU sound alarm over risk of Ukraine weapons smuggling"—but not before it was shared widely.
The article, which also featured a misleading photo of a missile launch system (which is not mentioned in the copy), spread quickly among pro-Russian channels and accounts, accompanied by misrepresentations of the article's content.
As a Czech official cited in the article points out: "It's hard to avoid trafficking or smuggling—we didn't achieve it in former Yugoslavia and probably won't avoid it in Ukraine."
The author also quotes a U.S. official saying that "the potential for U.S. weapons sent to Ukraine to fall into the wrong hands is among a host of considerations given the challenging situation on the ground in the country."
But the article explicitly focuses on this as a potential issue for the the West, stressing the fact that EU officials and watchdogs, in coordination with Ukrainian military and government, are developing a set of measures to prevent or minimize weapons smuggling, while ensuring that the equipment delivered to Ukraine is carefully tracked and monitored.
"The Information that Ukraine is becoming a major hub for arms smuggling does not correspond to reality," the article concludes, quoting Yuriy Sak, an adviser to Ukraine's defense minister, who suggests that claims to the contrary "could be part of Russia's information war to discourage international partners from providing Ukraine with weaponry that is necessary for our victory."
EU officials have since dismissed the concerns about the security of weapons that the West provides to Ukraine.
Nevertheless, dozens of accounts went on to share either the link (with original misleading headline) or screenshots of the publication, accompanying it with misleading comments that posit the hypothetical as a fact.
"Remember when people said they were concerned all the weapons being sent to Ukraine would end up in the wrong hands? It appears that's already happening," one user wrote.
"Western weapons to Ukraine are returning to Europe, to its black market," said another.
Dark Web Auctions in Synch With Russian Media Reports
These examples add to the body of content, often unverified, unevidenced or patently misleading, that fuels the narrative of purported mismanagement of Western weapon supplies in Ukraine.
Claims that NATO weapons and ammunition are being put on sale on the dark web have surfaced in recent months, but as others have reported, there is no evidence that any such products have actually made it into the hands of a prospective buyer.
Notably, the Javelin or NLAW "digital lots" have often surfaced on obscure online markets almost simultaneously with screenshots and reports of these auctions on Russian Telegram channels and state media.
And as Newsweek discovered, several articles, including one written in Albanian by the Russian propaganda outlet Sputnik News, were, similarly, published almost immediately after the purported "sale" video was shared on Twitter, requiring little to no time for translation.
While this kind of viral content is not necessarily damning proof of coordination and could be explained by coincidence, it needs to be taken with a healthy dose of skepticism—especially when such "coincidences" begin to pile up.
Few, if any, large conflicts in the past failed to result in proliferation of weapons in surrounding regions and beyond, and it is likely that the war in Ukraine will not be an exception.
However, many of the claims suggesting it is happening are either unevidenced, or appear to be exaggerating the extent and scale of such incidents, which EU and Ukrainian officials insist are not widespread—in fact, allies have assessed Ukraine's use of NATO-sourced weapons to be effective and damaging to Russia.
At least some of such content appears to be either deliberately misleading or entirely manufactured, helping nefarious online actors push a false narrative amid Russia's reported struggles on the battlefield.