Putin Is Bringing His Disinformation War to Ukraine
The Kremlin began a campaign of propaganda in Russia about Ukraine well before Russian President Vladimir Putin ordered his troops to begin attacking the country in late February. But now recent reports are emerging that Russia has also been making efforts to spread disinformation within Ukraine.
Melitopol, a city in southern Ukraine, was one of the first sites of battle in the conflict and one of Russia's earliest successes. On Monday, The New Yorker reported that as Putin's forces stormed through the city in late February, soldiers posted flyers that declared the fighting was for "the defense of Russia itself from those who have taken Ukraine hostage" and called for "cooperation so that we can quickly turn this tragic page and move forward together." Melitopol residents also found that Russian broadcasts had replaced their local radio programming; one played a speech by Putin on a loop.
Meanwhile, an adviser to Mariupol Mayor Vadym Boychenko said Monday that Russia was offering to provide financial compensation to residents of the city if they blamed President Volodymyr Zelensky's military for destroyed housing or family deaths.
These reports, along with Russia's well-documented efforts at spreading disinformation and propaganda through social media and other online outlets, demonstrate how the Kremlin's attempts to manipulate public thinking even across enemy lines.
"In theory, such a propaganda effort could work, but it will be very difficult for the Russians to pull it off," Yuri Zhukov, an associate professor at the University of Michigan, told Newsweek. "The Ukrainians have been dominating the information war, and the Russians are playing catch-up."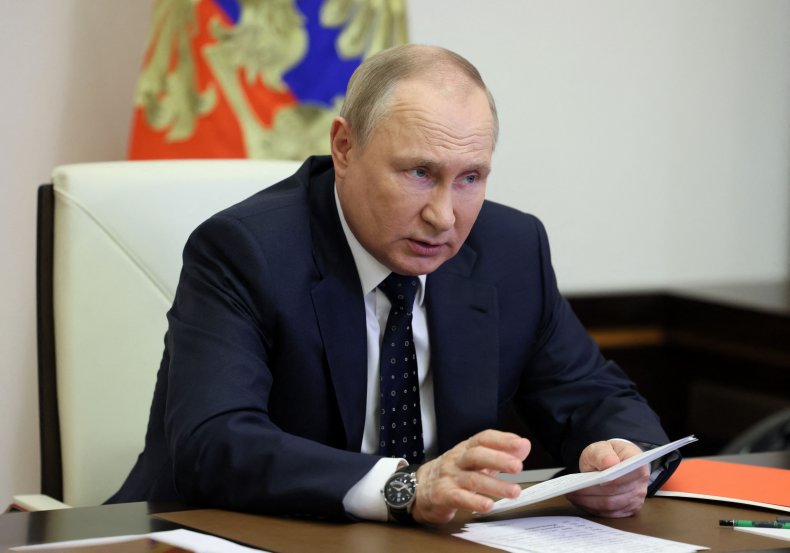 As Zhukov noted, Ukraine has been effective at spreading its message about being the victim under attack by Russian invaders. Pro-Ukrainian sentiment is evident all over social media, and Zelensky's speeches and Telegram channel are enormously popular.
"The Ukrainian government has been very disciplined and consistent in their public information campaign from day one of the war," Zhukov said. "Ukrainian media have been vigilant about fact-checking Russian disinformation in real time."
He added that spreading disinformation "is much harder to do when people are already well informed about the war and have strong prior beliefs about who is responsible for their suffering."
"When you try to change someone's preexisting, firmly held belief, they tend to double down on that belief rather than abandon it," he said.
However, Northwestern University political science professor William Reno said that trying to overwhelmingly convert the Ukrainian public's thinking may not be the ultimate goal for Russia's disinformation campaign.
"If Russian actors push such stories about Ukraine, it isn't about whether the audience believes the content of these messages. It's about convincing people to do what the Russian actors want them to do," Reno said.
The professor said this line of thinking is similar to fake social media accounts that provoke people into getting angry over "even the most implausible and absurd stories" as a result of false information that is spread with the right combination of hashtags.
"People still may share these messages with other people to show the evil of the Russians and maybe some bad people in their own society who help Russians propagate these messages," Reno said. "The main point is to exacerbate tensions within and between target audiences. Weakening the cohesion of a society under a lot of stress has all kinds of second-order impacts that could serve Russian interests."
Lawrence Reardon, an associate professor of political science at the University of New Hampshire, said that no matter Putin's motivation, his ploy isn't working.
"Putin's disinformation war concerning Ukraine has been a failure. Good disinformation is based on a little bit of truth," Reardon said. Simply put, no matter what Putin and other Kremlin officials claim, most people simply "don't believe that neo-Nazis are ruling Ukraine."
Newsweek reached out to the Russian Foreign Ministry for comment.