Michael McFaul, the former U.S. Ambassador to Russia, praised action movie star and former California Governor Arnold Schwarzenegger on Friday for releasing a video message warning Russians against the Kremlin's lies about its unprovoked invasion of Ukraine.
McFaul, in an interview with MSNBC, praised the former California governor for his "creative" approach to getting accurate information into Russia as the country continues to stifle the flow of information about the war.
Schwarzenegger, who served a California's Republican governor from 2003 to 2011, published the video message to Russians on Thursday via Twitter and Telegram. "I love the Russian people. That is why I have to tell you the truth. Please watch and share," the movie star, best known for his role in the Terminator franchise, wrote in his tweet sharing the roughly 9-minute clip.
In the video, Schwarzenegger explained the reality of what is happening in Ukraine to the Russia people. He said that Russian propaganda has misled the nation about what is occurring, and urged President Vladimir Putin to "stop this war."
"I applaud our former governor, that is a very effective mechanism. That will get around. You know, when I was ambassador, my trainer at the embassy, she was Russian and she loved Arnold Schwarzenegger. He's a guy that resonates in Russian society, so I really applaud what he has done," McFaul, who served as U.S. Ambassador to Russia from 2012 to 2014, said.
He went on to explain how the Kremlin has begun to crack down even further on free speech and independent media since the invasion of Ukraine. Russia's parliament recently passed new legislation prohibiting people from "discrediting" the Russian military. The newly enacted laws also ban media from using the words "invasion" or "assault" to describe the war in Ukraine.
Those violating the laws could face up to 15 years in jail. More than 14,000 people have been arrested across Russia due to their anti-war activism, according to the independent monitoring group OVD-Info.
McFaul said he was concerned about the reports of censorship and the blocking of social media and other online forms of communication in Russia as the country tries to control the narrative of what is happening in Ukraine.
"I hear that we are worried about they're going to shut down YouTube, which is a very important mechanism for getting information into Russia right now, so we have to be more creative," McFaul said.
The former ambassador explained that Schwarzenegger is well-liked by Russians, which could make his message resonate well with the public there.
"In Russian society, Schwarzenegger is very popular," McFaul said. "His last time there, he came in 2010, I was working at the White House at the time, and just massive crowds everywhere he went. He jumped on the metro, took some photos. He is well-loved for a long time, [because of] his movies. It was really brilliant of him."
In his message, Schwarzenegger, who is Austrian-American, pointed to his own history growing up in the wake of Nazi rule in Austria to push back against Putin's absurd claims that Ukraine is led by "neo-Nazis" and needs to be "de-Nazified."
"I know that your government has told you this is a war to de-Nazify Ukraine. This is not true. De-Nazify Ukraine? It is a country with a Jewish president—a Jewish president, I might add, whose father's three brothers were all murdered by the Nazis. Ukraine did not start this war. Neither did nationalists or Nazis. Those in power in the Kremlin started this civil war; this is not the Russian people's war," the former governor explained.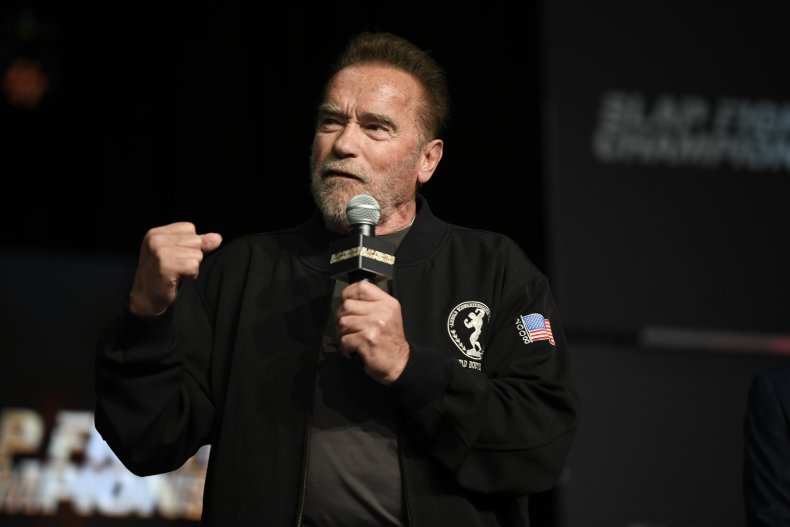 "Let me tell you what you should know. One hundred forty-one nations at the United Nations voted that Russia was the aggressor and called for it to remove its troops immediately. Only four countries in the entire world voted with Russia. That is a fact. The world has turned against Russia because of its actions in Ukraine," he continued.
Schwarzenegger concluded his message by cheering the Russians who have stood up and protested in the face of Putin's repression.
"To the Russians who have been protesting on the streets against the invasion of Ukraine: The world has seen your bravery. We know that you have suffered the consequences of your courage. You have been arrested. You have been jailed and you've been beaten. You are my new heroes," he said.
Newsweek reached out to the Russian embassy for comment but did not hear back in time for publication.