Putin in 'Strategic Disaster' With Ukraine War, Says Retired US General
Russian President Vladimir Putin is in the midst of a "strategic disaster" with his invasion of Ukraine, believes Barry McCaffrey, a retired four-star U.S. Army general.
Russian forces launched the full-scale invasion of Ukraine on February 24—drawing swift international condemnation. To justify the unprovoked assault, Putin bizarrely claims that Ukraine is being led by "neo-Nazis," despite the Eastern European country's president, Volodymyr Zelensky, being Jewish with family members who died in the Holocaust.
The U.S., Canada and European allies have been united in implementing severe financial sanctions targeting the Russian economy, as well as Putin and other Moscow elite. Meanwhile, the Ukrainian military—with support of many civilian volunteers—has outperformed many analysts expectations as its fought back against Putin's aggression.
McCaffrey, during a Sunday interview with MSNBC, said that President Joe Biden and his administration have "been brilliant in the way they handled this, moved forward as an alliance, not as a U.S. unilateral move."
"I think we're going to see that across the board, Putin put himself in a strategic disaster. The problem is, how are we going to act to end this intense suffering in Ukraine—huge nation, 40 million people—when the fighting in Kyiv gets intense? And in the coming weeks it's going to be painful to watch," the retired general said. (Ukraine has a population of about 44 million people).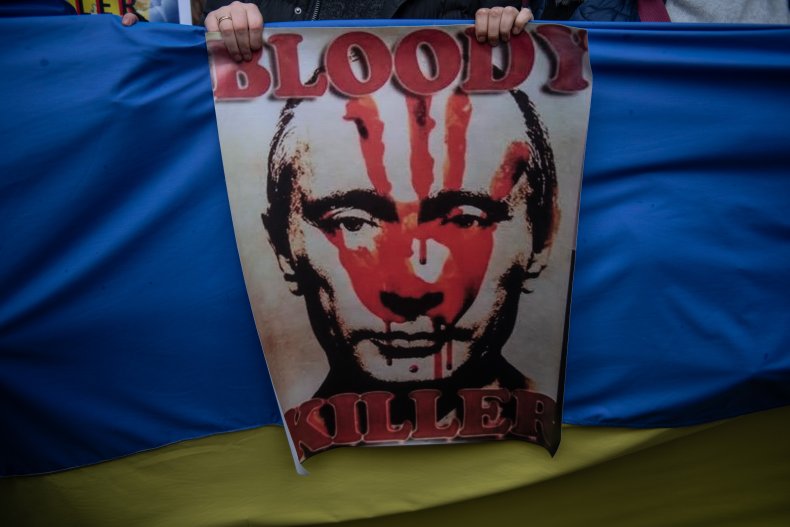 Earlier in the interview, McCaffrey pointed out that Putin's forces are "doing very badly" at a tactical level against the smaller Ukrainian military. "I think he's approaching the limit of endurance of what the Europeans can tolerate once we see the takedown of Kyiv, the capital," he assessed.
McCaffrey also pushed back concerns about "risking" nuclear escalation. He said that the chance Putin would use a nuclear weapon "approaches zero."
"I cannot imagine a lieutenant colonel in the Russian Air Force telling Mr. Putin this is a good idea. We have tactical nuclear weapons sitting on boomer submarines of the U.S. Navy that, within 15 minutes, could respond to a tactical attack. No one in their right mind thinks you can win a nuclear conflict," he said.
Many analysts believe that Putin underestimated the resistance Russia's forces would face in Ukraine as well as how Western nations would respond to the invasion. Within Moscow, Putin and his government reportedly believed that they would take control of much of Ukraine within days, but the war has already dragged on for more than two weeks without Russian forces capturing any major Ukrainian city.
Meanwhile, the economic fallout due to American and European sanctions is expected to have a devastating impact in Russia. Western companies have been shutting down in Russia in droves, and the Russian stock exchange will remain closed for at least another week. It has not been opened since February 25, as analysts are all but certain it will crash dramatically when trading is allowed to begin again.
"In terms of the government, the problem is that they're silent about the economy," Ruben Enikolopov, an economist and rector of Moscow's New Economics School, told The Moscow Times this week.
"The first reaction for many of them—because they grew up in the Soviet Union, so that's the mentality they have—is price controls and things like that. They might work temporarily, but in the long run, it's a disaster for the economy," the Russian economist said.
Russia's Finance Minister Anton Siluanov said in a Sunday interview with the Rossiya 1 TV channel that about half of Moscow's foreign currency and gold reserves are now inaccessible to the country due to sanctions.
"This is about half of these reserves that we had. We have a total amount of reserves of about $640 bln. Currently we cannot use about $300 billion of these reserves," he said, Russia's Tass news agency reported.