Biden's Ukraine-Russia Response Makes Majority of Americans Feel 'Insecure'
President Joe Biden's response to Russia's internationally condemned invasion of Ukraine makes the majority of Americans feel "insecure" and "nervous," new polling shows.
Russian President Vladimir Putin launched the full-scale assault on Ukraine on February 24 after weeks of warnings from the U.S. and Western European leaders that an attack was imminent. The U.S., Canada and European allies have been united in implementing substantial sanctions targeting the Russian economy, as well as Putin and other Moscow elite.
"As Putin continues his merciless assault, the United States and our allies and partners continue to work in lockstep to ramp up the economic pressure on Putin and to further isolate Russia on the global stage," Biden said in his Friday remarks.
The president announced last week that the U.S. would ban the import of Russian oil and would revoke Moscow's "most-favored-nation" trade status. Meanwhile, the U.S. is sending billions of dollars in weapons and military aid to Ukraine.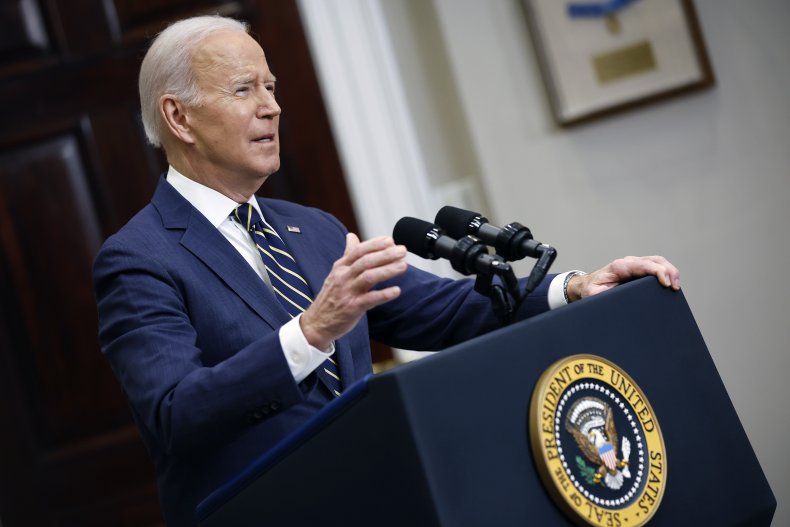 However, a majority of Americans are apparently not reassured by these steps. New polling by CBS News/YouGov released on Sunday showed that 54 percent of U.S. adults say Biden's response to the war makes them feel "insecure." An even larger segment of the population (63 percent) say the response from the president makes them feel "nervous." Only about a third said the response makes them feel "confident" (33 percent) and "secure" (32 percent).
Still, Americans' approval of Biden's response to the crisis has ticked upward since the beginning of March. When similar polling was released by CBS New/YouGov on March 1, just 41 percent of U.S. adults said they approved of Biden's response to the Russia-Ukraine war. The latest polling shows 46 percent now approve, while 54 percent still disapprove.
Substantial bipartisan majorities support the president's decision to ban the import of Russian oil and gas. Just over three-quarters (76 percent) of Republicans and independents back the ban. Support from Democrats is even higher at 84 percent.
A slim majority of respondents (52 percent) said that Biden's sanctions against Russia are "not strong enough." Meanwhile, 36 percent said the sanctions are "about right" and just 12 percent said they are "too strong."
When it comes to Russia's next steps, 69 percent of respondents said they believe Putin will invade other European countries. Nearly three-quarters said they "favor" a U.S. military response if Putin was to launch attacks against NATO allies.
The poll was conducted from March 8 to 11 and the margin of error was plus or minus 2.6 percentage points. More than 2,000 U.S. adults were included in the sample.
In a Friday tweet, Ukrainian President Volodymyr Zelensky said he had spoken with Biden and that they "agreed" on additional steps to take against Russia.
"Had a substantive conversation with @POTUS. Gave him the assessment of the situation on the battlefield, informed about the crimes of Russia against the civilian population. We agreed on further steps to support the defense of Ukraine and increase sanctions against Russia," he tweeted.