U.S. Rockets Having Significant Impact On Front Lines in Ukraine: Pentagon
American-supplied weapons to Ukraine are having a big impact on Kyiv's war effort against Russian aggression, according to the U.S. Department of Defense.
The U.S. has provided Ukraine's forces with eight of the 142 High Mobility Artillery Rocket Systems, known as HIMARS, which allow for the launching of multiple, precision-guided rockets and have pledged to send an additional four.
A senior U.S. Defense Department official told a background briefing at the Pentagon on Friday that the weapons systems are having a "significant impact on what's going on, on the front lines."
The weapons can hit targets at a larger range than the M777 howitzers, which the U.S. has also given Ukraine. Since their delivery, Kyiv claims it has carried out a number of successful strikes against Russian forces using the system.
The unnamed Pentagon official said that Ukraine's forces are "spending a lot of time striking targets like ammunition, supplies, other logistical supplies, command and control" which have "a direct impact on the ability to conduct operations on the front line.
"Although they're not shooting the HIMARS at the front lines, they are having a very, very significant effect on that," the official added, according to the defense department. Newsweek has contacted the Russian Defense Ministry for comment.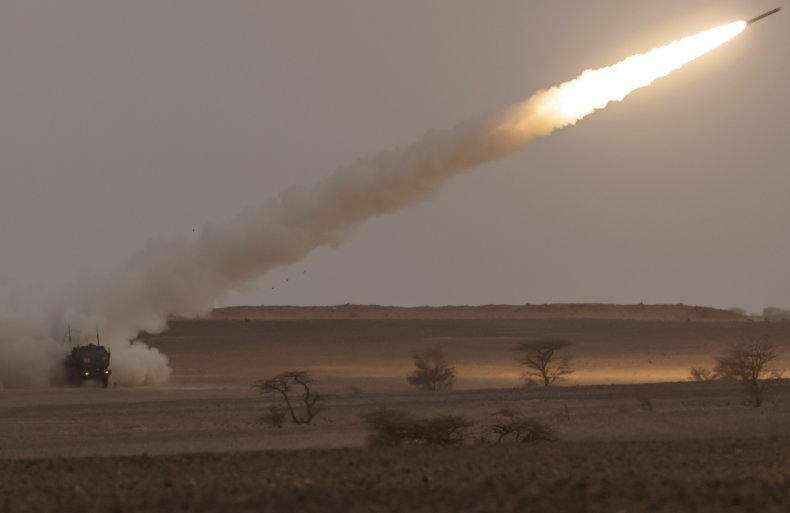 This week, Ukraine said it had killed another Russian commander after HIMARS missiles struck a Russian command and control center in the southern Kherson region.
On Thursday, Kyiv said HIMARS was used to destroy a second Russian ammunition warehouse in the city of Nova Kakhovka, in the same region.
And on Friday, Luhansk Governor Serhiy Haidai said a Russian ammunition depot was on fire in the occupied city of Kadiivka.
Meanwhile, the impact the weapons have had on the battlefield was outlined by a map of Ukraine by NASA's FIRMS fire tracking system which showed a sharp decrease in the number of fires caused by Russian shelling between July 8 and July 12. This indicated that long-range strikes on Russian ammunition warehouses were benefitting Ukraine.
The impact of the U.S. supplied weapons has reportedly raised alarm in Russia.
Igor Girkin, an ex-commander of separatist forces in eastern Ukraine, who is also known as "Strelkov", wrote on Telegram that the weapons had caused Russia to lose large numbers of troops and equipment.
He said this week that strikes had been carried out against at least 10 large warehouses of artillery and other ammunition. Oil depots and command posts had also been hit and that Russian air defense systems were "ineffective" against HIMARS missiles.
Military analyst Michael Kofman told the War on the Rocks podcast that while the HIMARS adds to the capability of Ukraine's forces in targeting Russian logistics sites, he expected Moscow's forces would "begin to adapt and change the way they operate to make them less effective."
He added that their effectiveness will also be limited by how much ammunition it can get for the systems. "No matter how many batteries Ukraine receives of HIMARS," he said, "the issue of ammo production...will be, I think, an enduring choke point."