Mississippi GOP Official Warns 'We See the End Times,' Calls for More Christians to Seek Office
Mississippi Secretary of State Michael Watson, a Republican, warned about the "end times" and called for more Christians to run for office during remarks this week.
Watson, Mississippi's top election official, made the comments during a National Day of Prayer event in Jackson on Thursday. The National Day of Prayer is commemorated annually on the first Thursday of May. The modern observance of the tradition began in 1952.
"I believe we need Christian men and women in office today more than ever before. And if you're a believer, if you're a member of the church, you understand the signs of the times right now," Watson, the son of a Pentecostal preacher from the Assembly of God denomination, said at the Jackson event, the Mississippi Free Press reported. "In the last few years, no more than ever before in the history of the church, we see the end times."
In a video of his remarks broadcast by Jackson CBS News affiliate WJTV 12, Watson can be seen praying: "Lord to seek the opportunity for you to be seen through us, more than us to build our own statues—that you would help us to be godly men and women to Mississippi, to this country."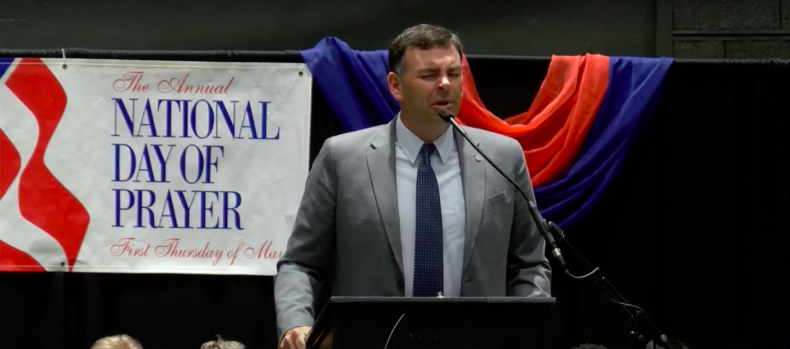 In a Friday Facebook post, Watson characterized the event as being attended by people "of all walks of life here in Mississippi."
"I was honored to pray for our elected leaders, and trust the Lord will provide more men and women full of Christian character to step up and serve. This world definitely needs more salt and light!" he added.
Many conservative Christians believe that there will be plagues and tribulations as the "end times" approach. This is often referred to as Armageddon, a prophesied location of a literal or symbolic battle—depending on the specific Christian denomination's interpretation.
Currently, the overwhelming majority—88.1 percent—of the current members of Congress describe themselves as Christians, according to a January analysis by Pew Research Center. More than 55 percent describe themselves as specifically Protestant Christian, while just under 30 percent identify as Catholic. After Christians, just 6.4 percent of the Congress identifies as Jewish, while 3.4 percent do not identify with a religion. Less than 1 percent identify as Muslim, Hindu or Buddhist respectively.
President Joe Biden is a Catholic and Vice President Kamala Harris identifies as a Baptist, a Protestant denomination. The Constitution's Article VI clearly states, however, that "no religious Test shall ever be required as a Qualification to any Office or public Trust under the United States."
Conservative evangelical Christians, and particularly white evangelicals, generally align most closely with the Republican Party. In 2016 and again in 2020, exit polling during the general election showed that about 8 in 10 white evangelicals cast their ballots for former President Donald Trump.
Evangelicals are generally politically animated by their concerns about cultural issues. The majority tend to be staunchly opposed to women's reproductive rights, LGBTQ rights, and greater legal protections for the transgender community.
Newsweek reached out to Watson's office for further comment.