Christian Preacher Shane Vaughn Compares Facebook's Trump Decision to Satan Killing Jesus
Christian preacher Shane Vaughn, a conservative supporter of former President Donald Trump, compared Facebook's decision to suspend the ex-commander in chief to Satan's decision to kill Jesus.
The independent Facebook Oversight Board announced on Wednesday that it would uphold the social media giant's decision to suspend Trump, which it did following the attack on the U.S. Capitol by the former president's supporters on January 6. However, the board declined to rule on whether the ban should become permanent, saying Facebook's leadership should make a final determination on that within six months.
In a Wednesday YouTube video, Vaughn, the co-founder of First Harvest Ministries in Mississippi, responded to the decision, urging his followers and Trump supporters to share content from the former president on Facebook. He pointed out that the suspension did not extend to others sharing Trump's comments and other pro-Trump content.
"We need 100,000 patriots to become reporters for Donald Trump. Get his words out there, since they wanted to be so smart that they wound up being stupid," the pastor said. Right Wing Watch first reported Vaughn's remarks.
"They made the same mistake that Satan made when he killed Jesus Christ. By killing one man, and killing his voice, he created a world full of little Christians that echo the message of Christ," Vaughn continued. "See, stupid on the Devil's part."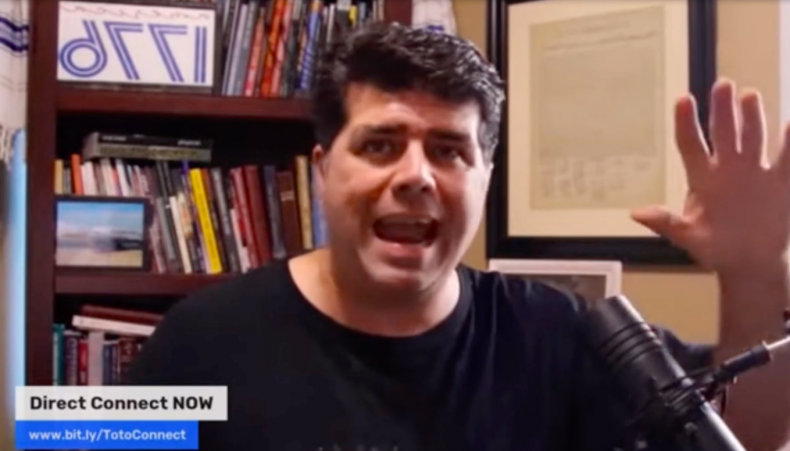 The preacher reiterated his view that this is the "same thing" that Facebook is doing with Trump. "Let 'em crucify him. But we're now the echo and we're going to put it on every page, every Twitter account, everything we got now. Because the Oversight Board didn't rule that we couldn't share Trump content," he said.
"Take advantage of it while we can," Vaughn urged his viewers.
Vaughn clarified in a Friday email to Newsweek that his comparison was just an analogy.
"My comparison to Jesus Christ & Trump is pure analogy — I use the same analogy in my personal life when I feel betrayed — in no way am I comparing the PERSONS but rather the CIRCUMSTANCES," the pastor wrote.
Christians view Jesus as the messiah and founder of their global religious community. He was executed two millennia ago at the order of the Roman governor of Judea, Pontius Pilate, but Christians believe he rose from the dead days later and returned to heaven.
Back in mid-November, Vaughn told the Religion News Service that he was confident Trump would remain president, despite the election having been called in President Joe Biden's favor at the time.
"I truly believe in the bottom of my heart that Donald Trump will be our next president," Vaughn said.
The Religion News Service interviewed Vaughn after he posted a YouTube video sharing his views that Trump should not concede and could still successfully challenge the 2020 race. That video was quickly viewed more than 1 million times on YouTube, and Vaughn said it was seen over 10 million times when Facebook and other social media are included.
Vaughn noted in his Friday email to Newsweek that he told his followers on January 7 "that constitutionally it was over and we should immediately begin focusing on the House in 2022."
"I also taught them that the worst thing that could have happened to Trump in hindsight was for him to win re-election with the House still against him and the Senate divided — He would have been Impeached the next day.... In our purview it is much better to reclaim the House in 2022 and the Senate and have him return as he is already the clear front runner," he wrote.
Conservative Christians, and particularly white evangelicals, have long been a key base of support for Trump and other Republicans. In 2016 and then again in 2020, exit polls from the election showed that about eight in 10 white evangelicals cast their ballots for Trump. The conservative religious voters are generally politically motivated by social issues, as they are often staunchly opposed to women's reproductive rights, LGBTQ rights and legal protections for the transgender community.
Some self-described evangelical "prophets" have boldly claimed that Trump is still president and will be returned to power. Pastor Jeff Jansen, who heads Global Fire Ministries International, predicted in March that Trump would return to power by the end of April, claiming a military coup was underway to remove Biden. Although that prophecy did not come to pass, Jansen has insisted that Trump will return to office.
"The rats are gonna be exposed—President Trump stepping into his place," Jansen insisted in a Thursday video posted to Facebook. He asserted that he is "tripling down, I'm quadrupling down! God bless you. Look for it in Jesus name."
Robin Bullock, another Christian pastor and self-described "prophet," recently told his followers that it's a sin to recognize Biden as the legitimate president.
"You can pray for the office of the president. But you cannot pray for President Joe Biden, because you might as well pray for the Easter Bunny, because he don't exist," Bullock said in a recent sermon.
"And there's no anointing," he added. "And if you celebrate it or congratulate him, you've entered into his sin."
Trump and many of his supporters continue to groundlessly claim that the 2020 election was "rigged" or "stolen" by Biden and the Democrats. Despite filing dozens of election challenges in state and federal courts, the former president and his allies have failed to provide evidence to substantiate this allegation. Even judges appointed by Trump and other Republicans have dismissed or rejected the lawsuits.
Meanwhile, numerous recounts and audits in key battleground states—including in places where elections were overseen by Republicans who backed Trump—have reaffirmed Biden's victory. Former Attorney General William Barr, who was widely viewed as one of Trump's most loyal Cabinet members, said in December that there was "no evidence" of fraud that would change the election's outcome.