Mitch McConnell Comes Out Against Marjorie Taylor Greene With Removal Efforts Underway
Republican Senate Minority Leader Mitch McConnell has criticized Republican Georgia House Representative Marjorie Taylor Greene for her belief in extremist conspiracy theories.
He is one of the few Republicans to openly speak against the freshman congresswoman, even as Democrats move to get Greene removed from her recent assignments to the House Committee on Education and Labor and the House Budget Committee as well as preventing her from getting placed on any other influential congressional committees in the future.
"Somebody who's suggested that perhaps no airplane hit the Pentagon on 9/11, that horrifying school shootings were pre-staged, and that the Clintons crashed JFK Jr.'s airplane is not living in reality," McConnell said, according to The Hill. "This has nothing to do with the challenges facing American families or the robust debates on substance that can strengthen our party."
Among the theories she has supported or spread, Greene believes said that an airplane never hit the Pentagon during the September 11 terrorist attacks; that former President Barack Obama was secretly Muslim; that Black Lives Matters is a "domestic terrorist" organization; that the election was stolen from former President Donald Trump; that all school shootings were staged events meant to increase firearm regulations; that former Secretary of State Hillary Clinton once sliced off a child's face and wore it; and that wealthy Jews used a space laser to start wildfires and others.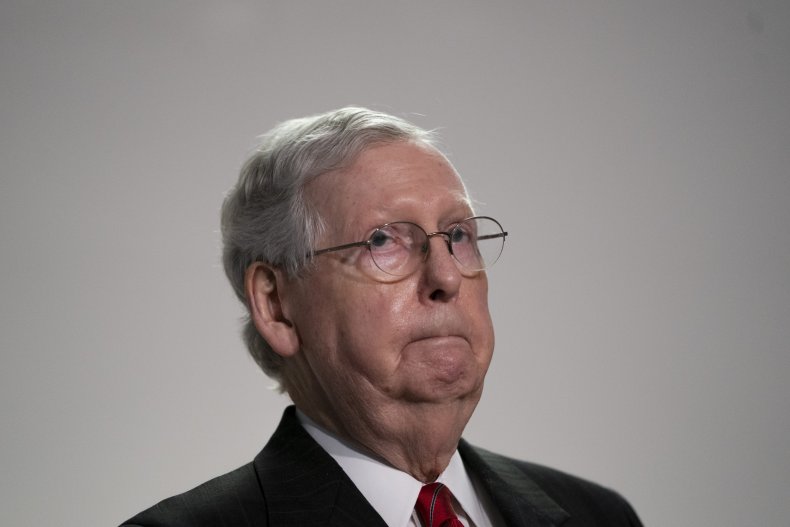 As a growing number of Democrats have called on Republican Minority House Leader Kevin McCarthy to remove the freshman congresswoman from her committee assignments, on Monday, the House Rules Committee said it would present a resolution on Tuesday.
The resolution alleges that Green has violated clause 1 of House rule 23 which states, "A Member, Delegate, Resident Commissioner, officer, or employee of the House shall behave at all times in a manner that shall reflect creditably on the House."
In a statement sent to Newsweek on Monday, Greene said the Democrats and the "Fake News Media" are "coming after" her because she's "a threat to their goal of Socialism" and represents "the people, not the politicians." She has never publicly disavowed any of her previously stated beliefs in the aforementioned conspiracy theories.
GOP House Minority Leader Kevin McCarthy has said he plans to meet with Greene to discuss her extremist beliefs.
"These comments are deeply disturbing and Leader McCarthy plans to have a conversation with the Congresswoman about them," Mark Bednar, a spokesperson for McCarthy, told Axios last week.
Newsweek contacted McConnell's office for comment.