Mitch McConnell Votes Against Interracial Marriage Bill Despite Asian Wife
Senate Minority Leader Mitch McConnell voted against legislation that would protect interracial marriages on Wednesday, despite the fact that he's married to an Asian American woman.
McConnell, who is white, is the husband of former U.S. Secretary for Transportation Elaine Chao, the first woman of Asian heritage to be appointed to a presidential cabinet.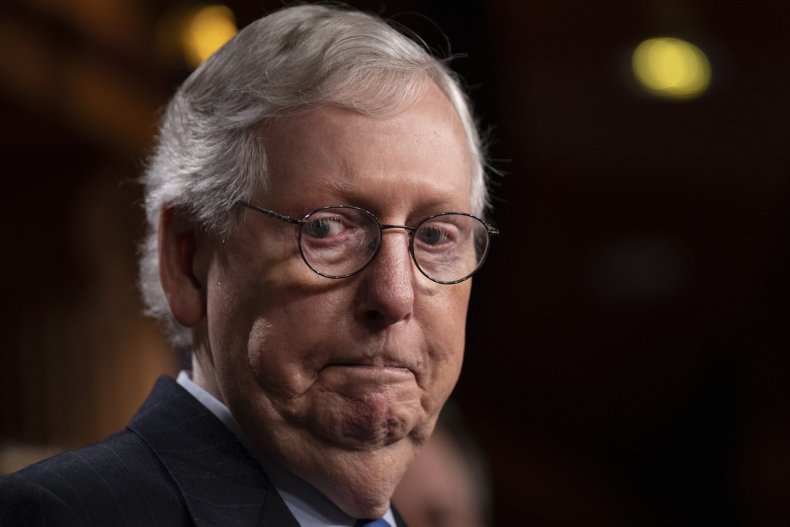 The Kentucky Republican was one of 37 GOP senators who opposed a motion to advance on the Respect for Marriage Act (RFMA), but the procedural vote succeeded with a bipartisan majority of 62, with one senator not voting.
The Senate is divided, with 50 Democrats and 50 Republicans, but the vote means that formal debate could take place on the legislation, while the Senate could pass the bill as early as Thursday.
The RFMA passed the House of Representatives in a bipartisan vote in July.
Many social-media users criticized McConnell following the vote and pointed to his relationship with Chao, whom he married in 1993.
"Mitch McConnell, a man in an interracial marriage, votes against protecting interracial marriage," tweeted former Democratic congressional candidate Nina Turner.
"My guess is McConnell's opposition has to do with same-sex marriage, not interracial marriage," wrote Brendan Kirby, investigative reporter with Fox10 News.
Newsweek has asked Mitch McConnell's office for comment.
The RFMA would repeal the 1996 Defense of Marriage Act and would require each state to recognize marriages that are valid in the state where they were performed.
The legislation is intended to protect same-sex and interracial marriages amid concerns that the Supreme Court could potentially overturn landmark rulings such as 2015's Obergefell vs. Hodges, which effectively legalized same-sex marriage nationwide.
Previously, marriage laws differed by state, and ceremonies performed in one state were not necessarily considered valid in other states, particularly in the case of same-sex unions. The Supreme Court found that bans on interracial marriage were unconstitutional in the 1967 case Loving vs. Virginia.
Concern about potential future Supreme Court cases comes after the Court overturned landmark abortion precedent in 1973's Roe vs. Wade in June 2022, leading many states to impose new restrictions on abortion.
Twelve Republican senators voted in favor of advancing the RFMA, and some spoke in support of the bill, including Senator Susan Collins of Maine, who addressed the possibility of the Supreme Court overturning Obergefell vs. Hodges.
"Regardless of one's views on that possibility, there is still value in ensuring that our federal laws reflect that same-sex and interracial couples have the right to have their marriages recognized, regardless of where they live in this country," Collins said.
McConnell was re-elected as leader of the Senate GOP on Wednesday in a vote behind closed doors, following disappointing midterm results for the party and amid a challenge from Senator Rick Scott of Florida.
"I'm honored that my Republican colleagues have reelected me to lead our outstanding Conference," McConnell tweeted. "Our united team is full of energy and ideas. We're going to fight Democrats' recklessness & promote our commonsense conservative vision to improve families' lives & strengthen America."