Mitt Romney Calls George Santos a 'Sick Puppy' as He Doubles Down on Attack
Mitt Romney branded George Santos a "sick puppy" after the pair clashed at President Joe Biden's State of the Union address on Tuesday.
The embattled New York Republican positioned himself prominently in the House of Representatives, in the central aisle, and attempted to shake hands with numerous dignitaries as they walked past.
However, he got a frosty reception from Senator Romney, the former Republican presidential candidate, with a video of a heated exchange between the two being widely shared on social media.
Speaking to reporters later Romney said he'd told Santos "you don't belong here," while Santos shared a tweet claiming he called the Utah Republican "a much bigger a******."
Addressing the journalists Romney said: "I don't know the exact words I said. He shouldn't have been there. Look, he's a sick puppy."
The senator went on to say he didn't know what Santos had said in reply, before confirming he told the House Republican "you don't belong here."
Asked why he did this Romney replied: "I didn't expect he'd be standing there trying to shake hands with every Senator and the President of the United States.
"Given the fact he's under ethics investigation he should be sitting in the back row and staying quiet, instead of parading in front of the president and people coming into the room."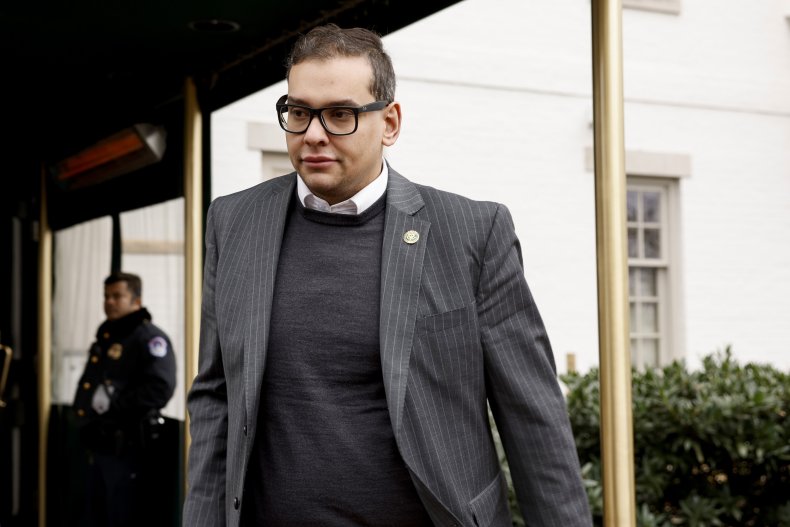 Santos admitted to "embellishing" his resume, after it emerged he had fabricated large chunks of his back story, including his claims to have graduated from Baruch College and worked for two Wall Street firms.
However, this explanation was rejected by Romney, who said: "He says he embellished his record. Embellishing is saying you got an A when you got an A minus. Lying is saying you graduated from a college you didn't even attend and he shouldn't be in Congress, and they're going to go through the process and hopefully get him out, but he shouldn't be there and if he had any shame at all he wouldn't be there."
Santos gave his own account of the confrontation to Semafor reporter Kadia Goba.
She said Romney told Santos "you don't belong here," to which the New Yorker replied: "Go tell that to the 142,000 that voted for me."
Romney allegedly replied "you're an ass," prompting Santos to say "you're a much bigger a*****."
Santos later hit out at Romney, the GOP's 2012 presidential candidate, on Twitter commenting: "Hey @MittRomney just a reminder that you will NEVER be PRESIDENT!"
Romney and Santos have been contacted for comment.
On February 3 Santos was accused of "sexual assault" by a former volunteer, who alleged the New York Republican grabbed his groin without consent in his congressional office.
On January 31 it was reported that Santos would step down from two House committees, saying he was waiting for the outcome of an ethics investigation into his conduct.