MLK's Niece Alveda King Defends Georgia Voting Laws as Continuation of His Legacy
Alveda King, the niece of civil rights leader Dr. Martin Luther King Jr., defended Georgia's new voting law on Thursday, suggesting it was a continuation of her uncle's legacy.
The Georgia voting law—SB202—was passed and signed into law by the state's Republican-controlled legislature and GOP Governor Brian Kemp late last month. The legislation has been staunchly opposed by Democrats, voting rights activists and civil rights leaders, who argue it amounts to voter suppression and will negatively impact minority voters.
"You've heard me say that the laws that are being passed across the country, especially in Georgia, might be a little too little too late. They should have done something to—in my opinion—at the last election to make sure that people had opportunities to be identified," King, a conservative who has vocally supported former President Donald Trump, told Fox News.
"We fought against Jim Crow, insisting 'give me my identity.' See me as a human being equally," she continued, referencing the voter ID requirement included in the new law. King inaccurately suggested that voters were previously casting their ballots without any identification required.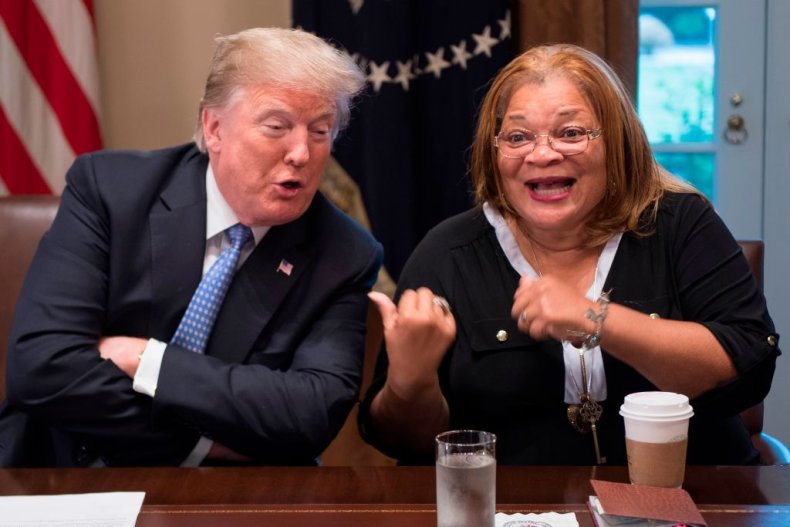 "And going back to Jim Crow and reminding us of the racism in those days and the segregation, it was bad, very, very, very bad. I know it was. I lived it. Our home was bombed. I've got a dead daddy and a dead uncle who can attest to how bad it was," King said. "But they said to come together. Martin Luther King Jr. [said], 'Learn to live together as brothers and sisters and not perish together as fools.'"
Notably, King's remarks are starkly at odds with the views of her cousin Bernice King, the youngest daughter of Martin Luther King Jr. and CEO of the Martin Luther King Jr. Center for Nonviolent Social Change.
"#SB202 is not a 'voter integrity' bill. It is a voter suppression bill propelled by unfounded assertions of widespread voter fraud. And it's not just about voter i.d.'s. Be sure to read and understand the bill before blithely commenting about it. Research matters," Bernice King tweeted on Tuesday.
Among a number of significant changes, the new Georgia law implements strict voter ID requirements; prohibits election officials from mailing out applications for absentee ballots; reduces the time voters have to request absentee ballots; decreases the amount of ballot drop boxes; and makes it illegal for individuals or organizations to provide water and food to people waiting in lines to vote. GOP lawmakers argue that the new legislation was needed to secure elections in the southern state, but there is no evidence to show Georgia's elections were previously insecure.
The new law was largely justified by Trump's groundless conspiracy theory that the 2020 election was "rigged" or "stolen" by Democrats. Despite the former president and his supporters repeatedly promoting this baseless claim, they have not provided evidence to support it.
Dozens of election lawsuits filed by Trump and his allies have failed in state and federal courts, with judges appointed by the former president and other Republicans rejecting the extraordinary allegations. In November, shortly after the election was called in favor of President Joe Biden, the Cybersecurity and Infrastructure Security Agency at the Department of Homeland Security, which was led by a Trump appointee, described the election as the "most secure in American history." The agency added that "there is no evidence that any voting system deleted or lost votes, changed votes, or was in any way compromised."
Former U.S. Attorney General William Barr, who was widely viewed as one of Trump's most loyal Cabinet members, said in early December that there was "no evidence" to support claims of widespread voter fraud. Recounts and audits in key battleground states, including three in Georgia, reaffirmed Biden's victory. Georgia's election was also overseen by Republican Secretary of State Brad Raffensperger, who voted for and donated to Trump.
Newsweek reached out to Alveda King for further comment.