Missouri Governor Outlines Law Enforcement Preparation for Jury Announcement in Ferguson Case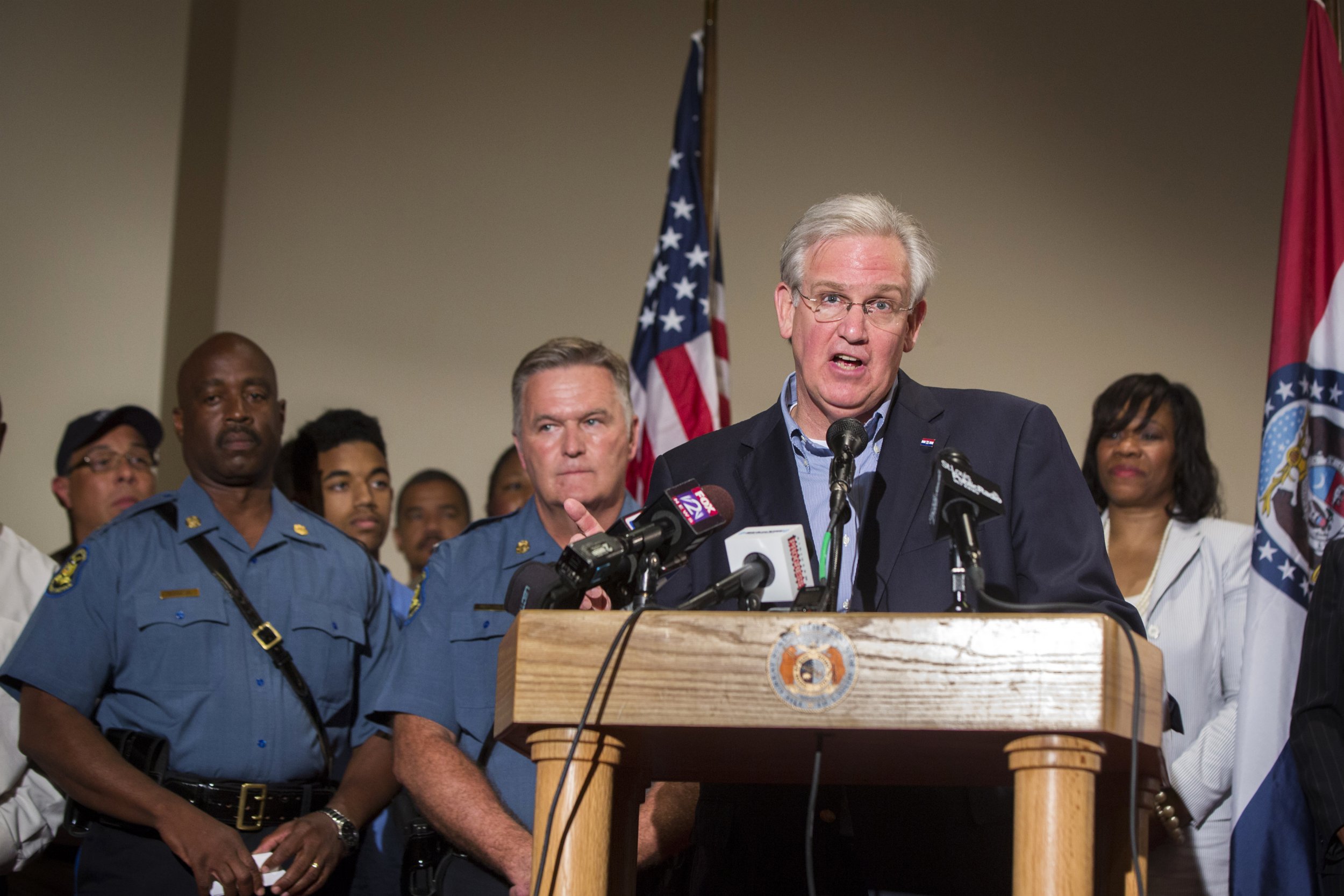 A coalition of police officers from different departments and, if necessary, the Missouri National Guard will be on hand to patrol St. Louis following a grand jury announcement expected later this month in the Ferguson shooting case, Missouri Governor Jay Nixon said Tuesday.
The law enforcement coalition will consist of officers from the St. Louis Police Department, the St. Louis County Police Department and the Missouri Highway Patrol.
"We have been working around the clock to keep St. Louis safe regardless of the outcome of parallel federal and state investigations," said Nixon, referring to ongoing investigations into the fatal August shooting of Michael Brown by Ferguson police officer Darren Wilson.
"We all know that when the grand jury decision is announced, emotions will be high," St. Louis Police Chief Sam Dotson said. "We don't want a repeat of August."
Brown, an 18-year-old black male, was shot and killed by Wilson, a 28-year-old white male, during a street stop on August 9, sparking months of protests and, in some cases, riots and looting. Ferguson police, then St. Louis County police, clamped down on protesters, deploying tear gas, smoke and other crowd-control measures decried by human rights activists.
Facing national scrutiny, Nixon handed over control of the situation to the Missouri State Highway Patrol, led by Captain Ron Johnson, in mid-August. Johnson largely succeeded in calming tensions by ratcheting back the use of aggressive police tactics.
"That ugliness was not representative of Missouri and cannot be repeated," Nixon said of the riots and the police response following Brown's death.
If a grand jury decides Wilson will not face charges in Brown's shooting, as many protesters expect, Nixon said he is prepared "for any contingency."
"This is America. People have a right to express their views and grievances, but they do not have the right to put their fellow citizens or property at risk," the governor said.
Nixon was joined at the press conference by Dotson and St. Louis County Police Chief Jon Belmar; Johnson, Colonel Ronald Replogle and Major Bret Johnson of the Missouri State Highway Patrol; and Daniel Isom, director of the Missouri Department of Public Safety.
Notably absent was any representative from the Ferguson police department. In September, Ferguson Police Chief Thomas Jackson was involved in a scuffle when he attempted to join a protest calling for his own resignation.
Nixon and Belmar told reporters that officers from all three law enforcement agencies had undergone hours of "specialized training, with an emphasis on protecting constitutional rights of peaceful demonstrators."
Nixon also said he plans to establish a commission "to determine the root cause of what happened in Ferguson" after the shooting.