Moldovan Foreign Minister Nicu Popescu told reporters on Thursday that Chisinau sees no immediate threat from the Russia-aligned breakaway Transnistria region in the country's east, despite the regional instability wrought by the war in Ukraine.
Popescu said the government sees "no reason for Moldova to become the target of hostile military activities," though added: "We do have the responsibility to factor in all the possible threats."
Moldova is a small ex-Soviet republic wedged between Ukraine and Romania. Its western border is just over 20 miles from the strategic Ukrainian port city of Odessa, which in recent days has been preparing for a possible Russian assault.
And a swathe of land in the east of the country—between the Dniester river and the border with Ukraine—is already home to some 1,300 Russian troops, 400 of them peacekeepers. The soldiers are deployed to support the pro-Moscow self-declared Pridnestrovian Moldavian Republic.
For Moldova—which Popescu described as Ukraine's "most fragile neighbor"—the Russian invasion of neighboring Ukraine could pose an existential threat, though the foreign minister said there were as yet no signs that separatists or their Russian backers in Transnistria were preparing to go on the offensive.
"At this stage, we do not see signs of intentions that the region of Transnistria, or its local security forces, or Russian military personnel stationed in Transnistria, would be prepared for deployment in military action in Ukraine," Popescu said.
"Of course, having said that, we cannot predict what will happen tomorrow or in two weeks from now or in two months from now. In this sense, for now, the situation around Transnistria is calm. We hope it will stay the same.
"But again, as I said, we need to be prepared for all possible risks. And of course, a lot will depend on the course of the war in Ukraine."
He continued: "We are not a very big country. We do not have a very big army and we do not have a very well endowed army with sophisticated equipment. So as I said, we are obliged to prepare for the full spectrum of scenarios. But of course, we don't speculate, we don't predict, and we cannot talk publicly about what the scenarios are."
Popescu warned that Moldova's situation is "complicated on all possible fronts" and that its "capacity to maintain with relative calm and stability is stretched" by what is happening in Ukraine.
"We're doing our best, and we hope that the situation in Ukraine stabilizes and there is a return to peaceful interaction and negotiated solutions," he added. "If this stabilization doesn't happen, it will be a tragedy...primarily for Ukraine but also for Moldova."
Moldova's 1994 constitution enshrined Chisinau's neutrality. Popsecu said Russia's invasion of Ukraine will not change this policy. "Constitutionally, Moldova cannot take sides in military conflicts," he said.
"Moldova is focusing on easing, and facilitating, and responding to the humanitarian needs of Ukrainian citizens, or citizens of other countries, who have been forced out of their homes onto our territory."
The eastern European state—which has a population of around 4 million, or less than one-tenth of Ukraine's—has become a key escape route for those fleeing Russia's increasingly brutal offensive.
Popescu said that some 300,000 people have entered Moldova since the invasion began on February 24, of which 270,000 were Ukrainian refugees. Of these,107,000 are still on Moldovan territory, including 46,000 minors.
Popescu said Moldova has the largest number of refugees per capita in the entire region. "We're approaching 4 percent of our population being refugees," the minister added.
So far, most are staying in private accommodation or with hosts, Popescu said of the refugees. Some 10,000 are in refugee centers. "So for now, as I said, most are in a reasonably comfortable situation in private accommodation and flats," Popescu said.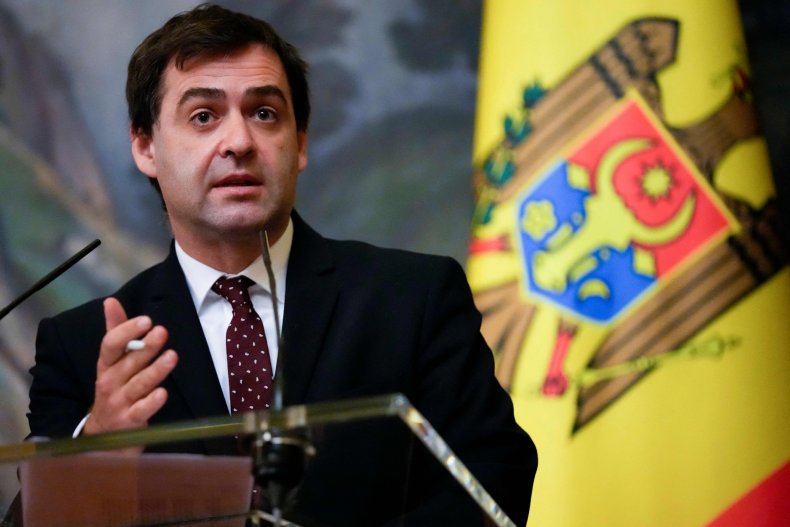 "But the more this number increases, the more of them will be staying and less comfortable, I would say, accommodation and refugee centers. And we really hope we don't have to have tent cities, which is, of course, a much more stressful position to find yourself in."
Popescu said the Moldovan government is covering one-third of the cost of each refugee, which currently accounts for some $1.1 million per day. The rest, he said, is covered by donations and international support, including from the United Nations High Commissioner for Refugees.
Moldova—along with Ukraine and Georgia—has applied to become a member of the European Union. EU leaders have been meeting to discuss the three bids and any potential for accelerating the process, which traditionally can take many years.
EU leaders traveled to Versailles, France on Thursday to discuss the applications, among other matters.
"We of course hope we will get the positive signal," Popescu said. "But at the same time we're very conscious that the accession to the EU is not done overnight, or even within a few months.
"We as a government continue to do our best to strengthen Moldova's capacity and credibility of becoming an EU member state at some point.
"We do realize that the most important thing we can do for Moldova's future is to actually make reforms: Consolidate democracy, fight corruption, improve the economy, and go down the route of accelerated, but nonetheless standard, Europeanization...of a country."
Moldova's EU ambition, Popescu said, will have no bearing on its neutrality.
The EU remains a primarily economic union, though Article 42.7 of the union's Lisbon Treaty does require "other EU countries to come to the support and aid, with all possible means, of a member state under armed attack." Traditionally neutral nations are not expected to break their longstanding neutrality policies.
"Neutrality is quite popular among...the public and the voters," Popescu said, adding that Moldova's vision was to join the EU "while remaining neutral" in a way similar to Finland, Sweden, Austria, Cyprus, and Ireland.
"We have a legal basis and a constitution that determines our action. And ultimately, we also insist on Moldova's sovereign right to decide what kind of security policies it wants to pursue, whether it's neutrality or something else."
Popescu said Russia's invasion has sown instability and tragedy throughout Ukraine and the rest of Europe. The damage done, he said, will undermine Europe and its nations for years to come.
"What already happened is tragic enough, and the repercussions of that will be felt for a long, long time. Not years, decades," he said.
"And these repercussions will be highly negative for Ukraine, for Moldova, for Russia, for Poland, for Slovakia, for Romania, for Hungary, for every European state. The sooner it ends, the shorter this recovery period will be."
The foreign minister added he is confident that Ukraine will prevail: "Knowing our part of the world, I would say that people—including the people of Ukraine, in this case—know what they want and will get it."