'Mom' Canceled: Why the Show is Ending After Current Season
Mom has become one of the two CBS shows canceled so far in 2021 alongside NCIS: New Orleans. CBS has announced that the sitcom starring Allison Janney as a recovering addict would end at the close of its eighth season. The network also announced that the final season would end on Thursday, May 6 at 9 p.m. ET / 8 p.m. CT, after around 170 episodes.
Why Mom has been canceled
The departure of Anna Faris from the show may have been a significant factor in the cancelation of the sitcom, as ratings on the series remain respectable—though around a fifth of viewers have stopped watching the show this season, which began with Faris' character Christy starting at Georgetown Law School on a scholarship.
Faris had surprised many by announcing she was not returning for Season 8 just weeks before production was set to start on the current set of episodes.
In a statement, she announced she was exiting the show to focus on other opportunities, writing: "The past seven years on Mom have been some of the most fulfilling and rewarding of my career. I'm so thankful to Chuck, the writers, and my amazing castmates for creating a truly wonderful work experience. While my journey as Christy has come to an end, allowing me to pursue new opportunities, I'll be watching next season and rooting for my TV family."
With this cancelation news, Mom becomes the latest show to be canceled in the season after its main actor left the show. Among the other notable examples is Netflix's House of Cards (though Kevin Spacey left in very different circumstances to Faris), Scrubs, and That '70s Show.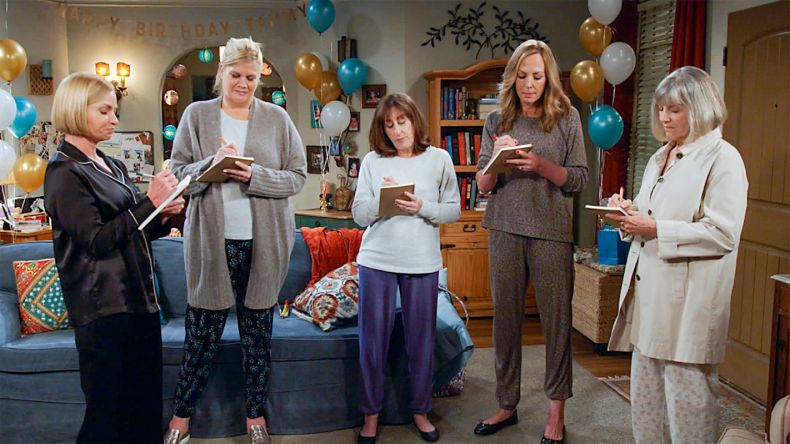 Mom creator Chuck Lorre, of course, managed to keep his prior comedy Two and a Half Men going for four years after firing star Charlie Sheen by bringing in another big-name star, Ashton Kutcher. When Mom did not bring in a replacement for Faris, this may have been a sign that the show was winding down.
Per TVSeriesFinale, the show is the 11th most-watched CBS scripted show this season, with an average of around 5 million viewers an episode. That, however, makes it the second-worst performing of CBS's comedies (not including the network's repeats of One Day at a Time from Pop TV).
Mom was beaten in the ratings by Young Sheldon, The Neighborhood and Bob Hearts Abishola, and narrowly beat freshman show Be Positive (also by Chuck Lorre). This is in major contrast to last year, when the show was the 11th most-watched show on CBS again but was also the second most-watched comedy on the network behind Young Sheldon.
In a statement, Mom executive producers Chuck Lorre, Gemma Baker and Nick Bakay said of the show ending: "For the past eight years, we've had the great honor to bring these wonderful characters to life, sharing their struggles and triumphs with millions of viewers every week.
"From the beginning, we set out to tell stories about recovery from alcoholism and addiction that are rarely portrayed in a network comedy series. Whether it was the emotional reactions of the live audience on tape night inside Stage 20, or discussions at The White House regarding the opioid crisis, or the personal stories we continue to receive on social media, we take great pride in knowing Mom has positively impacted so many lives.
"We are forever grateful to our brilliant cast and guest stars, wonderful writers, and amazing crew for going on this journey with us."
Mom Season 8 airs Thursdays at 9 p.m. ET / 8 p.m. CT on CBS.