A mom is being praised online for forcing her teen son to pay for his friend's medical bills with his college fund.
Posting to Reddit's AmItheA***** forum, user Low_Ice8875 explained that her son was responsible for the friend's injuries, after he took his motorcycle out for a spin without her permission.
A recent study found that motorcycle deaths are rising twice as fast as other traffic fatalities. Conducted by ValuePenguin for Motorcycle Safety Awareness Month, the research revealed an 11 percent jump in fatal motorcycle accidents between 2019 and 2020 (the latest available data).
Between 2016 and 2020, 33 percent of motorcycle crashes were caused by speeding. July was discovered to be the deadliest month, with 13 percent of deadly incidents occurring.
Wet weather, rider error and collisions with other vehicles are three key causes of motorcycle crashes and deaths.
In her post, Low_Ice8875 explains that her estranged husband purchased the motorcycle for their son "Bryan" without her consent as a "surprise last-minute gift."
The mom laid down some rules to keep the 16-year-old safe, such as sticking to the speed limit, only driving with dad around, and no passengers.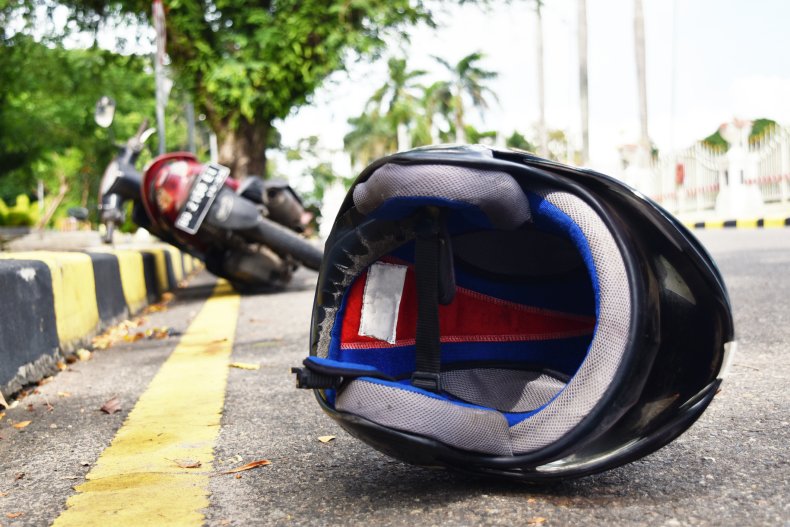 While staying with his dad for a week, Bryan took the bike out with his 15-year-old boyfriend "Clark." The couple got into an accident, with Clark severely injured.
She wrote: "I get a call from the hospital saying him and his boyfriend had been in a motorcycle accident.
"I rush down to the hospital and find Bryan and he's kinda banged, a gash on his forehead, some cuts and bruises and a concussion.
"They wrecked his motorcycle while he was taking Clark home from baseball practice and decided to street race some other guy. He lost control of his bike and they flipped over.
"I asked why the hell he was out riding his motorcycle without his dad and why he would of doing something so stupid, especially riding with someone else.
"He started crying saying he was sorry and that he just wanted to know if Clark was OK."
The mom went to check on Clark, who had sustained broken ribs, a broken leg, and two broken fingers. His parents were angry but calmed down after Low_Ice8875 promised to cover their son's medical bills.
When her husband arrived at the hospital, Low_Ice8875 went off on him, calling him an "irresponsible parent."
She said: "I just went off on him in the middle of the hospital, yelling at him that this is the reason why we were separated and that he was an irresponsible parent who never took anything seriously.
"I went to talk to Bryan, still mad, and told him that he'd be paying for all of Clark's medical bills out of his college fund and any money he'd been saving."
After Low_Ice8875 announced her plan to use her son's college fund and savings to pay for Clark's treatment, her ex and his family have been calling the Redditor non-stop.
"[They said] I was being a b***tch to my husband and that I shouldn't possibly be taking college away from Bryan because of a mistake. AITA? [Am I the A*****?]."
Reddit users backed the woman's decision to use her son's college fund to repay Clark's parents, with the post receiving more than 8,500 upvotes and over 1,000 comments.
"He broke the rules and did a very stupid thing, he's lucky they aren't both dead," said ShadyVermin.
"Motorcycles aren't toys, they're (potentially) lethal machines, more so than cars. He should consider himself lucky he's only losing some money out of this."
Higaroth agreed, writing: "I would say that the 16 year old should sell the bike to 1. help pay the debts and 2. get rid of it because he clearly can't be trusted to not... race strangers?
"But I assume its absolutely thrashed. He can get a part time job to help put some money back into the college fund after he pays for the medical costs."
However, some users suggested that her ex should foot the bill, or at least replace his son's college fund.
"Your ex should be held accountable to replenish the college fund because he gave the gift that caused the accident," said stinstin555.
While_higglety commented: "Dad ABSOLUTELY should be the one covering this kid's medical bills.
"He's the idiot who bought a teenager a motorcycle."
Newsweek has reached out to Low_Ice8875 for comment.