Dallas Zoo Mystery Sparked by Stolen Monkeys, Missing Leopard, Dead Vulture
A zoo in Texas fears it is being targeted after a string of mysterious incidents has seen cages broken open, animals being wounded, going missing, or even in some cases dying.
Zookeepers fear "somebody really has an issue" with Dallas Zoo, after a spate of odd occurrences has hit the zoo over the past month.
In the latest incident, two monkeys vanished from their enclosure on Monday, with detectives fearing they were stolen.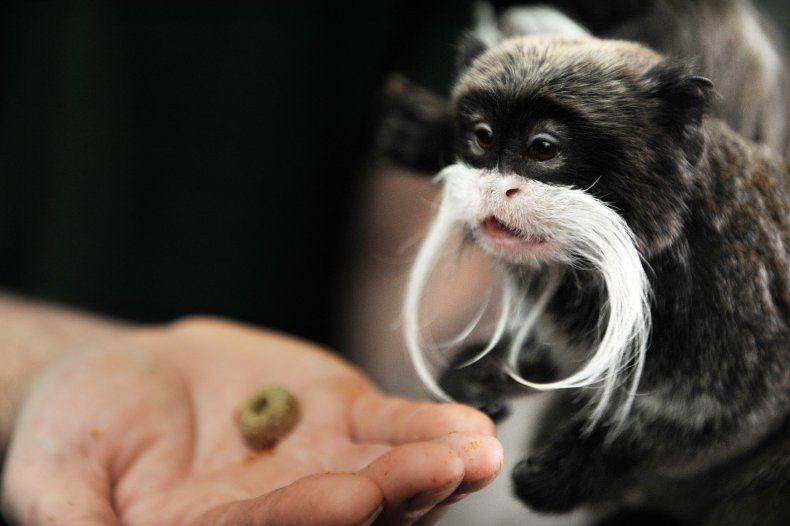 Dallas Police said they believe the cage was cut open by a suspect who took two emperor tamarins—small distinctive primates who have long whiskers that resemble moustaches.
"It was clear the habitat had been intentionally compromised," the zoo said in a statement on Twitter, adding: "Based on the Dallas Police Department's initial assessment, they have reason to believe the tamarins were taken."
Zookeepers conducted a search of the grounds, but have failed to find the pair.
It comes after a clouded leopard named Nova vanished from her cage, forcing the closure of the zoo on January 13 when a daylong search was undertaken to find her.
She was eventually found back near her habitat, but police said a tool had been used to cut open the fence to her enclosure.
That same day, it was also discovered that an enclosure of langur monkeys had also been sabotaged, although none of the monkeys had escaped.
Just a week later, on January 21, an endangered lappet-faced vulture named Pin was found dead in his enclosure. Zoo officials said the 35-year-old bird did not appear to have died from natural causes, while zoo president and CEO Gregg Hudson confirmed the vulture had "a wound."
He did not go into further detail.
"The animal care team is heartbroken over this tremendous loss," the zoo tweeted at the time, adding: "Losing him is devastating not only to our Zoo family but also to the conservation efforts of this species. Pin will be missed dearly by everyone."
A Dallas Police Department (DPD) spokesman told Newsweek last week that "the death is being investigated as suspicious."
Ed Hansen, chief executive of the American Association of Zoo Keepers, spoke to the Associated Press on Tuesday this week, after the monkeys vanished.
He said that he had never heard of another zoo battling similar issues with such frequency as the one in Dallas, which he said enjoys an "excellent" reputation within the industry.
Zoos as large as the Texas venue take security seriously, he added, with double-perimeter fencing and security patrols.
"It appears that somebody really has an issue with the Dallas Zoo," he said.
DPD declined to be drawn on whether detectives believe all the incidents are connected. But a spokesperson told Newsweek on Tuesday: "The investigations are all ongoing—part of those investigations is determining if the incidents are or are not related."
There have been no arrests so far in any of the investigations.
Newsweek also reached out to the Dallas Zoo for further information and comment, with a spokesperson confirming their previous statements "covers all the details we are able to release at this time."
In a tweet, Dallas Zoo said it has increased its security at the zoo overnight and has also added additional security cameras around the site.
Animals have escaped enclosures from the Dallas Zoo before. In 2004, a 300-pound gorilla named Jabari scrambled over a 16ft wall and went on a 40-minute rampage that injured three people before police shot and killed the animal.
And wily animals at other zoos around the world have also managed to flee their cages.
Bizarre footage went viral in September 2022 when a chimpanzee who had escaped from Ukraine's Kharkiv zoo returned home wearing a raincoat and on a bicycle. The primate's keeper was trying to coax the primate to go to her when it started raining. The chimp ran to her for a coat and agreed to return back to the zoo by bike.
That same month, numerous dangerous animals—including lions, rhinos and elephants—escaped from a zoo in South Africa. One woman was injured, while several cow carcasses were found as the animals tore their way through livestock. Some of the escaped animals were recaptured, while others were shot and killed.
Heartbreakingly, a lion cub, some monkeys, and some red wolves broke free from the Feldman Ecopark in Ukraine after the noise of Russian shelling left them terrified back in March, just a month after the invasion had started. All of the animals, except for the small red wolves, were recovered.
Update 01/31/23 12:03 p.m. ET: This article was updated with comment from the Dallas Police Department.