Donald Trump Said He'd 'Drain the Swamp,' but He's Made It Worse, A Third of Americans Say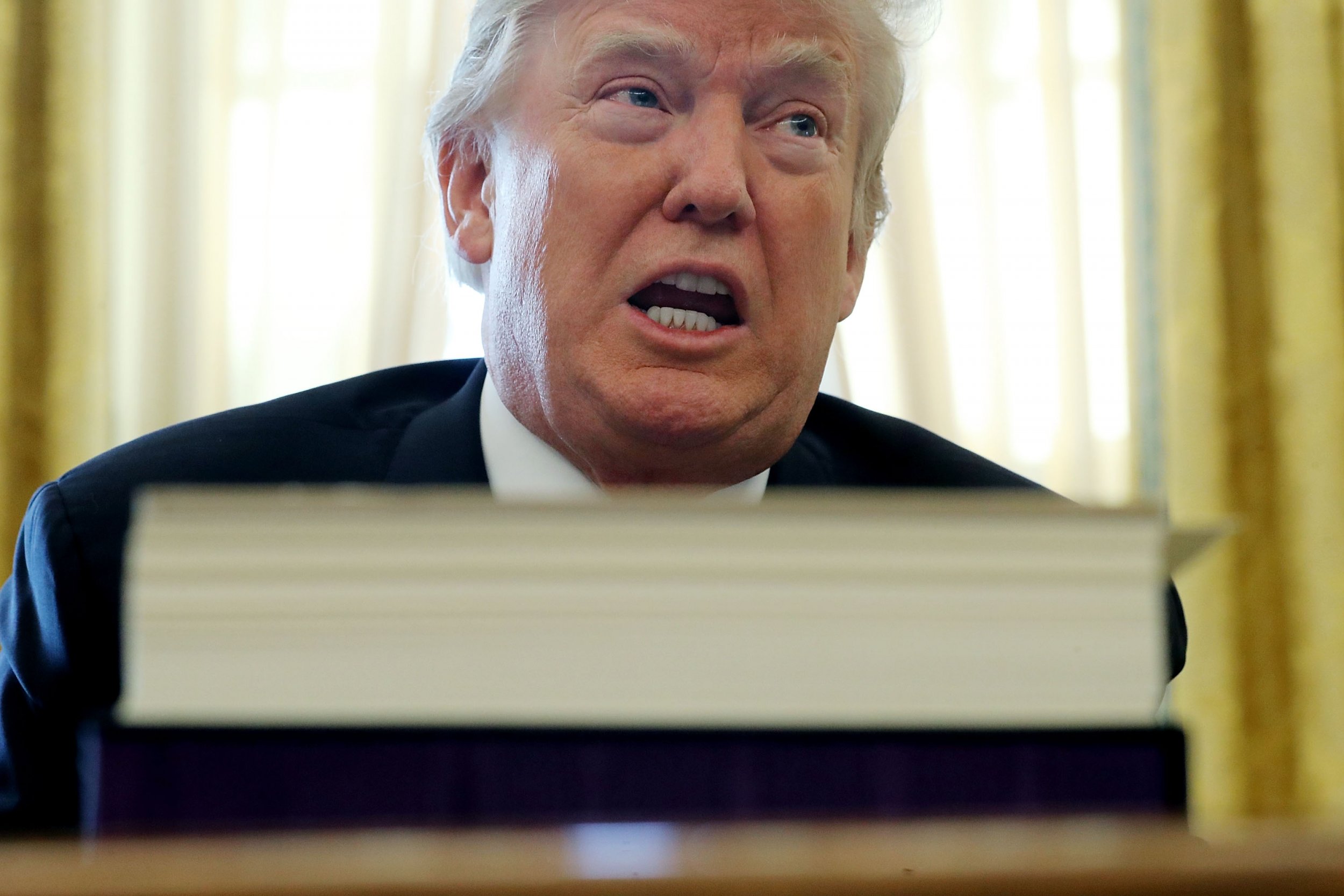 The public has a fairly lousy view of the presidency, according to a study out Thursday, and the many cringeworthy revelations contained in a new book about the Trump White House aren't likely to improve matters.
Fully 81 percent of the U.S. public thinks the Founding Fathers would be upset with the state of the nation over the past decade, according to the new Monmouth University poll. The survey was taken before the release of excerpts of Michael Wolff's explosive new work, Fire and Fury: Inside the Trump White House.
"What we are hearing about White House dysfunction will only bolster the public's already dim view that our nation's founders would probably be appalled if they could see what has happened to the institutions they created," said Monmouth University Polling Institute Director Patrick Murray in a statement accompanying the survey's release.
"Faith in the American system of government was already low," he said. "It's hard to imagine that these new revelations are going to boost the public's confidence that the federal government is firing on all cylinders."
Only half of Americans told Monmouth the U.S. system of government is basically sound—a drop from 62 percent who considered it in decent shape in 1980. Today, 43 percent of the public says the system needs improvement, and only seven percent say it's fine as is. "Republicans (60 percent) are somewhat more likely than Democrats (48 percent) and independents (45 percent) [to] believe that our system today is basically sound," Monmouth reported.
Overall, 80 percent of those polled said they had negative feelings toward Washington, and that was before Wolff's reports on infighting and chaos in the campaign and the West Wing.
"There was a time when the vast majority of Americans would brag about our system of government and how other countries wanted to emulate us. This source of pride has been slipping away," Murray said. "In fact, many seem to feel that founders like Madison and Hamilton may be turning over in their graves when they see how Washington operates today."
Trump reportedly had mixed feelings about using the campaign slogan "drain the swamp," and the public has mixed feelings about whether he's making headway on his promise to do so. Only 20 percent of those surveyed by Monmouth feel he's made progress in changing the way things are done in the capital, 33 percent say he's made it worse and 38 percent say not much has changed in Washington.
And so much for unity: Some 63 percent of Americans, including 47 percent of Republicans, said the nation has become more divided during the Trump presidency, up from 52 percent who said so last March. About 26 percent perceive no change and nine percent say the country is more unified than before.
Nearly three-quarters, or 72 percent, say that "Americans are greatly divided about our most important values," according to Monmouth's findings.
"Americans were already telling us that Donald Trump has not kept his promise to 'drain the swamp,'" Murray said. "The stories we hear from [Wolff's] book certainly aren't going to help turn that opinion around."
While the vast majority of Americans, 79 percent, say it's more important for Congress to hold open hearings on issues even if it means some ideas don't become law, there were some notable exceptions.
About 29 percent of Republicans said they favored an "ends over the means" approach that would undercut the legislative process in favor of advancing policies in line with their personal views on gun control: "About 1-in-4 say the same about health care policies (26 percent) and tax policies (26 percent) and 1-in-5 say the same about abortion policies (21 percent)," the study said.
The correlating figures for Democrats were 19 percent on guns, 14 percent on abortion and 13 percent on health care and on taxes.
Monmouth surveyed 806 adults in the U.S. December 10-12. The survey has a margin of error of plus or minus 3.5 percent.