Montebello 7-Eleven Shooting Video Shows Intense Gun Battle Inside Store
Security camera footage from inside a convenience store in Montebello, California, shows an intense gun fight between two men, who are wanted by the Montebello Police Department.
Police say no one was hurt, despite the rapid gunfire.
The two men were captured on security camera inside a 7-Eleven store at around 9.50 p.m. on April 30.
The footage shows a rapid escalation and exchange of gunfire after one man shouts at another one in the store. Customers scatter and the shopkeeper is seen taking cover underneath the front desk.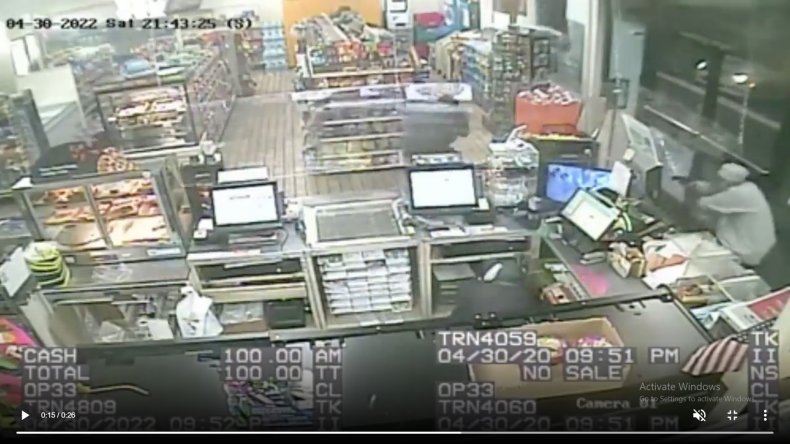 The convenience store is located at the intersection of Beach Street and Greenwood Avenue, according to police. It was full of customers when the two men appeared to start arguing and shoot at each other.
On Thursday, the Montebello Police Department released the dramatic security footage in the hope that a member of the public might recognize one of the suspects.
Anyone with any information about the shooting is urged to contact Det. Fivecoat at 323-887-1247. You can also call 1-800-222-TIPS to provide an anonymous tip.
Newsweek has contacted Montebello Police Department for an update on the situation.
A report released by the Bureau of Alcohol, Tobacco, Firearms and Explosives on Tuesday revealed that annual number of firearms manufactured has nearly doubled since 2000.
The report shows that gun buyers are capitalizing of a loosening of firearms restrictions by the Supreme Court, Congress and Republican-controlled state legislatures.
In 2019, the latest data available, more than seven million firearms were produced in the U.S. This compares to 3.8 million in 2000. Pistols were the most popular firearms in 2019, followed by rifles. Nineteen years before, rifles were the most popular followed by pistols.
Only three days before the report was released, a mass shooting in Buffalo, New York, left 10 people dead. Police described the shooting as "racially motivated violent extremism" after 11 of the 13 victims were revealed to be Black.
Officers arrested Payton Gendron, 18, of Conklin, New York, later that day on suspicion of murder. Disturbing footage of the attack was filmed by the gunman wearing a camera fixed to his helmet, and close-up images of the footage revealed the N-word and the number 14—a code relating to a 14-word statement believed by white supremacists—had been painted on the barrel of the gun in white.
The suspect drove more than 200 miles from his hometown to carry out the attack, police said. They believe the suspect was deliberately seeking an area with a large African-American population.