'Morning Joe' Rips Garland After Texts Implicate Ginni Thomas for Jan 6
Morning Joe host Joe Scarborough criticized attorney general Merrick Garland on Friday for not holding former President Donald Trump accountable for his actions that led to January 6.
The MSNBC host's comments came after The Washington Post and CBS revealed text messages Thursday between Virginia "Ginni" Thomas, the wife of Supreme Court Justice Clarence Thomas, and former White House chief of staff Mark Meadows in which Thomas urged the top Trump aide to overturn the results of the 2020 election.
They also come as some legal experts have urged an investigation and a possible indictment of Trump in connection to his actions related to the January 6 Capitol riot.
"What we've learned is justice will not be served when it comes to Donald Trump. It just won't. I don't know why the Justice Department won't walk through that door and actually hold them accountable," Scarborough said.
He later added: "If you're sitting here reading this story thinking that actually justice will be served against these people who tried to overthrow American democracy, we've found out that this Justice Department is not interested in doing that. We've found out Merrick Garland's not interested in serving up justice because somebody somewhere might think 'Oh my god, there's a political angle to this.' Are you kidding me?"
The host then said that the former president "spent four years trying to break down the wall between the White House and the Justice Department, the White House and the FBI, [and] the White House and the intel services."
"And now we have an attorney general that won't even bring charges when crimes are committed?" he added.
In an interview with NPR earlier this month, Garland said the Justice Department is "not avoiding cases that are political or cases that are controversial or sensitive."
"What we are avoiding is making decisions on a political basis, on a partisan basis," he said. "We begin with the cases that are right in front of us with the overt actions and then we build from there. And that is a process that we will continue to build until we hold everyone accountable who committed criminal acts with respect to January 6."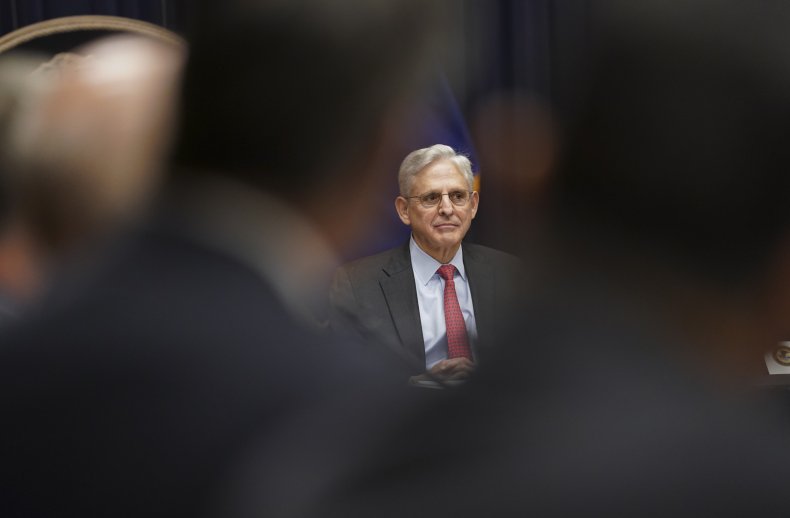 In an editorial published in the Post this month, Harvard Constitutional Law Professor Laurence Tribe and former federal prosecutor Dennis Aftergut argued that Garland should appoint a special counsel to investigate Trump.
The experts wrote that "some may say that this is too important to give to anyone other than the attorney general."
"But even those with faith in Garland's independence from President Biden must recognize the inevitable charges of partisanship if an official appointed directly by the president investigates and decides whether to prosecute a former and potentially future rival of Biden's for the presidency," they added.
Newsweek reached out to the Department of Justice for comment, but did not receive a response before publication on Friday morning. It also reached out to Ginni Thomas and a lawyer for Meadows, and will update this story once a response is received.