Most Americans Still Support Mask Mandates as States Relax Rules: Poll
A majority of Americans still support mask mandates even as states continue to relax their rules regarding masking, according to a new poll on Sunday.
Masking requirements have long been a point of contention throughout the pandemic. The relaxed rules for indoor venues and schools come as COVID-19 cases in the United States dropped significantly since peaking earlier in the winter during the Omicron surge.
But the CBS News-YouGov poll found that most Americans still support mask requirements for indoor venues.
In total, 56 percent of respondents said they believe their states should have mask mandates in place. Meanwhile, 44 percent said their states should not.
The poll also inquired about whether or not parents of school-aged children believe students should be required to wear masks in schools. Fifty-seven percent said they should be required in schools, while 36 percent said they should be optional. Another 7 percent of parents said masking in schools should not be allowed at all.
The poll found a stark partisan divide on whether or not people support the mandate.
Eighty-five percent of Democrats support the rules compared to only 25 percent of Republicans. Among independents, 53 percent said they would support it.
The poll surveyed 2,578 adults in the U.S. between February 8 and 11. It has a margin of error of about 2.2 percent.
Several states eased their masking rules in recent weeks. Notably, several Democratic governors, who have previously backed the mandates, announced plans to move away from them.
New York Governor Kathy Hochul, a Democrat, said on Wednesday that the state would let the mask mandate expire for some indoor businesses—but they will still be required in schools, public transportation and prisons.
"I want people to know: this pandemic is not over. It is not over," Hochul said during a press conference. "That's why we're still going to maintain protections for vulnerable populations in areas where people are very concentrated because I want people to feel safe."
New Jersey Governor Phil Murphy, a Democrat, announced on Monday that masks would no longer be required for students on March 7.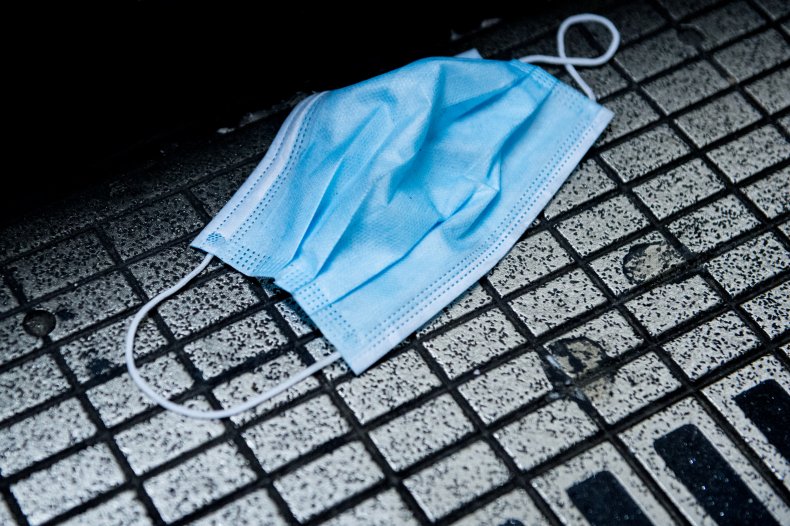 "Given the continued drop in new cases and hospitalizations, projections indicating a continued decline over the coming weeks, and the continued growth of vaccinations for our school-aged population, we believe that we can responsibly end the universal mask mandate," he said in a statement.
Delaware's mask mandate ended last Friday, but Democratic Governor John Carney extended the school mask mandate until March 31. In Oregon, health officials said mask mandates would also last no later than March 31.
"Our most recent COVID-19 forecast shows the number of sick people in the hospital will decline to a point where we can safely lift mask requirements in indoor public spaces by no later than March 31," state health officer and epidemiologist Dean Sidelinger said.