Woman Donates 45 Gallons Of Breast Milk Amid Baby Formula Shortage
A mother has donated more than 45 gallons of her surplus breast milk to help families struggling to feed their own infants amid the national baby formula shortage.
Andrea Heidenreich, of Dubuque, reached the incredible milestone on Saturday (May 14) with her final donation to the Mother's Milk Bank of Iowa in Coralville.
Frantic parents have increasingly turned to human milk banks to feed their babies, after facing empty supermarket shelves when supplies of formula plunged following a product recall over safety fears in February.
And Iowa was one of the six worst-hit states, with more than a 50 percent out-of-stock rate, according to local news channel KCRG.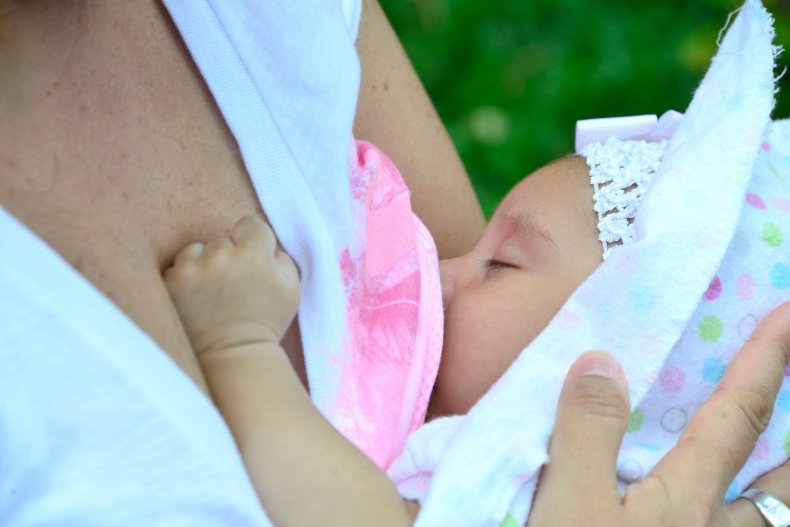 Heidenreich told the station: "Sometimes women can overproduce breast milk, and I was one of those overproducers. We just decided we could help other parents and babies along the way. There are parents that are very stressed out trying to find formula to feed their babies and for moms who aren't able to breastfeed it's a struggle of wondering where that's going to come from."
She said she felt driven to help after initially struggling to feed her son Oliver. "It was very emotional not being able to feed him," she said. "We worked with a lactation specialist at Mercy [Hospital]."
The specialist was able to help her feed her baby, and soon she had more milk than her son needed. Her final donation at the weekend was a poignant moment for her and she explained: "I think for any woman when they're done breastfeeding, it's emotional. I just know we can help other babies and moms along the way."
After her last donation on Saturday, Heidenreich wrote on Facebook: "Today was a big day. It marks the end of my pumping and breastfeeding journey. I donated the last of my breast milk to the Mothers Milk Bank of Iowa this morning. I have donated just over 45 gallons after my donation today."
She added it "makes me so happy to know I am helping the Mammas and Babies who need it. I have been so blessed to have the ability to donate."
Jean M. Drulis, director and co-founder of the Mother's Milk Bank of Iowa, told Newsweek she was very grateful to Heidenreich:
"She donated an amazing amount of milk and fed her dear baby as well! ...We ask donors to provide a minimum donation of 200 ounces over the totality of their breastfeeding journey. Mrs. Heidenreich's donation is above and beyond; she has such a giving heart. Her dedication, commitment, and enthusiasm to infants in need is exceptional. My deepest thanks to her, and to all of our remarkable milk donors. The Mother's Milk Bank of Iowa would not exist without them. They are our heroines!"
When asked if Heidenreich's donation total was a milk bank record, she replied: "Our record donation so far is almost 112 gallons! It was a mother with one child, but spanned 15 months of donation."
But Drulis said that Heidenreich's donation alone will have a majorly beneficial impact on local babies in need, saying 45 gallons of breast milk "will feed countless neonatal intensive care unit infants." And she added: "We also dispense to infants living at home, so they too, will thrive and grow from these altruistic donations. We pool the milk from multiple donors, usually 3 to 5, to more evenly distribute the components. Then it is pasteurized and tested thereafter for bacteria by the State Hygienic Lab."
Appealing to other breastfeeding women to come forward if they have additional milk, Drulis said: "To all lactating women, if you want to make a difference in the lives of others, then donate your surplus milk to a non-profit milk bank, like the Mother's Milk Bank of Iowa."
Milk banks are accredited by the Human Milk Banking Association of North America to ensure the milk is safe to use. The donating mothers must undergo health screening with a free blood test.
The organization collects the milk then "screens, pasteurizes, and tests it, and, finally, dispenses it to premature and fragile infants in need, either in hospitals or homes."
The association has appealed for breastfeeding mothers to come forward to offer their surplus milk to other babies in need, with its website telling women: "You can save lives by donating your extra breast milk for use as pasteurized donor human milk."
Newsweek is offering further details about the donation process, along with a list of the milk banks throughout the U.S.
Update 5/16/8/22 6:49 a.m. ET: This article was updated with comment from Jean M. Drulis, director and co-founder of the Mother's Milk Bank of Iowa.