Mom Recounts Trip to Chiropractor That Changed Daughter's Life Forever
A 28-year-old woman from Georgia who was left paralyzed by a chiropractic adjustment can now breathe without medical assistance and move, her mother says.
Caitlin Jensen, from Savannah, Georgia, was having a neck adjustment as part of chiropractic treatment for lower back pain when a blood vessel to her brain was severed. Moments later, she had a stroke, and was rushed to the hospital straight from the chiropractor's office.
"I've never seen anybody have a stroke; I did not know the signs and symptoms of a stroke," Darlene Jensen, Caitlin's mother, told The Independent. "I did not expect a 28-year-old, perfectly healthy young woman to be having a stroke."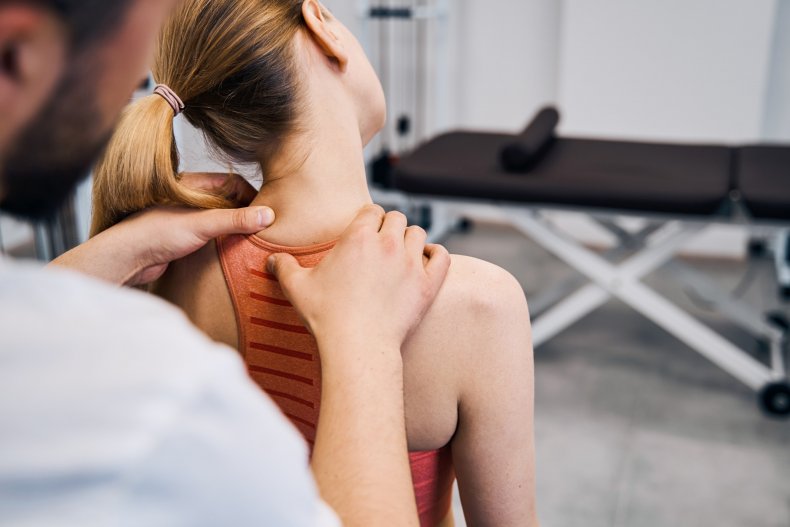 Chiropractic is the practice of manipulating a patient's joints and bones to properly align them, relieving pain. It is generally assumed to be safe, so long as the chiropractor is properly trained and licensed. However, complications and mishaps like Caitlin Jensen's do occur.
After the neck adjustment, four of her arteries dissected, causing the stroke.
"They kind of peel apart from the inside which shuts off blood flow, which gave her a very large stroke and some damage to her brain," Caleb Johnson, Caitlin's brother, told WTOC 11. "She went into cardiac arrest in the emergency room respiratory arrest. They lost her pulse for 10 minutes for which they did CPR which they were able to resuscitate her which is a miracle that we're very thankful for."
Two months after the incident, which occurred on June 16, Caitlin Jensen still can't talk, although she appears to have retained all cognitive abilities, can now breathe without assistance, and has been able to move some of her limbs for short bursts.
"Our main form of communication right now is, we'll go through the alphabet," Darlene Jensen said. "And she'll let me know when I've gotten to the right letter, and I just spell everything out. She can also nod and thumbs up, and she can mouth things; sometimes I can get it, sometimes not. Really, right now, [we are] spelling everything out."
Caitlin's family has launched a GoFundMe to pay for her treatment, and have raised $98,873 raised of their $250,000 goal so far.
Chiropractors aren't actually qualified MDs, and while they do undergo a 4-year period of study before becoming licensed, they are technically classified as practicing alternative medicine.
"That is one of the things that I really think people need to be aware of... what the symptoms and signs are of a stroke, and that it can happen from something like this – from having a neck adjustment at a chiropractor," Darlene Jensen told The Independent.
"I've had numerous people reach out to me since then; I had one reach out to me today that is a quadriplegic because of it. People need to be aware of the risks associated with having neck adjustments at a chiropractor."
A similar incident occurred when another woman, Elizabeth Haran Caplan, had a chiropractic neck manipulation. She also had a stroke and 10 years later was still blind in her left eye and throat paralysis that caused her swallowing problems.
"Most patients that seek chiropractic care and maintenance treatments do so without incident or complication," Dr. Joshua Carothers, the Chief Medical Officer at VIP StarNetwork, told Inverse. "There are, however, known complications that can arise from chiropractic manipulation of the spine and other areas of the body. Additionally, chiropractic training is not the same as that received by physicians in standard medical schools and residency training programs."